Yes
Progressive rock is an interesting, avant garde genre. There's Genesis, ELP, King Crimson, even Rush maybe. But I don't think anyone truly captures the flamboyancy of 70's British prog rock like Yes. They're weird, they're out there, they can't maintain the same lineup for more than two albums...but they've made some amazing music over the years. The catalog offers a variety of short, straightforward songs and extravagant symphonic masterpieces that will blow your mind.
Not sure what made me start listening to Yes, but years ago iTunes offered an "essentials" playlist of recommendations. Whoever created the one for Yes apparently loved 90125, because that and "Roundabout" were the only recommendations. So for years, I had an unintentional Trevor Rabin bias. With time (and help from "Yessongs") I slowly grew to love the variety of Yes songs, and I'm listening to new ones every day. I've seen them once on solo tour, once headlining in Camden New Jersey at "Yestival," and once in Dallas as "The Royal Affair Tour" with Asia and Carl Palmer.
Yes has had an ever-rotating lineup of performers, both studio and live. Some of the staples include Steve Howe and Trevor Rabin on guitar, Chris Squire on bass, Alan White and Bill Bruford on drums, Tony Kaye, Rick Wakeman, and Geoff Downes on keyboards, and Jon Anderson on vocals.
Nate's Epic Yes Playlist
Perpetual Change (The Yes Album 1971)
Starship Trooper (The Yes Album 1971)
Owner of a Lonely Heart (90125 1984)
Rhythm of Love (Big Generator 1987)
Yours is No Disgrace (The Yes Album 1971)
Going for the One (Going for the One 1977)
Don't Kill the Whale (Tormato 1978)
Close to the Edge (Close to the Edge 1972)
Awaken (Going for the One 1977)
Leave It (90125 1984)
Love Will Find a Way (Big Generator 1987)
Roundabout (Fragile 1971)
Changes (90125 1984)
Shoot High, Aim Low (Big Generator 1987)
Tempus Fugit (Drama 1980)
Hold On (90125 1984)
Yes (1969), Time and a Word (1970)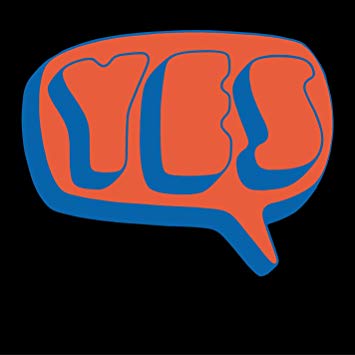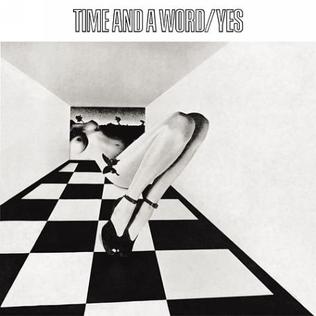 Haven't listened to either of these to offer an opinion. Moving on.
The Yes Album (1971)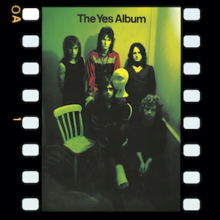 Probably my favorite Yes album of all. These songs are Yes at their finest, with lengthy solos and windy musical paths. This album takes you to places you've never gone before. My favorite songs are "Yours is No Disgrace," "Starship Trooper," and "Perpetual Change."
Yours is No Disgrace: The opening track, you know you're in for something exciting. I love the way the song builds up, as opposed to "Heart of the Sunrise." It feels like you're along for the ride on an adventure. Favorite line? "Battleships confide in me and tell me where you are." Suddenly out of nowhere is this bass riff that gives your brain whiplash. I like the last subdued verse, where it almost sounds like an acoustic version of the first portion, right around 7ish minutes.
Clap: I think this is such a goobery song (sorry Steve Howe), and it reminds me of chlamydia.
Starship Trooper: I used to like "Yours is No Disgrace" better, but now I've changed my mind after hearing it live. I think this song highlights Anderson, not just his voice but his entire dreamy persona. The acoustic interlude adds instead of subtracting from the whole song. Get ready for 5.5 minutes in, which after hearing it live, gives me chills every time. It's like something out of 2001 A Space Odyssey, watching a starship slowly disappear into the ether. Ominous.
I've Seen All Good People: Probably second famous (with lots of radio play) after "Roundabout." It's split into two parts, with the first being a bunch of chess metaphors. The second portion is a funky groove with only one line: "I've seen all good people turn their heads each day so satisfied I'm on my way." Add in a funky instrumental section and you've got the gist.
Perpetual Change: Hot damn I love this song. I just love the off-time groove that makes you super confused as to why you can't tap your foot in time to the beat. "Inside out, outside in, perpetual change." Who can argue with that? The instrumental doesn't go on anywheres near long enough. The best part of the song starts a little after 5 minutes. I fell in love with this song due to this part on the live album. Imagine my surprise that the studio version is even better. If it's your first time, plug in some noise-cancelling headphones for the full experience. Although the track starts in both, it quickly transitions to the left ear only, with the right ear picks up a new line all its own! The first time I realized this was happening, my brain melted. True story. It still gives me chills.
Fragile (1971)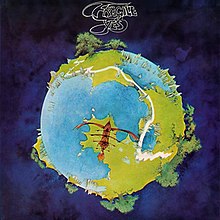 Not necessarily the most famous album overall, but "Roundabout" is probably the best known Yes song, with exorbitant amounts of radio play. "America" was originally played live but has been added to the CD in recent years. My favorite songs are "Roundabout" and "Heart of the Sunrise."
Roundabout: The key to this song is that it toes the line. It's prog rock, but not so much that the general public can't enjoy it. I feel like it's one of the most noticeably bass-heavy songs, at least during the verses. The chorus has some awesome synth. The part at 5 minutes where everything drops out, and it's just you and the Roundabout. You can practically see "mountains come out of the sky and they stand there..." Which leads into a great synth outro.
Long Distance Runaround: To me, this will always be the theoretical B-side to "Roundabout." It has the same semi-prog feel but it's just not the same. Doesn't mean it's not enjoyable!
The Fish: I do love fish! I picked up this song from "Yessongs," and it's just a funky instrumental bridge between tracks.
Heart of the Sunrise: I would describe the opening riff as "frantic." It takes a bit to get into the actual song, some of the dissonant appeal is that every time you think the song is going to move along, it heads back into this fast riff feel. The song doesn't really "start" until 3.5 minutes in. The subdued, whispered vocal section is a stark contrast with the intro, helping you take a breath and relax. I think the highlight of the song is any time he sings "Heart of the Sunrise," you can practically feel the warm glow of the sun rising on a new day.
America: Originally a Simon and Garfunkel song, Yes commandeered it an made it their own with the usual over-the-top instrumental twist. Mainly played live, it's a great live track, constantly keeping your attention held, wondering what will come next. My favorite line is "it took me four days to hitchike to Saginaw Falls." There's the right combination of rock, instruments, and funkiness.
Close to the Edge (1972)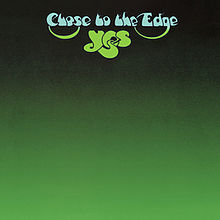 With only three songs, "Close to the Edge" is one of the greatest Yes albums. Each song is absolutely wonderful. I think it's the epitome of long-form Yes. They are all my favorite songs.
Close to the Edge: It's made of 4 parts, but I have no idea where the transitions are. The first portion appears to be quite the wild ride, so hang on. At about 3 minutes, we're finally introduced to the main riff of the song. Right before 12 minutes, with an "I get upppppp, I get downnnnnn," you're launched into an organ interlude, which is even better on the live versions. With this, the song launches back into the first motif, finishing out the song.
And You and I: Another 4-parter, this one is much more relaxed. I can't pick out a specific portion that I like. After some of the more intense Yes tracks, it's nice to have one to relax to.
Siberian Khatru: Yes really loves to open with this song, and honestly it's a perfect opener and I wish it was at the beginning before "The Yes Album" as an intro to the classic Yes sound. It's not as hectic as some of the other songs, but it does have a jittery feel at times. I really like the syncopated, dark sound at around 5.5 minutes.
Tales from Topographic Oceans (1973)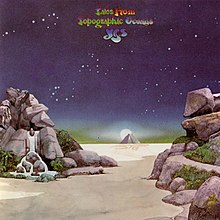 Each song is about 20 minutes long. My attention span is less than a minute. We'll take a listen someday.
Yessongs (1973)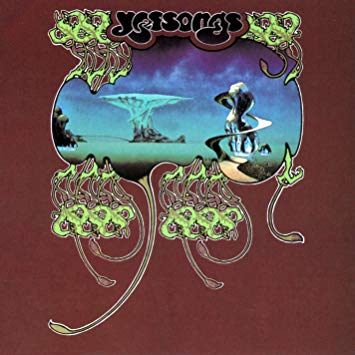 This album is what truly hooked me into Yes. It opens with the climactic Firebird Suite, you can picture the band members running onto stage. It has many (pretty much all) of the early Yes classics. My favorite is by far "Perpetual Change," which would be wonderful already, but gets even better with an extended Bill Bruford drum solo towards the end. "Long Distance Runaround" is melded with "The Fish" into an extended jam sesh. The album closes with "Starship Trooper," my new favorite album closer.
Relayer (1974)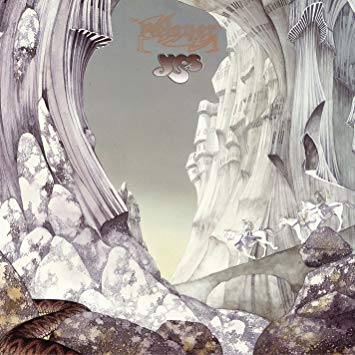 Another album where the tracks were a little too long and not on enough live albums. We'll get there someday.
Going for the One (1977)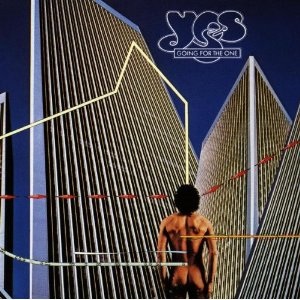 To me, this is the start of Yes's second phase (possibly starting with "Relayer"). The songs have a bit of a different feel from "original Yes" although "Awaken" has a bit of that "Close to the Edge" vibe. Enough quotes? Good. Big fan of "Going for the One."
Going for the One: Can you say "syncopation?" This song is just so jarring and dissonant and offbeat, I love it! Reminds me of the jagged lines of the cover, and the naked guy standing there thinking "wtf???" I dunno what to focus on, I feel like everyone is just going to town on their instruments and having an awesome time.
Wonderous Stories: I think this song is cute. That's the only way I can describe it. The whole song is kinda happy, doing its own thing. I can't fault it.
Awaken: It feels like "Close to the Edge" part 2. The song is way out there, as if it's all in a dream. Maybe I'm wrong, but I feel like there's more Eastern music influence in this track, with the rhythm, percussion usage, and increased dissonance. There's an interlude of pretty much just triangles! TRIANGLES! The song builds back up, with one of my favorite lines, "be honest with yourself!"
Tormato (1978)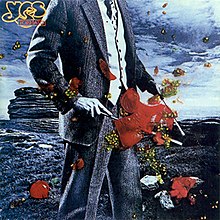 I know only one song on this album and that's enough for right now.
Don't Kill the Whale: Heard this song on "Yesshows" and got hooked. In contrast to most Yes songs, this one has a straightforward beat like something out of a dance song. But there's no dancing here, with the angry, intense, ominous sound. The title is almost a plea as well as a threat. And it's an eco-themed song, as if you needed more reason to enjoy it. But here's one more: there's a music video!
Drama (1980)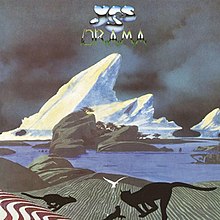 Another album I need to listen to more. Give me a break.
Tempus Fugit: Actually never heard this one until the most recent live concert. I'm a big fan of the fast beat and Anderson shouting "Yes" a bunch of times.
Yesshows (1980)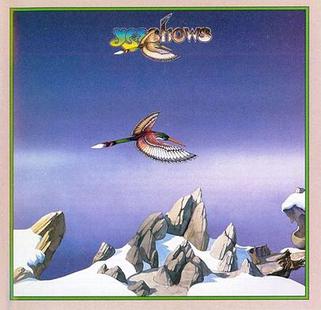 Pretty much the sequel to "Yessongs," it complements by covering a different list of songs not previously heard on the prior album. I'm more into the shorter stuff. "Going For the One" is an absolute jam, and who can forget the heavy-hitting, morose "Don't Kill the Whale"?
90125 (1984)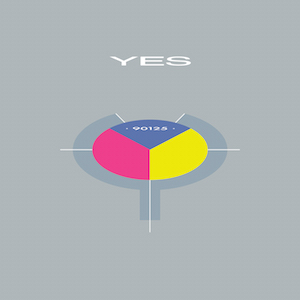 The first Yes album I listened to all the way through, and what I used to think Yes sounded like. So sue me. I think I've been able to enjoy this era more than people that grew up with Yes, because to me, the band iterations are all equal. Again, so sue me. My favorite songs are "Owner of a Lonely Heart," "Hold On," "Changes," and "Leave It."
Owner of a Lonely Heart: With that kickass intro, you know this isn't your parents' Yes. It's clean, fresh, and prepped for full 80's force. I used to love playing along on the drums all the time. The guitar solo isn't intricate but it finds a way to be elegant. I like the part just after 3 minutes where the drums come back in. To me, it's as good as a drum solo.
Hold On: Such an inspiring song. I love the line "sunshine...shine on...throughhhhhhh." Even though it's in 4/4, it has a swing feel to it. Plus there's the weird sound effect in the background.
It Can Happen: Very heavy eastern music influences here. Possibly a sitar? My ears aren't that good. Either way, it sounds awesome. And I always liked the epic guitar solo.
Changes: If you're gonna open a song with a xylophone solo, you know I'm all about that life. I like the emotion and power of this song, maybe it's the strong guitar response to the vocal parts. I also like how the beat switches up, fast and slow.
Cinema: An instrumental track, there's a lot of chaotic energy going on here.
Leave It: "AAAAAAAAAAA...leave it!" Damn straight. Hopefully he's not talking about a baby in a hot car, or a cancerous lymph node during a surgery. Jokes aside, I'm a big fan of this song, even the acapella portions.
9012Live (1985)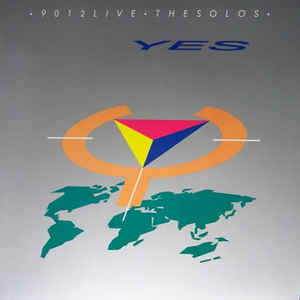 "On drums, Mr. Alan White! Great to be with you tonight!" With that bomb drum opener, you have everything you need/want/desire from this album. Say what you want for Yes, but they have some killer live song intros. Of course I also like the live versions of "Changes" and "It Can Happen," where I feel the rhythm really pops out at you.
Big Generator (1987)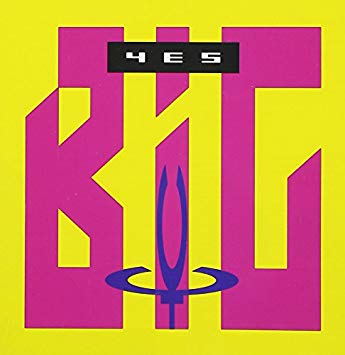 I like this album too. Sure, I love the out-there Yes sound, but I also like the 80's Yes sound. They sound like they're having some fun and not worried about packing a bunch of fancy crap in a 20 minute song.
Rhythm of Love: Such a good opener. The vocal harmonics, the bass line, everything! It's not the most sophisticated song, but it's great. The line "lead me through the fiiiiiiireeeeeee" gives me chills, especially the live version. The guitar is Rabin at his best.
Big Generator: "Yibbity bluhhh," at least that's how the beginning sounds. I really like the instrumental bridges. I love the guitar/drum combo at 3:18 (take a listen).
Shoot High, Aim Low: If you've seen Ghostbusters, you might remember the background music when all the ghosts get released back into NYC. That's what this song sounds like to me, at least at the start. I thnk it's mainly the beat, which feels like it's constantly tugging the song back.
Love Will Find a Way: I love the guitar-centricity of this song, it's such a great riff. Plus this is the song known for the line "I eat at Chez Nous." Whatever that means.
Holy Lamb: Such a delightful song to close with! All about that Holy Lamb. The song slowly builds to an epic Yes chant. Definitely a delight
Union (1991)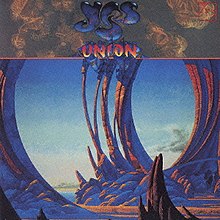 I haven't listened to this album enough, so it's hard to pass judgment. I will say I enjoy the opening tracks "I Would Have Waited Forever" and "Shock to the System," there's a nice funk beat to it.
Union Tour (1991)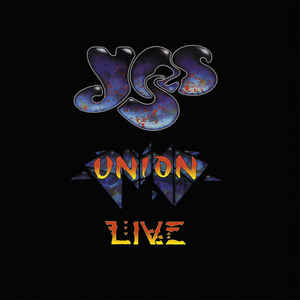 Awwww yiss, back at it with the Firebird intro! There's a great variety of songs from the whole Yes catalog, I'll just follow the order on the album. "Yours is No Disgrace" is the heaviest hitting I've heard it, with extra bass for your listening pleasure. "Rhythm of Love" has my favorite line - "lead me through the fiiiiiiiiireeeeeee" which gives me freakin' chills every time. If you have any doubts about this album (or Yes in general), the intro for "Owner of a Lonely Heart" will get you hooked for sure. The song was already badass, but this version is cutting with its hard cutting beat. The keyboard solo is a monster! "The Fish" is always a good instrumental to zone out with, transitioning into "Amazing Grace." "Awaken" is usually just a trippy song, but here it packs an extra auditory punch. And who can forget fan favorite "Roundabout?" Such a great album!
Talk (1994), Open Your Eyes (1997), The Ladder (1999), Magnification (2001)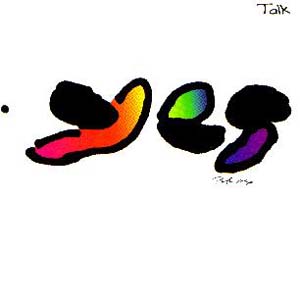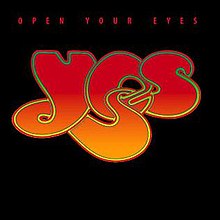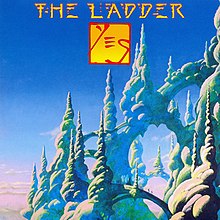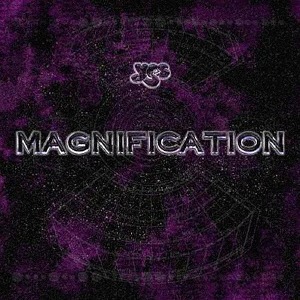 Haven't given Yes's later stuff much of a listen, sorry dawg.
Keys to Ascension (1996-1997), Symphonic Live (2002), Live at Montreaux (2007), Tour 2009 (2009)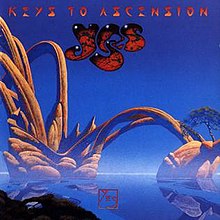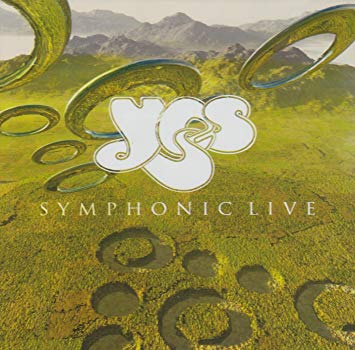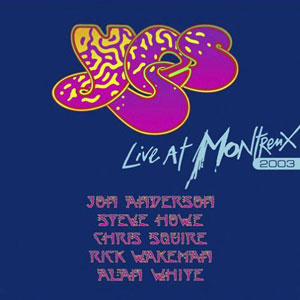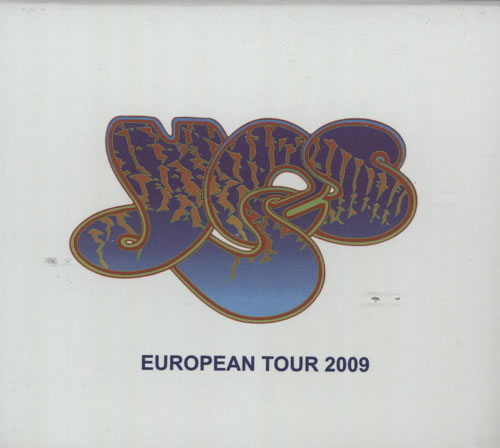 Pick your favorite song and find a live version. There ya go.