The Who
I can't name most Who songs and I'm not a fan of rock opera. Despite this, The Who are one of the greatest bands ever, with a legacy that's impossible to measure and a career spanning over 50 years. The Who started out as one of the many bands of the 60's British Invasion, but has built and expanded a musical empire that is only rivaled in length by The Rolling Stones. They pioneered aspects of hard rock, live performances, the iconic windmill, and the destructive rocker reputation, both on and off stage. Thus, the band became representatives for an entire generation, playing with incomparable emotion. It's hard to explain, so you'll just have to listen.
I've had "Then and Now" since middle school, and for the longest time, that was my only exposure (plus "Baba O'Riley"). During college, I picked up a copy of "Hooligans" which introduced me to the next level of Who hits. The Who has been there for me through my drum playing, moments of energy and emotion, and when I just need to get pumped.
Roger Daltrey (vocals) and Pete Townshend (guitar) are still with the band even today. Keith Moon is considered by many to be the greatest drummer of all time, unfortunately passed away in 1978. John Entwistle is also considered the greatest bass player of all time, and stayed with the band until his death in 2002.
Nate's Epic Who Playlist
Who Are You (Who Are You 1978)
Had Enough (Who Are You 1978)
Naked Eye (Odds and Sods 1974)
Baba O'Riley (Who's Next 1971)
Eminence Front (It's Hard 1982)
Won't Get Fooled Again (Who's Next 1971)
This Song is Over (Who's Next 1971)
The Real Me (Quadrophenia 1973)
Bargain (Who's Next 1971)
5:15 (Quadrophenia 1973)
Sister Disco (Who Are You 1978)
Drowned (Quadrophenia 1973)
I Can't Explain (My Generation 1965)
I Can See For Miles (The Who Sell Out 1967)
Real Good Looking Boy (Then and Now 2004)
You Better You Bet (Face Dances 1981)
The Quiet One (Face Dances 1981)
Join Together (Greatest Hits Live 2010)
My Generation (1965)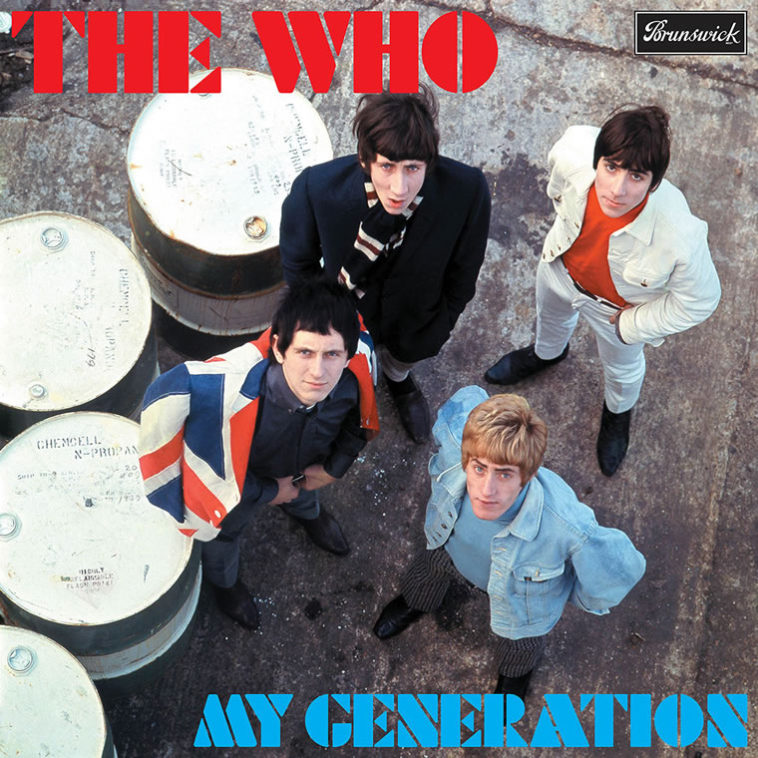 The first album, there's a lot of resemblance to other British bands of the time, but The Who already sets themselves apart from the competition with songs like "My Generation." My favorite song on this album is "I Can't Explain."
The Good's Gone: I think it has that early British band sound, but it hints at the music to eventually come. The drumming isn't a straight beat, instead similar to that of "Don't Stop Believin'."
My Generation: A Who classic, but it never really did it for me. The addition of stuttering is quirky, reminiscent of people on meth. The real reward is the song as an excellent start for a jam session. It has a great baseline, showing off Entwistle's skills early in their career. The real reason I like this song is they performed it on the Smothers Brothers Comedy Hour, and ended with Keith Moon blowing up his drum set (he put in dynamite, got drunk and forgot, then put in more dynamite).
I Can't Explain: This song always stood out from the rest of the Who's early material. It has a fast, upbeat, and exciting vibe. It's similar to the countless bands of the British Invasion, but takes it up a notch from the competition.
A Quick One (1966)
The first of two early albums that never got me hooked, but I do enjoy "Boris the Spider."
Boris the Spider: You've probably heard that death metal growl in heavy metal songs...this is where that all originated. The song is goofy, spooky, and has a twist ending (I guess?) After a few listens, you'll be growling "BOOORIZ THE SPIDAH" too.
The Who Sell Out (1967)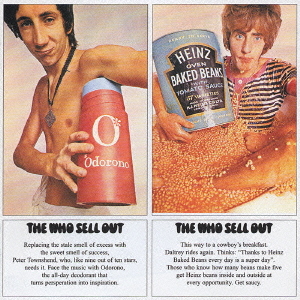 Also not a huge fan of this album, but I do like "I Can See For Miles."
I Can See For Miles: This song is both ominous and triumphant, which makes it amazing. I like the sitar-like guitar sound effects, as well as how the verses seem to zoom in at you with the frequent crescendos.
Tommy (1969)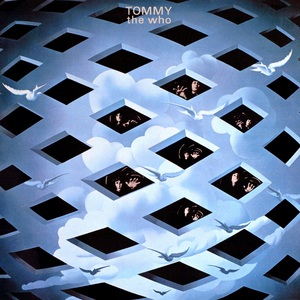 I don't like rock operas. There, I said it. So yes, I understand that "Tommy" is a Who (and classic rock) classic must-listen album. But I just don't like it. Maybe I never listened to it until it was too late in my formative years? Lots of people love it, so give it a listen. My favorite song is "I'm Free" (and "Pinball Wizard" I guess).
Pinball Wizard: We used to play this song in Marching Band, everyone loved it. Looking back, I feel like we did The Who a disservice, or maybe they would have enjoyed the "quantity over quality" aspect. Not my favorite Who song, but I do enjoy the acoustic frantically-paced strumming.
I'm Free: I love the bass/piano pounding bassline during the verse/chorus (whatever you call it). There's something very satisfying about the song, almost like a hymn (maybe it's the vocal harmonies?)
Live at Leeds (1970)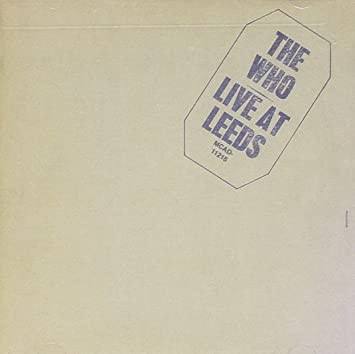 This was the only live album the Who put out during their big years. Personally, most of my favorites came after this time, but I'll admit it's still a great album. Although I don't really like songs like "My Generation" or "Magic Bus" I respect that they make EXCELLENT live jam songs. Really worth that extra 5 minutes, or in "My Generation's" case, turning a 3 minute song into a 15 minute rock endeavor. Additionally, a few songs were only recorded live on this album, and weren't released as the studio version until years later.
Substitute: I do enjoy the witty lines throughout the song, such as "born with a plastic spoon in my mouth."
Happy Jack: Every time I hear this song, I imagine the band standing at the front of the stage bobbing up and down as they sing. I love the thumping drums, I think Moon carries a lot of the emotion with his swells.
I'm A Boy: It's a song about a boy who is raised as a girl for some reason. I don't know. But it's catchy.
Summertime Blues: It's actually a cover of Eddie Cochran's song, and a perfect demonstration of the band's blues roots. A rocking teen anthem, it has an amazing guitar solo in the middle of some Entwistle growls and killer drums.
Magic Bus: Here's the perfect example of how to do a live song. It announces itself from the beginning, and the song slowly drags itself together, as you can imagine being in the crowd and feeling the excitement slowly build. I love the interjection of the bandmembers pretending to negotiate for the Magic Bus that finally spirals into Moon's sudden interjection.
Who's Next (1971)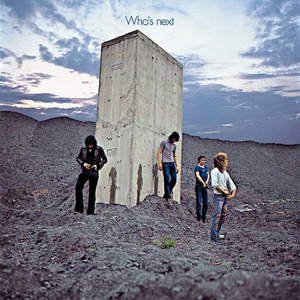 The strongest album in my opinion, sandwiched between two rock operas. The Who demonstrate their immense rock power and emotion with anthems like "Baba O'Riley" and "Won't Get Fooled Again." This album pushes them to the next level, removing whatever remnants of innocence the band ever had. Already mentioned my favorites, plus "Bargain" and "The Song is Over."
Baba O'Riley: Seriously, what even is this song? One of the most epic intros ever, you can practically picture them standing there on stage, ready to blow your mind. Everything stops with the vocal interjection of "don't cry, don't raise your eyes, it's onleeeeee teenage wasteland..." Cue drum solo! I'll admit to singing along every time with that part (no idea if I was on key). The song ain't over until we hit the guitar solo that morphs into one of the most emotional violin solos I've ever heard. In live performances, it's actually played on harmonica!
Bargain: You think it's going to be a mellow song, then wham! It starts out dark, but erupts with Daltrey wailing "the best I've ever hadddddd." Not to be outdone, this song ends with some wonderful synthesizer/guitar dueting.
The Song is Over: This would make an excellent marching band number, with the throbbing beat. Yeah, you have to wait a little bit, but who doesn't like that soothing intro? Loads of synth towards the end, don't worry.
Behind Blue Eyes: "No one knows what it's like...to be the Batman?" Sometimes I just crack myself up. Normally I'm not a fan of this sort of stuff, but there's so much raw emotion, sensation, that your ears can't escape. I'm not sure what to make of the second section, as the lyrics seem unintentionally funny - "when I smile / tell me some bad news" or "when I swallow anything evil / put your finger down my throat." Uhhh, no thanks.
Won't Get Fooled Again: This song is insane. From the first seconds of synthesizer, this is something more than average, more than exceptional. You don't know what it is, but you know you're about to find out. The main portion is just a pounding trippy journey. At the 4:30 mark, Daltrey lets out a scream, you're impressed. The song devolves into instrumental anarchy, with only that haunting synthesizer left, the suspense builds. Your wait is rewarded with sick drum solo, capped off by one of the most iconic screams in rock n' roll. What a ride.
Quadrophenia (1973)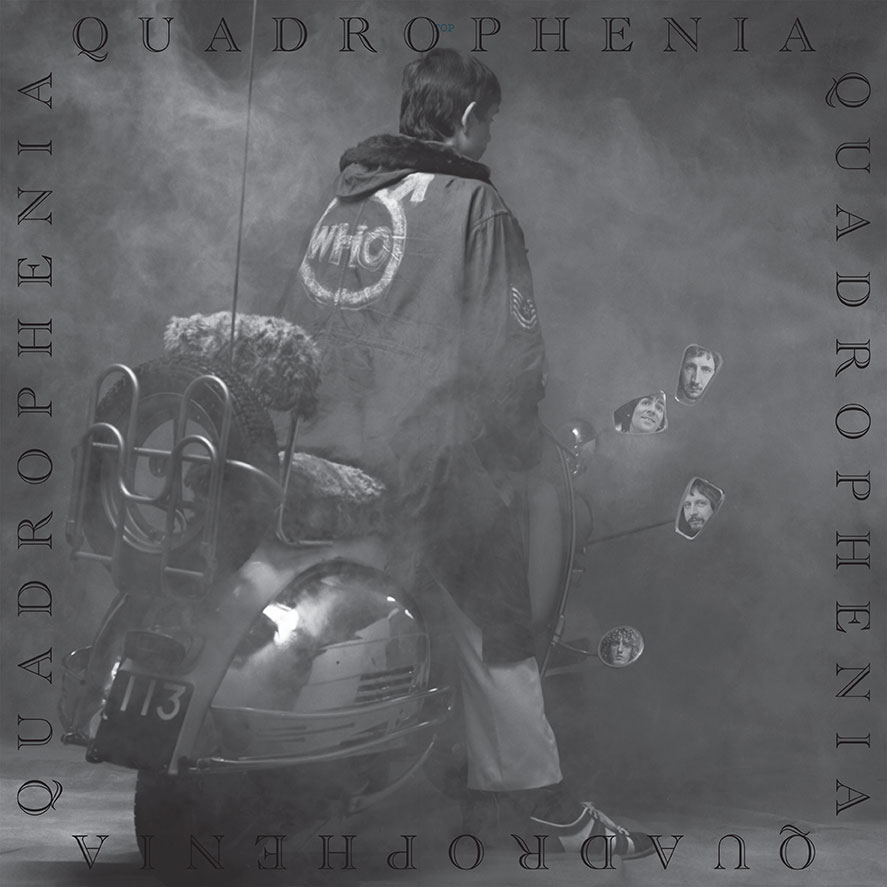 What is it with these rock opera albums? I'm not a fan (again) but I'll admit this album hooks me more than Tommy. So I'll roll with it. My favorite songs are "The Real Me," "5:15," and "Drowned."
The Real Me: This song is the perfect jam song, especially in that it's way too short. The main riff hooks you in and won't let go. It gets 5 bonus points for mentioning doctors. Without realizing it, the song picks up pace until the climax where it explodes into nothing, ending with "can you see the real me?"
The Punk and The Godfather: I like the opening riff and the slightly dissonant vibe of the song, as well as the halftime beat interjected within portions of the song.
Is It In My Head: That two note declarative motif is what hooks me with this song.
5:15: For years, this song was second only to "Who Are You." The pounding piano, the horn section, the shouted lyrics, it's all wonderful. It's almost like a big bang jazz piece taken over by a rock band. If someone bothers you, just tell them "inside, outside...LEAVE ME ALONE."
Drowned: This song also has a great piano part, especially when it shines through everyone else, such as during the intro.
Bell Boy: I don't know why, but this is such a British song. Maybe it's the way they say "bell boooooooooy," makes me think they're doing a Monty Python skit, or stealing a Genesis song.
Doctor Jimmy: I do enjoy the fast pace and they way they sing "doctah Jimmy and mistah Jim" plus have fun making up your own new lyrics to the part of "_________, I'll _____." For example, "he wants cake, I'll bake it," or "they have leaves, I'll rake it!"
Odds and Sods (1974)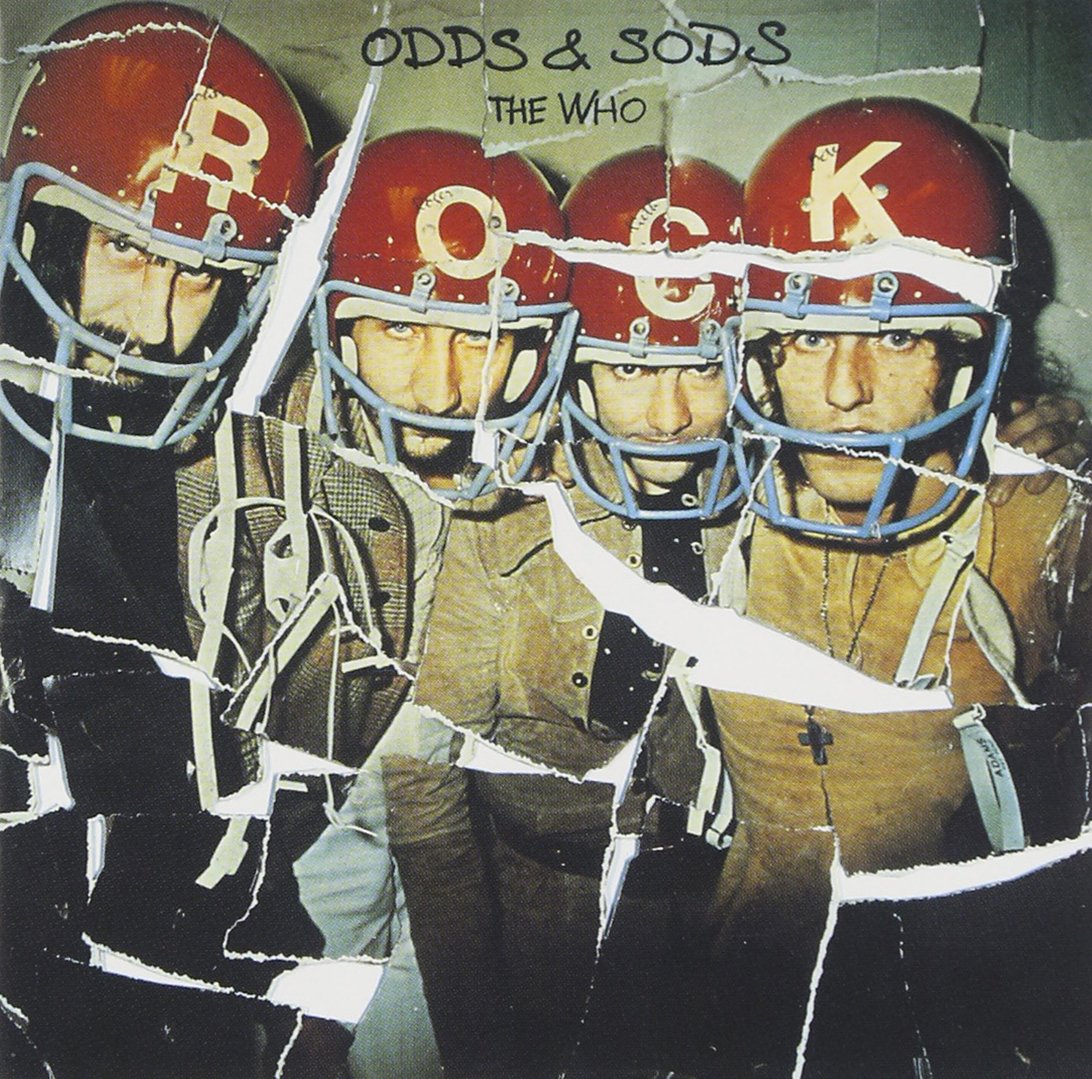 A collection of different singles and unreleased material, it importantly contains one of my favorite Who songs, "Naked Eye."
Naked Eye: This song carries so much emotion, so much feeling, I can't begin to explain. There's something wonderful about the line "it all looks fine / to the naked eye / but it don't really happy that way at all..." And from there is devolves into a jam session, then what seems like an uncontrollable cry in anguish. Each live version is a treasure in itself.
The Who by Numbers (1975)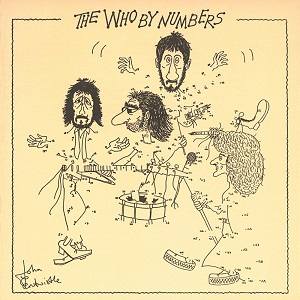 I do not like "Squeeze Box." Such an obnoxious song. But "Slip Kid" is pretty dope, and there's a fun puzzle on the album cover!
Slip Kid: This song feels real heavy, just the way the pace drags. And as I said earlier, that's pretty dope. Plus it gets counted in, always a plus. The percussion-heavy interlude harkens back to the intro, but is interrupted with Townshend sliding into his solo section. And damn, they do it again right after the 3 minute mark.
Who Are You (1978)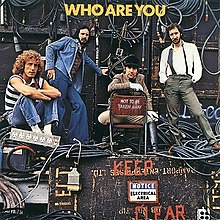 Although not the album with most of my favorites (Who's Next), this album has two of the band's best songs. Sadly, this would be the last album with Keith Moon before his untimely death. Please enjoy in his honor. My favorite songs are all listed belwo.
Had Enough: This song is angry, raw, and powerful. The beat is simplistic but driving, and I cannot describe how catchy the synth and strings are. The interlude is wonderful, and finally gets carried back into the song with a rising wail (at about the 3:15 mark). And I can't forget the drum fills, which add an extra layer of kickass. Wish this had a live version.
Sister Disco: That thumping beat carries this song hard, with the sound of the synth dancing everywhere. It's awesome.
Who Are You: Words cannot do this song justice. But I'll try. This song is everything The Who is and will ever be. The song has multiple separate sections, but each carries power and emotion. From that first cymbal smash, you know this is one ride you can't get off until the very end. The first verse hits, but it only builds from there. One of my favorite parts of playing this on drums is finding ways to slowly build the intensity, with fills, hits, and accents multiplying as the song goes on. The song seems to take a break halfway, but it's only a trick. One of the most powerful sections is the break right before the repetition of the intro, it carries so much energy it's unreal. From there, the song is a runaway train, finally finishing with one final "who...are...you."
Face Dances (1981)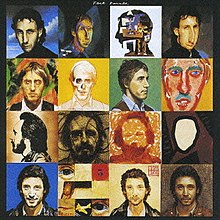 The first album without Keith Moon and the first of two with Kenney Jones. As everyone will say, it's just not the same. My old favorite was "You Better You Bet," but now I really like "The Quiet One."
You Better You Bet: When you're in middle school and a song says "T. rex," you get excited (even if you've never heard of the band). The song feels almost flamboyant, with the piano part rambling wildly. Plus, the song has some great lyrics, "I just like your nose" or "only fools have needs, but this one never fades!"
The Quiet One: A great blues tune, again with that flamboyant piano, now with the guitar joining in. Love the swing feel, especially when he says "sticks n' stones may break your bones / but names will never down you."
It's Hard (1982)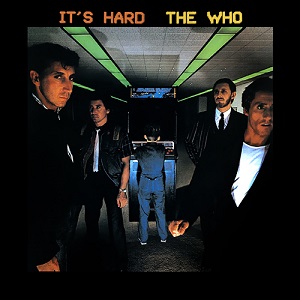 Surprisingly, this album delivers a couple of excellent Who hits. My favorite song is "Eminence Front."
Athena: This is a real trippy song, and I have no idea where I first heard it. I have no idea what any of the lyrics mean, but I love the line "he had a snake the size of a sewerpipe livin' in his ribcage."
Eminence Front: You ready for some trippin' synth? Honestly, I don't think it's wrong to call this "Won't Get Fooled Again," Part 2. A way more laid-back vibe, but it's got that synth intro and a bass line to carry the beat, even if the drums weren't there keeping time. It's like the song's running a marathon, and it's not even breaking a sweat.
Cry If You Want: A nice change of pace, the song keeps time with a marching beat. It layers on the sound, broken only with the declaration "cry if you want."
Live at the Isle of Wight (1996)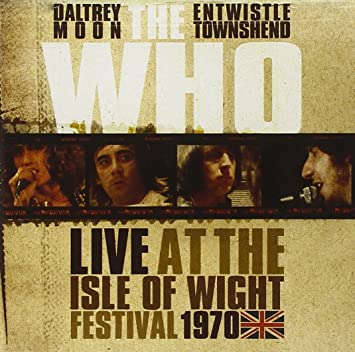 Released in 1996 but recorded in 1970, it contains a similar setlist to "Live at Leeds." However, it's the first album to grace us with a live recording of "Naked Eye," which to me is an automatic live album highlight. Sadly "Magic Bus" doesn't capture your attention quite like Leeds does. Other than that, it's all of Tommy, live! Oboy.
Then and Now (2004)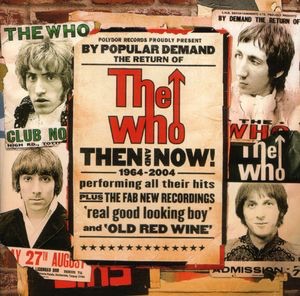 My first encounter with The Who was this compilation album, which also included two new songs. My favorite song is "Real Good Looking Boy."
Real Good Looking Boy: I'm not sure what to make of the song, other than he thinks he's attractive but his mom tells him he's ugly as hell? The music is moving, if it was in a rock opera, I might have a different opinion on concept albums. Don't miss out on the fact that the song is a tribute to Elvis's music. Listen right before 5:15 for a perfect example of a perfectly-timed triplet fill.
Old Red Wine: The song goes on for over two minutes, before it really gets to the good part, classic Who jam session! I love how the line "just let it breathe!" carries the song on out.
Endless Wire (2006)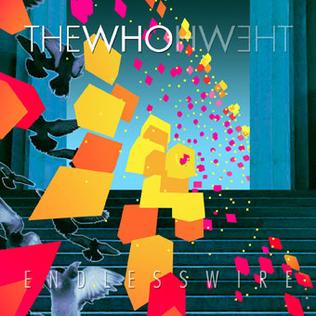 It's been over twenty years, but they're finally back! Well, they put out an album, but I don't know if they're back. Maybe I need to give it a few more listens. "Mike Post Theme" is moderately enjoyable.
Mike Post Theme: Such a strange song, from the country twangy sound, to the spoken lyrics, the references to Mike Post, or the vocal harmonies. Honestly, not a terrible song.
Greatest Hits Live (2010)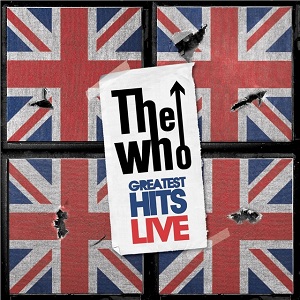 I mean, it is the greatest hits...live. So yeah, the album is full of amazing live versions of the songs you love. Don't miss the great medley of "Naked Eye / Let's See Action / My Generation." "Magic Bus" returns to its roots, reminiscent of the "Live at Leeds" track. "Baba O'Riley" has a nice voiceover with the intro, and you can hear that harmonica solo; hardcore. "Eminence Front" takes the dials all the way to 11 with a force not palpable on the studio version. This version of "Who Are You" isn't my favorite live version, but the drum fills before the second intro kills it. Don't forget "The Real Me," "I Can't Explain," and "Won't Get Fooled Again."
Join Together: The main album with this song, at least that I can find. Love that sproingy sound at the opening and the drum fill buildup to the song. The song itself has a great bassline to jam to.
Let's See Action: Studio version can be found on Hooligans album, but this version is just a wild ride, jumping off the excitement of "Naked Eye."
Quadrophenia: Live (2014)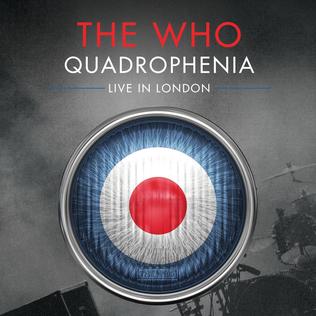 Yeah, the album is mainly just as the title says. I feel like this album has an unusually crisp sound, which gives you good quality while you still feel like you're in the front at a concert. "The Real Me" pounds away with an added energy not seen on other recordings. "5:15" closes out the first disc at double the normal length due to an extended bass-heavy jam. This may be my favorite "Who Are You," partially just because of the killer intro fills. The album doesn't end there, including favorites like "Won't Get Fooled Again" and "Baba O'Riley."
Live at Shea Stadium (2015)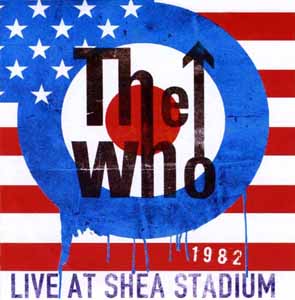 The audio quality isn't as great as the other albums, but hey it's live! I lied, this may be the best version of "Who Are You," mainly because of my affinity for fills. Or maybe they're all great, I don't know. Don't miss out on the "Sister Disco" recording, "Eminence Front" still rips it up, "Won't Get Fooled Again" is even longer than usual, and "Naked Eye" gets to stand alone as its own track.
Who (2019)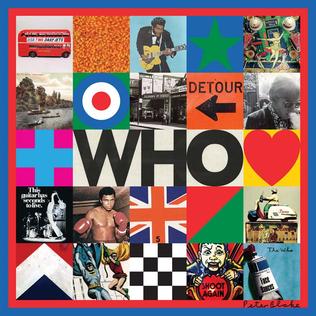 Yeah, these dudes have been putting out music for over 50 years. Insane. I haven't given it much of a listen (yet), but I'll let you know!