Def Leppard
I'm not sure exactly what makes Def Leppard so amazing, or at least why they've succeeded while so many other hair/pop metal bands have failed. Maybe it's because the rock ballad lyrics invoke memories of young love and rock n' roll. Maybe it's the perfect combination of two different guitar parts constantly harmonizing and synchronizing. Or maybe it's the novelty of a drummer with one arm. Whatever it is, Def Leppard has it and they're not getting rid of it any time soon. The band's longest lineup includes Joe Elliot (vocals), Vivian Campbell (guitar), Phil Collen (guitar), Rick Savage (bass), and Rick Allen (drums). Former guitarist Steve Clark performed on the majority of the famous albums but passed away in '91.
My dad found a Def Leppard CD in the parking lot at work and brought it home to me, and that's the first time I remember hearing "Pour Some Sugar On Me." As I was in middle school, I didn't really know what the lyrics meant, but the song sounded cool. That was my only exposure until I saw Def Leppard perform in 2015 (I enjoyed it much more than my mom did), and I started listening to more than just the greatest hits. Watching Rick Allen (AKA the Thunder God) play his drum solo at the end of "Switch 625" is pretty epic.
Interestingly, Def Leppard did not release any official live albums up until 2011, although you can find occasional recordings of earlier shows on the interwebs. Therefore, instead of mentioning where to find good live versions of certain songs, just listen to whatever live recordings you can. Sweet.
Nate's Epic Def Leppard Playlist
Armageddon It (Hysteria 1987)
Pour Some Sugar on Me (Hysteria 1987)
Run Riot (Hysteria 1987)
Rock! Rock! (Til You Drop) (High and Dry 1981)
Switch 625 (High and Dry 1981)
Animal (Hysteria 1987)
Photograph (Pyromania 1983)
Make Love Like a Man (Adrenalize 1992)
Rock of Ages (Pyromania 1983)
Let's Get Rocked (Adrenalize 1992)
Women (Hysteria 1987)
Slang (S.L.A.N.G. 1996)
Nine Lives (Songs from the Sparkle Lounge 2008)
Hysteria (Hysteria 1987)
Rock Brigade (On Through the Night 1980)
On Through the Night (1980)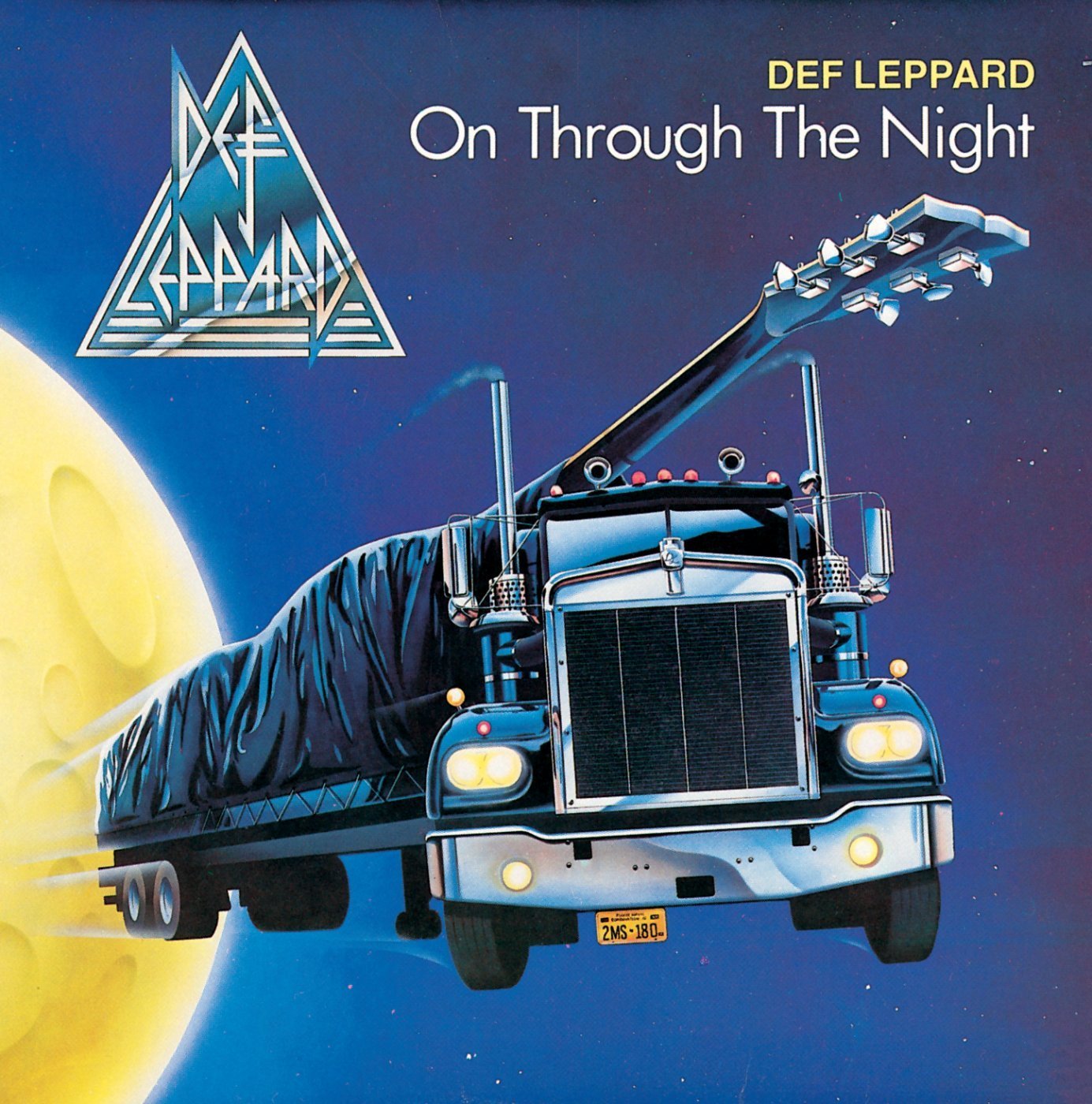 The first album lacks the flash and glamour of later albums, making Def Leppard seem like any other hair metal band. They're not. My favorite songs are "Rock Brigade" and "Hello America."
Rock Brigade: An excellent intro to Def Leppard. The guitars are strong, the drum beats are simple, and the lyrics are all about rocking. Nice guitar solo too.
Hello America: This song is a little funny with the constant "Hello America"s and also gives off a heavy metal Beach Boys quality at times (maybe it's just because they keep mentioning California).
High n' Dry (1981)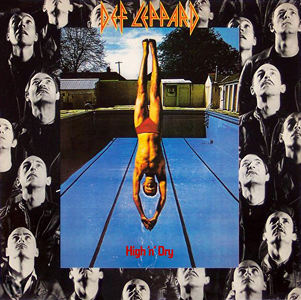 Def Leppard still hasn't hit their stride yet. There's only a couple songs on the album that do it for me, but maybe I just need to listen to it more. My favorite songs are "Bringin' on the Heartbreak" and "Switch 625."
Bringin' on the Heartbreak: I feel like Def Leppard does a great job at rock ballads. Maybe because they don't let it get too sappy or boring. This one maintains some level of excitement throughout the song.
Switch 625: I first heard this song at a live show and was hooked. It has a basic yet driving beat that slowly picks up intensity. I like the way bass lays down the beat and the guitar gets to riff all over it. In live recordings, the song has even more raw energy and usually ends with a short yet intense drum solo.
Pyromania (1983)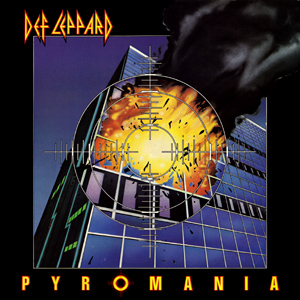 Oh yeah, now we're getting somewhere. Def Leppard hits their stride with a combination of head banging, head nodding, and the urge to sing along. I think there's a little more use of guitar harmonies with a more refined sound. My favorite songs are "Rock! Rock!," "Photograph," and "Rock of Ages."
Rock! Rock! (Til You Drop): I like the song, but I love the second part of the intro that has the slow groove going. I also like the bridge right after the guitar solo.
Photograph: One of Def Leppard's most famous songs, it's definitely grown on me through the years. It's so well crafted with the vocal harmonies, the notable guitar riffs, and most of all, the sickest drum fill ever (right after 2:30). The guitar solo is pretty awesome too.
Too Late for Love: This is a great rock ballad, what's not to like? I think the guitar riff is also really memorable.
Foolin': I feel like this song has very different sections and I always forget they're part of the same song. There's the "anybody out there," "I just gotta know," and "f-f-f-oolin'" sections. Good stuff.
Rock of Ages: Supposedly they tried recording this song so many times that Rick Allen stopped counting off and just started spouting gibberish...hence the intro. It's another Def Leppard song that's grown on me. I think the drum beat works really well with the verses, helping to provide some emphasis. This is probably my favorite guitar solo on the album, it just has a great groove.
Hysteria (1987)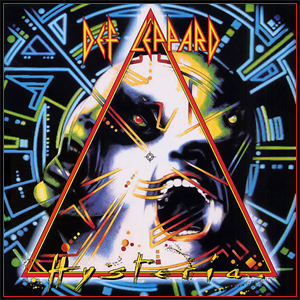 The ultimate Def Leppard album right here. So many good songs, with perfectly crafted guitar parts to complement the vocals. You probably can't even tell Rick Allen is missing an arm and is playing mainly with foot triggers (it was amputated after a car accident in 1985). I'm not going to mention the guitar solos in each song because they're all freakin' awesome. My favorite songs are "Animal," "Love Bites," "Pour Some Sugar on Me," "Armageddon It," and "Run Riot."
Women: The song is about how great women are, but I don't think it's intended in a way that will make it a feminist anthem anytime soon. Ignore the lyrics if you have to and enjoy the rest of the song. I really like the part where he sings "what's that spell" because I used to think it was "what's that smell" which was both funny and super creepy. What's that smell? WOMEN.
Rocket: This song has a pretty unique, "thumpy" drumbeat that I really like. I also like the pop culture music references throughout the song. The chorus is pretty cool with the high-pitched vocal harmonies thrown in. The drum-heavy interlude is kinda trippy.
Animal: This is one of those nice groovy head-nodding songs. Also a l'il creepy with the "and I want / and I need / and I lust," but you almost don't even notice because the song's so good. The interlude is intense but sets up the guitar solo nicely.
Love Bites: My favorite Def Leppard rock ballad. It has a slow groove that builds into the chorus, which has some great guitar riffs in response to the lyrics.
Pour Some Sugar on Me: This is one of my faves! Each part sounds simple but comes together to create a masterpiece. You can't argue with "I'm hot sticky sweet / from my head to my feet." The best part is the guitar solo with the 16th note breakdown.
Armageddon It: My #1 fave Def Leppard song! It has a great straight rock beat and I love the guitar layering and vocals. And of course the play on words in the title is great too. One of my favorite parts is when he shouts "C'mon Steve!" right before the guitar solo.
Run Riot: The opening guitar riff is pretty much the best thing in the world, I could listen to it on loop forever. The beat pounds away and makes you want to rock out. The guitar solo is fast but really awesome. And of course, the intro riff comes back in! If only I knew how to play guitar...
Hysteria: This is a step up from a rock ballad, containing slightly more energy than "Love Bites" but still pretty chill. I feel like the guitar solo is kinda soothing.
Adrenalize (1992)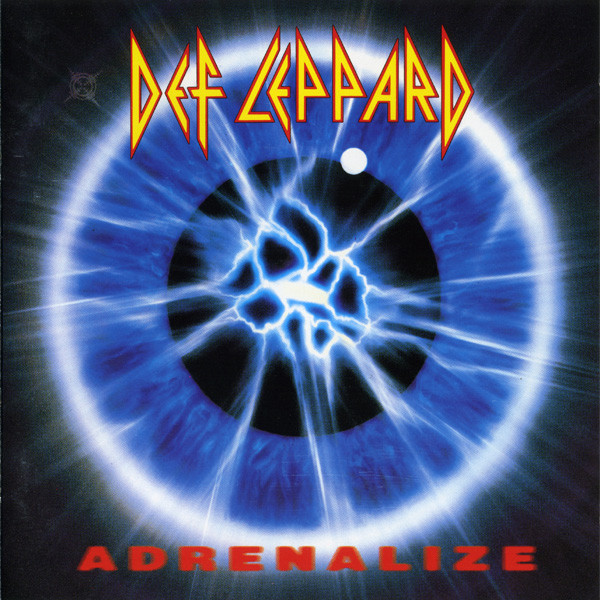 Def Leppard wasn't able to reproduce the success of "Hysteria," and the death of Steve Clark didn't help. However, this album still has its staples. It has the same great sound as previous albums. My favorite songs are "Let's Get Rocked" and "Make Love Like a Man."
Let's Get Rocked: I love the use of rock n' roll in the literal sense and as a metaphor for sexual relations, especially the short sample of some classical violins. The song has an excellent beat and makes for a great sing-a-long. The guitar solo complements the drums, which have a hard rock feel yet hint of a swing beat.
Make Love Like a Man: I think it's great how the song jumps right into the chorus, so you know exactly what the song is about. The best line is "don't call me gigolo / don't call me Cassanova / just call me on the phone / and baby c'mon over." Nice use of cowbell too. I also like how the ending builds up with layering of the lyrics until the very end of the song.
Have You Ever Needed Someone So Bad: Typical Def Leppard rock ballad, and there's nothing wrong with that.
S.L.A.N.G. (1996), Euphoria (1999), X (2002), Yeah! (2006), Songs from the Sparkle Lounge (2008)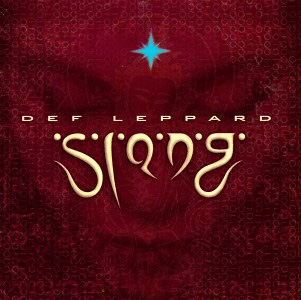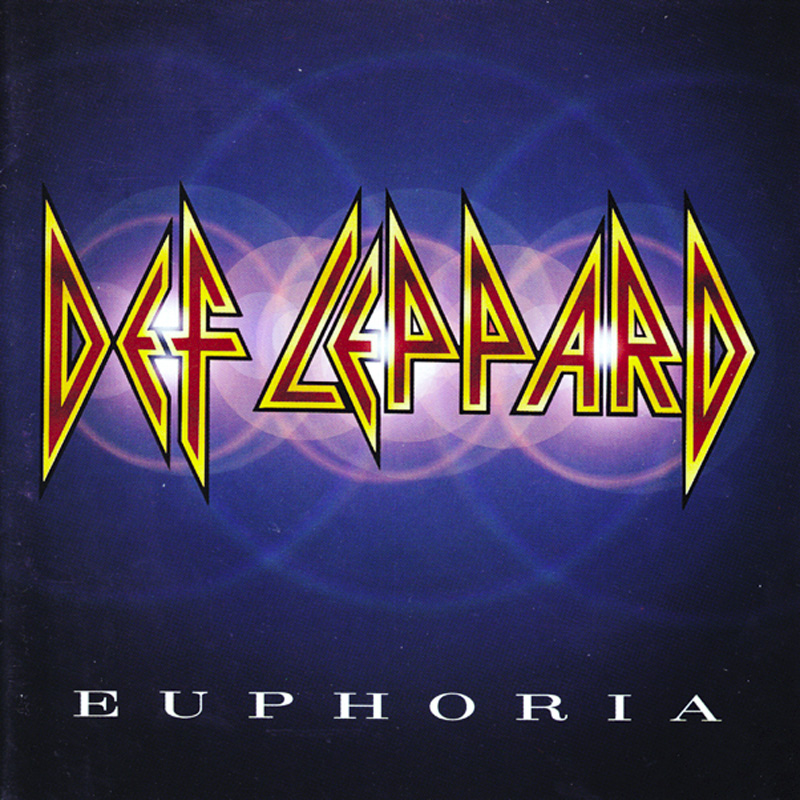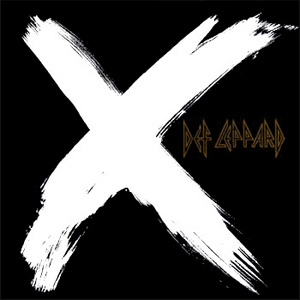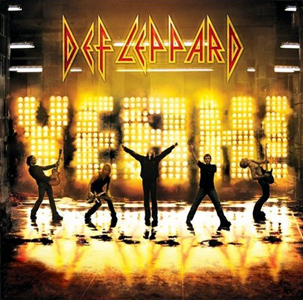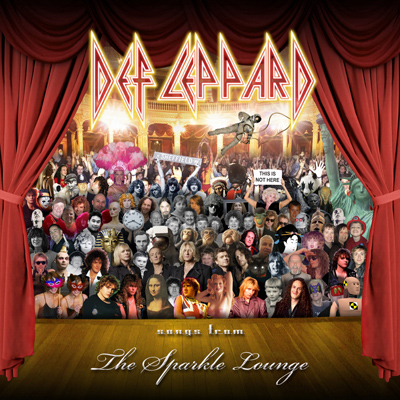 Haven't listened as much to these albums, sorry!
Slang: Maybe a hint of hip-hop in this song? Although it doesn't sound much like other Def Leppard song, I think it's appealing in its own way. The interlude is pretty funky.
10538 Overture: I like the ELO version and somehow this is the only song I am familiar with on an entire album of cover songs.
Nine Lives: I am not a country fan by any means, but I'll take this song. But I also really like that the album has versions with and without Tim McGraw. The guitar riff is probably my favorite part.
Mirror Ball: Live and More (2011)