Asia
Created in 1981, Asia was a supergroup (a band made up of members of other famous groups). The original lineup included John Wetton (vocals and bass), Steve Howe (guitar), Geoff Downes (keyboards), Carl Palmer (drums). They were gathered by the record company to try to create a prog rock album that would sell. However, their eponymous first album was less "prog" and more "pop" than planned, but the public loved it, especially the hit "Heat of the Moment." More albums were released, but none reached the same level of success. Members left and were subsequently replaced, with Geoff Downes being the only member to be in every incarnation. In 2006, the original lineup reunited to tour once again, and decided to record and release more albums.
My first recollection of Asia was from "The 50 Year Old Virgin." At some point I listened to the original album, decided "hey this is good," then picked up some of the later live albums. There's a surprising number of live albums, especially from the last 10 years. Unfortunately I never had a chance to see them while John Wetton was alive.
I think they appeal(ed) to a lot of people because of the pop sound, with hints of prog rock included. The vocals are quite melodious, and the drumming is still excellent, if simplified from his days with ELP. Of course, the guitar and keyboards are excellent as well. It's kind of "feel good" pop music, but with really good instrumentation.
Nate's Epic Asia Playlist
Here Comes the Feeling (Asia)
Who Will Stop the Rain (Aqua)
Soul Survivor (Asia)
Never in a Million Years (Alpha)
Face on the Bridge (XXX)
Sleeping Giant/No Way Back (Phoenix)
Heaven on Earth (Aqua)
Open Your Eyes (Alpha)
Eye to Eye (Alpha)
Tomorrow the World (XXX)
Heat of the Moment (Asia)
True Colors (Alpha)
Al Gatto Nero (XXX)
Light the Way (Omega)
Only Time Will Tell (Asia)
Holy War (Omega)
Asia (1982)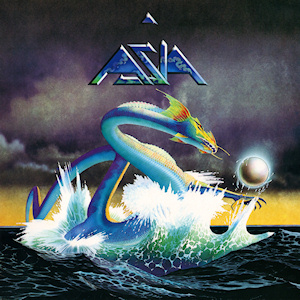 Their debut album, Asia went against the grain of everything expected. The album has a harder, 4/4 sound than Yes, and much more guitar than ELP (especially since ELP has no guitar...). Also, this album appeared in the early eighties, when music was trending away from straight "rock" towards new wave, punk, and rap. Nevertheless, the album did extremely well, paving Asia's way for years to come. Personally, I enjoy all of the songs on this CD, and realizing Asia had more than just "Heat of the Moment" was what really drew me into their music.
Heat of the Moment: The most famous Asia song of all time. The beginning is unique, measured as two measures of 5/4, but counted 3/4, 3/4, 4/4. Howe's guitar riff is the most memorable part, instantly recognizable. His guitar solo is not super exceptional by his standards, but that's okay. Definitely one of Asia's best songs.
Only Time Will Tell: The second-most famous Asia song, Downes's keyboard solo at the beginning makes this track as recognizable as the previous one. Don't let the song's melancholy tone fool you, this song is full of excitement and emotion.
Sole Survivor: This song demonstrates a trend in Asia's music to have music that seems to flow in 4/4, but occasionally throws in the odd time signature. If you listen to the intro, there a few measures of 7/8 thrown in to create a little unexpected jump in the beat. There's some great guitar parts in here, and although Palmer's drumming is relatively simple (a trend in Asia's music), it's perfect for what he needs to do. From what I've noticed, Palmer isn't showy unless he has good reason to do so.
One Step Closer: I like this one for the background xylophone riff. It's funky!
Wildest Dreams: This song is about a man's greatest fears, as he watches war breaking out and the government becoming more totalitarian.
Here Comes The Feeling: Heat of the Moment may be the most famous, but this is my favorite Asia song! I really like the instrumental intro, with slightly upbeat chords. I really like how the song seems to drag before the choruses, as if conserving energy for the most exciting part of the song. I also LOVE the synth solo, along with Palmer's drumming!
Alpha (1983)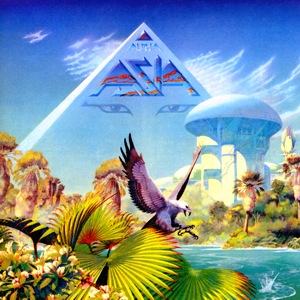 The first album is definitely the most popular, but the band gave a strong showing on the second attempt. There's the similar sound from the previous album. A couple songs get played more on subsequent live albums, but my personal favorites are actually "Never in a Million Years," "Eye to Eye," and "True Colors."
Don't Cry: I like this song for the powerful opening with plenty of drum fills. Otherwise the song sounds pretty basic.
The Smile has Left Your Eyes: I'm not a big ballad person but this is a pretty good one. I like how it picks up energy throughout the song, you could picture them playing it live, accompanied by a string section. I also like the anticipation built at the end of the song with the final chorus.
Never in a Million Years: I like how the song picks up a bit during the pre-chorus with the vocal harmonies, but then hits you with the repetition of "never...in a million years!"
The Heat Goes On: This is a groovy intense Asia song, and is often Carl Palmer's choice for his earth-shattering drum solos on the live albums. The studio version has a super funky synth solo section.
Eye to Eye: I really enjoy the hesitancy built into the baseline rhythm. There's a similar hesitancy during the chorus, with the guitar laying down a "stuttering" beat. Also, I always think of this as the song where Wetton says the word "anglophile."
True Colors: I love the dark sound, especially in the chorus. It has a nice pounding beat, creating an intensity matched by the guitar which fools around the dark sensation.
Open your Eyes: The song doesn't start out as much, then slaps you in the damn face. Pay attention, this album isn't over yet. The beat isn't particularly complex but it still maintains a strong drive.
Astra (1985)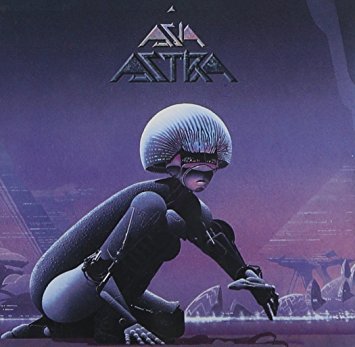 The first album without all four original members, this one exchanged Mandy Meyer for Steve Howe. I like the song "Go."
Go: The most famous song from the album, it has an edgy guitar riff, more heavy metal than most other Asia songs. The music video is strange, but at least it explains the album artwork?
Aqua (1992)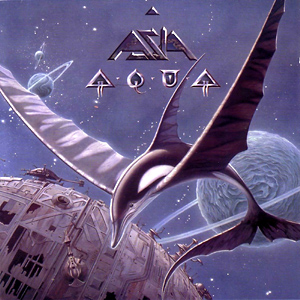 This album is the first to feature John Payne instead of John Wetton. Surprisingly, this album features two of my favorite Asia songs: "Who Will Stop the Rain" and "Heaven on Earth."
Who Will Stop the Rain: There's so much to this song. The drum part isn't complex but it's able to emphasize heavily on syncopated beats with some awesome fills thrown in. My favorite is the simplistic fill right after "onto broken wings..." The guitar solos are super awesome and I like the lyrics. This is a great hard rock song.
Heaven on Earth: It's amazing how much angst can be captured with just a strong "ohhhhhh..." This song has a pretty simple rhythm but emphasizes the all-important 1+2+ syncopation. And damn son, that guitar solo is absolutely killer and comes out of nowhere, emphasizing the hell out of the syncopated rhythm.
Fantasia - Live in Tokyo (2008)
Phoenix (2008)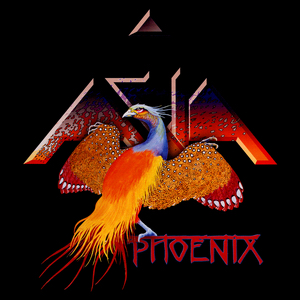 The original lineup is finally back together! This album is nothing special but I do love "Sleeping Giant/No Way Back."
Sleeping Giant: I like to think of this song as a prologue to the next Asia album, kind of a "we're back in action, get pumped." There's just a couple minutes of spooky chanting, before you find yourself in what I can only assume is the opening theme for a cheesy 80's show about people in space (my interpretation). I absolutely love the overly processed bass sound (is it synth? bass? I dunno), so good. This is the Asia I need.
Omega (2010)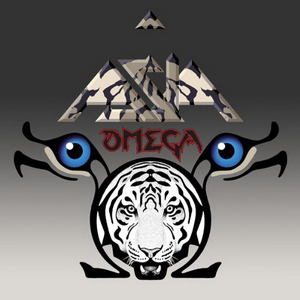 If there's an Alpha, there has to be an Omega, right? This album got me through drives during a nice chunk of college. My favorite songs are "Finger on the Trigger," "Holy War," and "Light the Way."
Finger on the Trigger: A great album opener, it introduces Asia's straightforward rock sound to a new generation of listeners. I feel like there's a lot of sound hoisting up the vocals, but not in a bad way.
Through my Veins: This song is kind of a ballad but not totally. The lyrics are interesting I guess.
Holy War: I like the piano heaviness, reminds me of "Cutting it Fine." It has a great instrumental bridge, complete with Carl Palmer shredding it on the drums. Completely shredding.
Listen Children: This song feels a little cheesy but honestly that's okay. I can literally picture John Wetton, surrounded by children, singing this song in a kindergarten classroom or something.
Light the Way: I love a fast-paced song, and I especially love one with a half-time feel during the chorus. And of course the instrumental bridge is chugging along strong. Probably my favorite song on the album.
Emily: This sounds like something out of a musical, maybe just because it has a similar beat to "It's a Hard-Knock Life." It does have a good beat though, takes away from the slowness of the song. Try figuring out the secret code at the end of the song!
There Was a Time: This is the song John Wetton would sing if he was a minstrel on a medieval quest. It takes a bit to get going but the slow groove drum beat is worth it.
I Believe: Just a nice feel-good Asia song.
XXX (2012)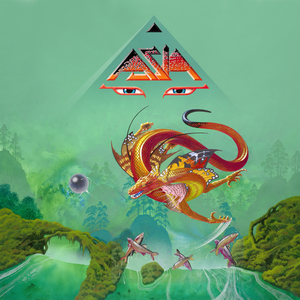 Released 30 years after Asia (hence the name), this is the last album to feature Steve Howe before he left the band yet again. This is probably the best album after "Asia," all the songs are super catchy. My favorite songs are "Tomorrow the World," "Face on the Bridge," and "Al Gatto Nero."
Tomorrow the World: This song is a great pick-me-up with its optimistic sound and lyrics. I love the excellent imagery used throughout. I think the keyboard accompaniment is more noticeable in this song. There's a great drum fill right before the last round of the chorus, you can picture Carl Palmer letting loose.
Bury Me in Willow: Sometimes the second track on an album gets lost under the intensity of the first. Not so with this track, which provides a release to the energy already built up. It has a great groove that demonstrates the matured Asia pop sound.
No Religion: It reminds me of some of the more upbeat songs from "Omega," but the new/improved version. I love the guitar riff. I have no idea what the line "I got a date with miss Ludo, Ludovica Nabokov" means, but I like it. Trippy synth solo in the middle.
Face on the Bridge: It's a song of melancholy but also full of hope (I think). It's one of their best, I think because it sounds like four excellent musicians having a good time jamming together and making great music. Best line? "I nod my head to the King of Bohemia" - cue synth riff! If you don't try to sing along with that keyboard part, you're not feeling it.
Al Gatto Nero: This is probably my favorite intro, with all the little drum fills, and I love that it gets repeated before the final chorus (with extra drum riffs). I think there's something unintentionally humorous about the chorus - I picture a bunch of dudes hanging out, bobbing their heads, and talking about going to find "Al Gatto Nero."
Judas: A groovy song about Judas and getting stabbed in the back! At least it's groovy!
Ghost of a Chance: It's a good pump-up song, if you're about to go into battle against evildoers or something.