Bladder Cancer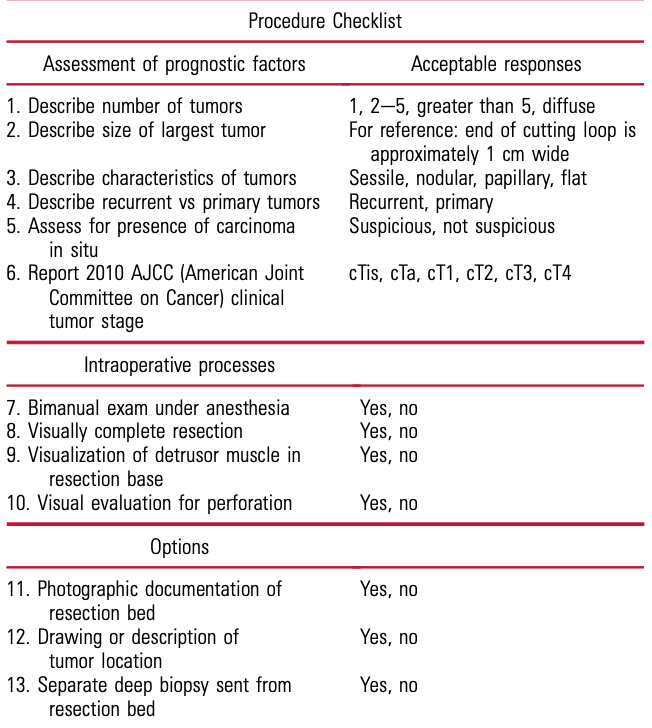 TURBT Checklist, Anderson et al.
Transurethral Resection of Bladder Tumor
Tips
Bipolar may avoid TUR syndrome seen with water/sorbitol
Cold cup small tumors to prevent cautery artifact
Send tumor base separately to define deep margin and presence of muscle
Diverticular tumors: higher risk for perforation, can consider partial cystectomy
Anterior wall tumors: fill minimally and compress abdominal wall, use extra-long resectoscope, perineal urethrostomy can occasionally be performed
if obviously muscle invasive, just biopsy borders and base
Obturator reflex: paralyze to prevent adductor contraction with lateral wall tumor resection
Complications
Uncontrolled hematuria: seen in 2%, manage with bladder irrigation, traction, fulguration, clot evacuation
UTI: seen in 3%
Clinical perforation: seen in 1-7%, majority are extraperitoneal, although up to 50% patients demonstrate contrast extravasation if cystography is performed, low risk of tumor seeding
Prostatic seeding with simultaneous TURP: potential risk for HG disease, considered acceptable for LG disease
Ureteral obstruction: minimize by using cutting current, assess efflux with IV dyes, consider postop renal US
TUR syndrome: seen in < 1%
References
Anderson, Christopher, et al. "A 10-item checklist improves reporting of critical procedural elements during transurethral resection of bladder tumor." The Journal of urology 196.4 (2016): 1014-1020.