Surgical Management of Kidney Stones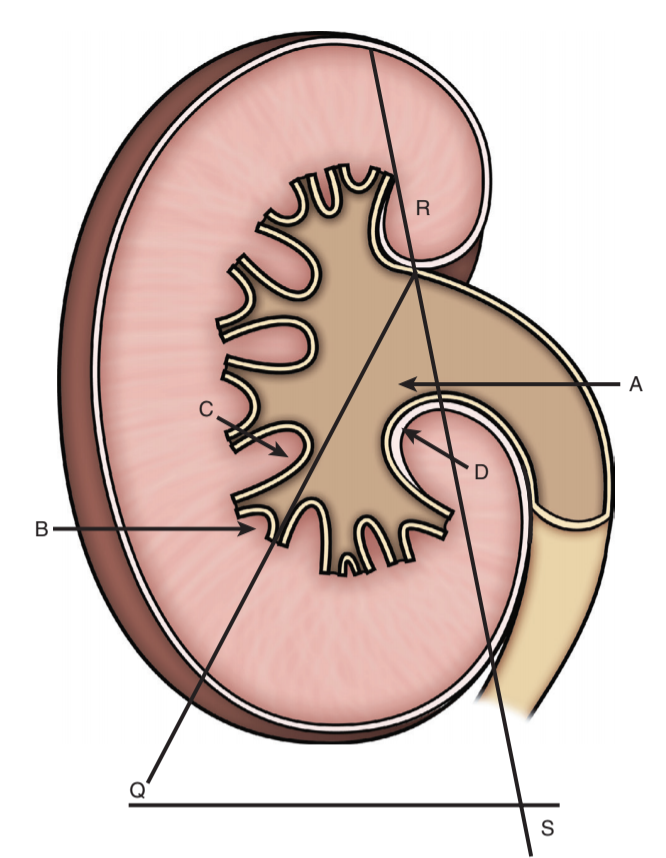 Measuring lower pole anatomy, from Campbell's
Pre-Surgical Workup
Workup
CT provides stone size, location, and density - helps decide best treatment option
Preop UCx needed to decide abx treatment
Do not need to stop anticoagulation for URS, but stop for PCNL, consider for ESWL
Pyuria may be due to stone irritation and may not be due to infection
Frequency/urgency can be seen with UVJ stone irritation
Renal function: consider nephrectomy if stone-containing renal unit has < 15% split function
Counseling
Asymptomatic stones: 50% progression at 5yrs, 15% spontaneous passage, surgical intervention 10-20% within 3-4yrs diagnosis
Staghorn stones: without treatment, 50% kidneys with staghorn calculi lose function within 2yrs
Matrix: ESWL doesn't work, best served with PCNL
Spontaneous passage of ureteral stones: 71% vs 22% for distal vs proximal, 68% for ≤ 5mm, 47% for 6-10mm
Recommend treatment for obstructing stones within 4-6 weeks, otherwise can lead to irreversible renal damage, stones that do not pass within 6 weeks are unlikely to pass (< 5%)
Renal stone size affecting surgery choice
< 1cm: ESWL/URS have equivalent stone free rates
1cm-2cm: ESWL affected by stone location (lower pole less efficacious) and size, URS affected by stone size, PCNL not affected by stone size
> 2cm: PCNL 1st choice, ESWL/URS less efficacious with higher need for secondary procedures
Anatomic considerations
UPJO: can remove stones at time of repair or perform staged procedure
Calyceal diverticula: rare (0.2-0.6%) and usually asymptomatic, best managed with PCNL
Horseshoe kidney: 15-20% have kidney stones, can manage based on stone size, ESWL usually less effective due to more complex drainage
Pelvic kidney: can consider any treatment option, large stones require PCNL or even laparoscopic removal
Duplicated ureter: uncommon (0.8%), consider retrograde pyelogram
Ureteral stricture: consider stenting or balloon dilation
Solitary kidney: consider prophylactic treatment of asymptomatic stones
Urinary diversion: antegrade approach usually best, PCNL stone free rates 75-88%
Transplant kidney: prophylactic treatment recommended as lack of innervation will lead to lack of presenting obstructing symptoms
Lower pole location complicates surgeries
Mainly affects ESWL planning, no effect on PCNL (may be easier), improving URS technology is decreasing issues with lower pole stone treatment
Assess infundibulopelvic angle, infundibular length, infundibular width
Less likely to spontaneously pass after fragmentation
Surgery options
Percutaneous Nephrolithotomy (PCNL)
Everyone should receive 5-7 days abx even with negative culture to decrease sepsis risk from stone colonization
Upper pole access risks pleural/lung injury, lower pole access may make ureteral access more difficult due to angle
Fluoroscopic access: eye of the needle or triangulation techniques, no clear benefit to one over the other
Dilate tract either with balloon or sequential dilators, do not dilate past calyx (can rupture infundibulum)
No proven benefit for tract sealant
Check postoperative CXR to assess for pleural injury
Complications: overall 20-30%, fever 15-30%, transfusion 5-10%, sepsis 0.5-2.5%, angioembolization < 1%, thoracic complications < 3%, organ injury < 1%, death < 0.3%
Colonic injury: use PCN as colonic drainage, place new PCN or stent for GU drainage, make NPO and slowly advance diet, perform contrast imaging after 7 days to assess for persistent fistula prior to removing tubes, intraperitoneal injury may require operative management to prevent peritonitis
Ureteroscopy (URS)
Obtain and maintain renal access with safety wire in case stenting needed
Consider trendelenberg positioning to maneuver stones to upper pole
Always place stent if sheath is used
Perforation: 0-4%, stop procedure and place stent
Stricture: 3-6%, always obtain postoperative imaging to assess for obstruction
Lost stone: do not attempt to remove, place stent and give antibiotics
Avulsion: < 0.06-0.5%, proximal portion at highest risk, do not perform blind basketing, place PCN and perform delayed repair, extensive injuries require ileal ureter or autotransplantation
Extracorporeal Shock Wave Lithotripsy (ESWL)
Density: Hounsfield units < 900-1000 respond best
Skin/Stone distance: < 10cm has best success
Pre-stenting: no improvement in stone passage
a-blockers: increase stone-free rates, decrease time to stone passage
Antibiotics: not required
Contraindications: pregnancy, coagulopathy, untreated UTI, renal/aortic aneurysm, upper tract obstruction, inability to target stone
Complicating factors: stone type, anatomic abnormalities, difficult lower pole anatomy, patient immobility
Intraoperative imaging with fluoroscopy, ultrasound, or both
Fragmentation mechanics: spall fracture, squeezing, shear stress, superfocusing, acoustic cavitation, dynamic fatigue
Improve stone passage with a-blockers and diuresis
Complications: hematuria (common), hematoma (1-20%) - no evidence for long-term effects on HTN, CKD, fertility
Summary AUA Guidelines
Age
Size
Location
MET
Surgery
Adult
< 10mm
proximal ureter
attempt for 4-6 weeks
flexible URS
ESWL (2nd line)
mid-ureter
distal ureter
50% spontaneous passage
77% passage with a-blockers
> 10mm
proximal ureter
no benefit
mid-ureter
distal ureter
< 20mm
non-lower pole total burden
no benefit
URS/ESWL: SFR decreases with increased stone size
PCNL: no effect of stone size
> 20mm
total renal burden
PCNL: first line, SFR 70-94%
URS: SFR 75%, better if staged, less complications
ESWL: SFR 19-57%, higher sepsis rate
< 10mm
lower pole burden
ESWL/URS: equivalent SFR
> 10mm
PCNL: highest SFR, highest risk
URS/ESWL: 2nd line
residual stones
possible benefit if small/obstructing
Treatment may be required if fragments > 2mm and near renal pelvis or ureter
infection stones require treatment
renal stones w/ pain but no obstruction
no benefit
Treat if no other source of pain, but counsel that pain may not improve after stone removal
ESWL: SFR 0-25% (not recommended)
asymptomatic renal stones
no benefit
Treatment not required
30-46% chance of stone growth
13%-49% chance of symptomatic stone event
7-26% need for intervention
Treat if likely infectious, high risk profession, or poor follow-up risk
Pediatric
ureteral stones
benefit if < 10mm
URS: SFR 95% (< 10mm), 78% (> 10mm)
ESWL: SFR 87% (< 10mm), 73% (> 10mm)
prestenting not required
renal stones
no benefit
URS: recommended if < 20mm (SFR 80-85%)
PCNL: recommended if > 20mm (SFR ~90%)
ESWL: SFR 80-85% (< 20mm), 73-83% (> 20mm)
Pregnant
any location
Okay: a-blockers, narcotics
Not okay: NSAIDs
Situation dependent
Max XRT dose 50 mGy
Emergent Drainage
Criteria for emergent/urgent stent/PCN
Evidence of infection: fever, leukocytosis, UA with bacteria/WBC
All renal units blocked: bilateral stones, or unilateral stone in solitary kidney
Uncontrolled pain: patient unable to remain home on PO meds
Should a patient undergo PCN or stent?
Pearle 1998: only RCT in literature, no difference in outcomes
PCN benefits: higher spontaneous stone passage rate, patients actually have better pain tolerance, don't actually mind bag as much, better drainage with larger/multiple stones
Stent benefits: don't need IR to place...that's pretty much it
Bottom line: PCN outperforms stent in all parameters (including patient satisfaction), but stent should usually be attempted if IR is unwilling or unable
Follow-Up
After surgery
Labs: can obtain 24hr urine once surgery completed and stent/PCN removed
Imaging: postop ureteral obstruction with silent hydronephrosis occurs in ~2%, renal US 4-6 weeks after stent removal recommended for all patients
Long-term
Labs: repeat 24hr urine 6mo after initial assessment to check for improvements, then consider checking on annual basis to assess for adherence.
Imaging: no clear evidence for long term screening, but most recommend annual KUB + renal US to assess for stone formation/growth and silent hydronephrosis.
Lower tract stones
Bladder stones
5% total stone disease, 1.5% urologic hospitalizations
Primary bladder stones: can be endemic, caused by malnutrition, may present with child pulling/tugging at penis, usually ammonium acid urate, CaOx, urinc acid, and CaPhos
Secondary bladder stones: caused by underlying outlet obstruction, most often seen with BPH, usually not due to inability to pass upper tract stones
Seen in 15-30% spinal cord injury patients within 10yrs
Seen with 0.7-2.2% long-term catheters, can be due to balloon fragments
Medical management has no proven benefit, takes too long to dissolve stones
Endoscopic management: cystolitholapaxy (mechanical breakage) vs cystolithotripsy (energy fragmentation), usually via transurethral route
Cystolithotomy via open approach usually requires overnight stay and catheter drainage
Urinary diversion stones may require percutaneous access and possible revision due to inadequate drainage
Urethral stones
0.3-1% total stone disease
Primary stones occur from obstruction, urinary stasis, and presence of diverticula
Can develop on hair-bearing urethral grafts, hair persists after removal in 3-6% grafts
Prostatic stones can develop from brachytherapy or cryoablation
May present with acute retention, LUTS, and pelvic/rectal/penile pain
Can instill lidocaine jelly and attempt milking out small distal stones
Consider ESWL, percutaneous extraction, ventral meatotomy
Preputial stones: smegma buildup and phimosis, may require circumcision (send for pathology)
Prostatic stones: more common with prostatitis, seen near prostatic capsule during endoscopic resection
Sources:
AUA Guidelines: Surgical Stone Management
Fulgham, Pat Fox, et al. "Clinical effectiveness protocols for imaging in the management of ureteral calculous disease: AUA technology assessment." The Journal of urology 189.4 (2013): 1203-1213.
Ganpule, A. and M. Desai. "Lower Urinary Tract Calculi." Campbell-Walsh Urology. 12th ed. Philadelphia, PA: (2020).
Leavitt, D., J. de la Rosette, and D. Hoenig. "Strategies for Nonmedical Management of Upper Urinary Tract Calculi." Campbell-Walsh Urology. 12th ed. Philadelphia, PA: (2020).
Matlaga, B. and A. Krambeck. "Surgical Management for Upper Urinary Tract Calculi." Campbell-Walsh Urology. 12th ed. Philadelphia, PA: (2020).
Pearle, Margaret S., et al. "Optimal method of urgent decompression of the collecting system for obstruction and infection due to ureteral calculi." The Journal of urology 160.4 (1998): 1260-1264.