Stones: Evaluation, Prevention, and Non-Surgical Management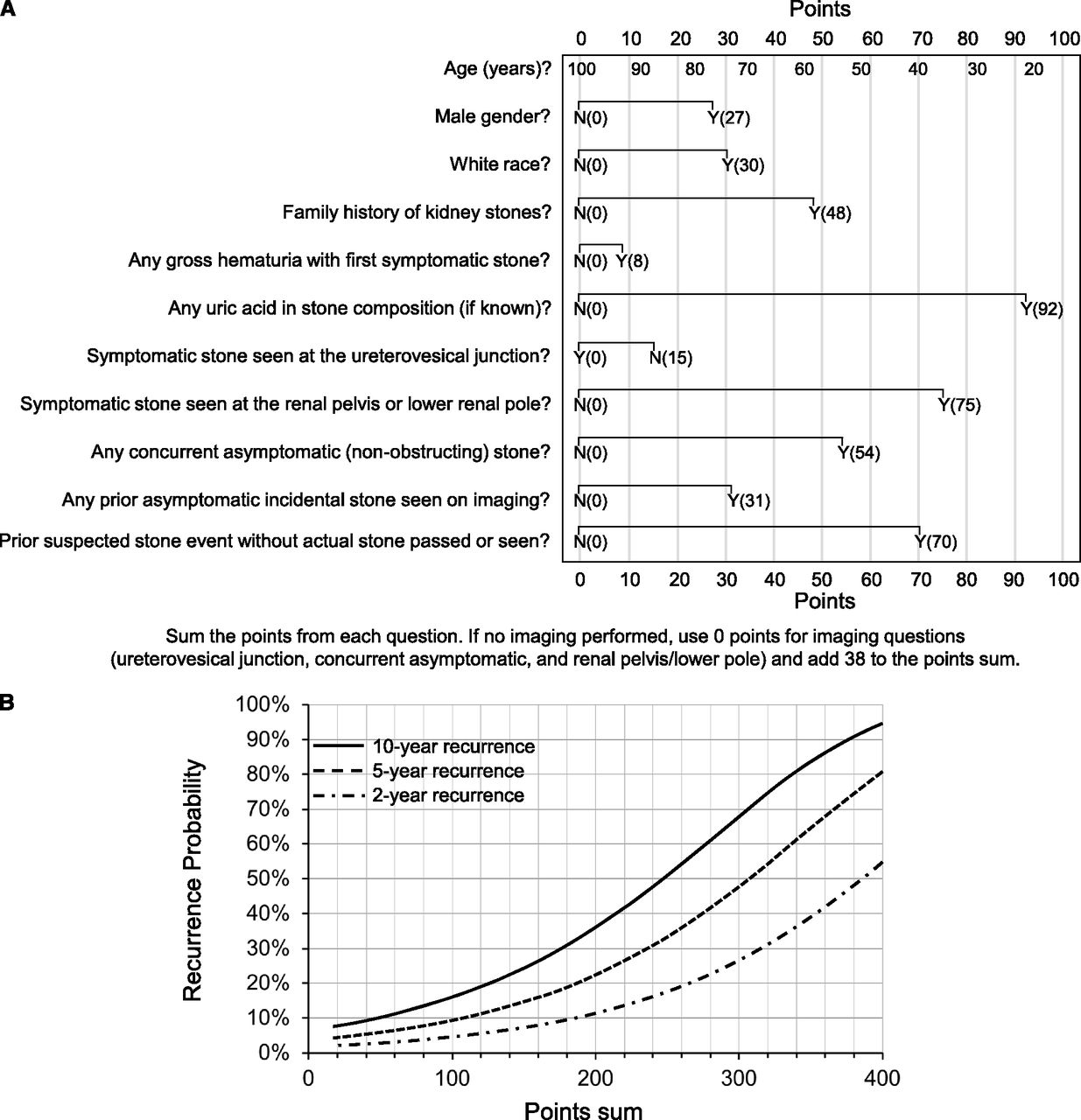 Rule, Andrew D., et al. "The ROKS nomogram for predicting a second symptomatic stone episode." Journal of the American Society of Nephrology 25.12 (2014): 2878-2886.
Epidemiology, etc
1/11 (9%) people will make a stone (or more) in their lifetimes
After a stone episode, up to 50% will have another stone episode within 10yrs - metabolic syndrome (obesity, HTN, DM) increase stone forming risks
ROKS nomogram: Created in 2014, predicts risk of stone formation based on patient and stone factors
Stone Forming Factors
Oxalate: Component of most common stone type (CaOx). Only 20% come from diet, no benefit in avoiding oxalate-containing foods unless urine tests specifically show hyperoxaluria. Vitamin C (absorbic acid) is converted to oxalate, so high levels can increase stone formation.
Uric acid: can act as a nidus for CaOx stone formation. Urinary precipitation affected more by urinary acidification than uric acid levels.
Citrate: Main stone inhibitor. Inhibited by high acid foods (meat, cheese, eggs). Fruit and veggies contain the most citrate and have lowest acid load.
General Stone Prevention
Drink more water: maintain UOP 2-3L to dilute salts and other stone forming agents, do not need to titrate to color
Eat less salt: salt reabsorption in the tubule decreases calcium reabsorption, limit salt intake to < 2.3g daily (100mEq)
Eat less meat: protein = amino acids -> high urinary acid load, all meat (mammal, bird, fish, etc) are equal, can also increase calcium excretion
Oxalate-containing foods: only avoid if proven hyperoxaluria, likely due to enteric causes
Vitamin C (absorbic acid): can be converted to oxalate, avoid high doses
Which fluids are best?
Volume is key - maintain UOP > 2.5L/d
Water is best - dilutes urinary solutes
Dark colas (contains phosphoric acid) are bad, and avoid other sugar-sweetened beverages
Caffeinated drinks (coffee, tea) are fine
Alcohol (wine, beer, etc) are fine
What's the deal with juice
Citrus juice contains citric acid, which is converted to citrate and bicarbonate
Grapefruit juice has the highest citrate level (197.5mEq/L)
Grapefruit and orange juice both contain potassium in addition to citrate, but lemon juice does not
Calcium supplements, yes/no?
Decreased calcium leads to increased oxalate gut absorption. Calcium supplementation increases calcium stone risk. Therefore, take supplements only if low calcium to maintain the normal range.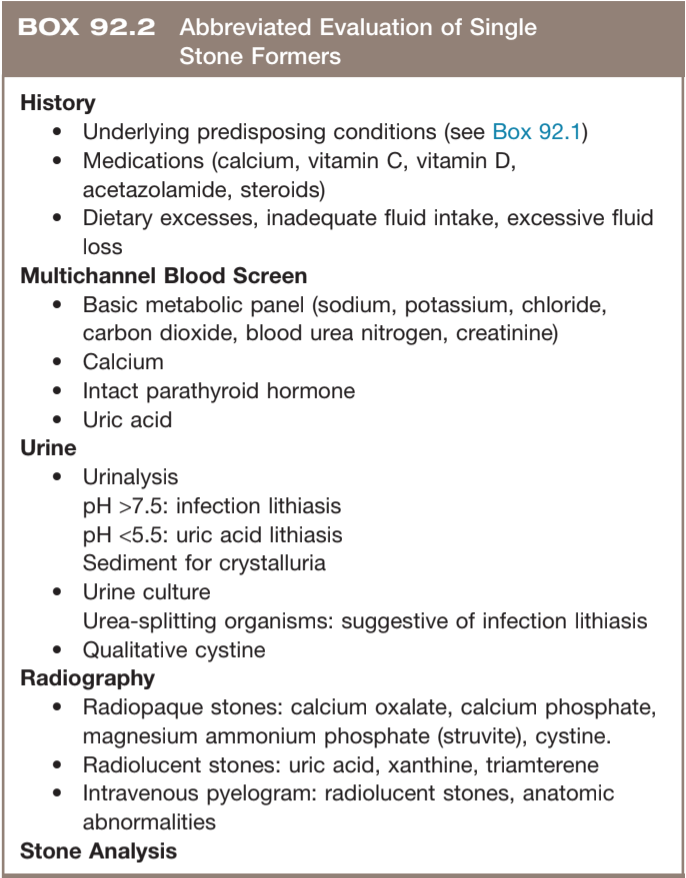 Workup after 1st Time Stone Formation
Medical History
DM/obesity: insulin resistance impairs ammonium excretion, leading to low urine pH and uric acid stones
Gout: causes hyperuricosuria
RTA Type I (distal):
Hyperthyroid:
HyperPTH: causes hypercalcemia and hypercalciuria
GI malabsorptions: increase risk for decreased calcium absorption (complexed to fats) and subsequent increased oxalate absorption (normally complexes with calcium and not absorbed)
Medications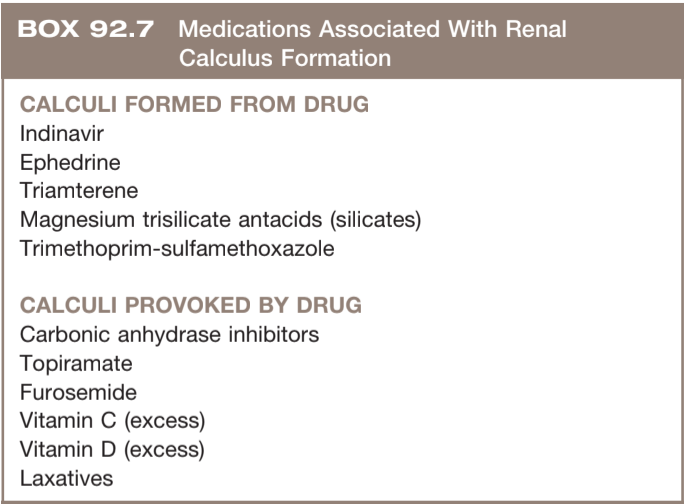 Mineral Metabolism Workup
Indications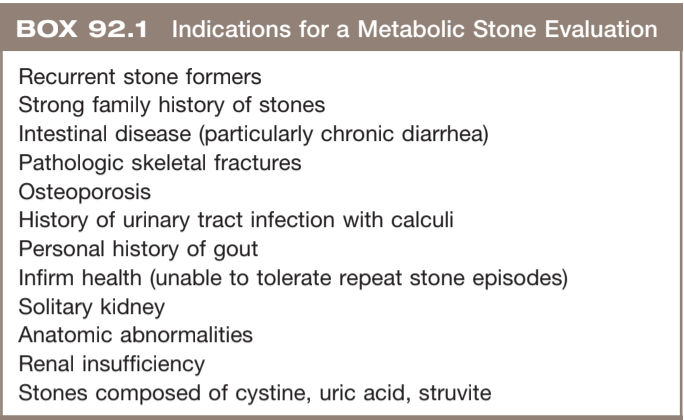 Components
Blood: electrolytes (BMP), Ca, Phos, Vit D, PTH (if hypercalcemia)
24hr Urine (see next section)
Stone analysis: to assess for unusual stone types
Hypercalciuria
Resorptive: primary hyperPTH increases bone turnover and intestinal absorption, causing hypercalcemia and subsequent hypercalciuria, treated with parathyroidectomy
Absorptive: increased GI tract absorption of calcium
Renal: calcium wasting via nephron leakage
Granulomatous disease: increased 1-alpha hydroxylase (produced by macrophages) -> increased Vitamin D production, treat with steroids
Thiazide challenge: initiation of thiazide will lead to persistent hyperPTH if primary, but hyperPTH will resolve if secondary
24hr Urine Collection
Measured variables
Volume
Calcium: increased levels (> 200mg/d) lead to increased stone formation, no need to differentiate between the three types
Oxalate: increased levels (> 40mg/d) complex with calcium and precipitate out, can be due to increased gut absorption
Sodium: high urinary sodium -> decreased proximal tubule sodium resorption -> decreased distal tubule calcium resorption
Citrate: complexes with calcium, can be converted to bicarbonate, decreased levels (< 450-550mg/d) increase calcium stone formation
Magnesium: can bind oxalate, underlying cause for enteric hyperoxaluria can cause decreased magnesium absorption and subsequent decreased levels (< 80/d)
Potassium
Uric Acid: increased levels (> 800mg/d) create nidus for CaOx crystallization, but main determinant for precipitation is pH, not uric acid level
pH: low pH induces uric acid precipitation, elevated levels increase CaPhos formation
Sulfate: increased levels indicates high animal protein intake
Creatinine: indicates adequacy of collection based on expected normal value for creatinine excretion (20-25mg/kg/d for men, 15-20mg/kg/d for women)
Tips for Collection
Make sure a day is chosen where urine can be completely collected
Start after first morning void, and collect until morning void of following day
Discontinue Vitamin D, calcium, antacids, diuretics, acetazolamide, and Vitamin C
Management based on metabolic workup parameters
Other random yet specific findings
Distal RTA (Type I): hypocitraturia + elevated urinary pH + hypokalemia + hypochloremia, treat with potassium citrate and hydration
Cystinuria: saturated at 250mg/L, sodium nitroprusside turns purple in presence of cystine, treat with hydration and alkalinization
Struvite: urease-forming bacteria (mainly Proteus) create alkaline urine and precipitate MgNH4Phos (struvite) and CaCarb-apatite
Ammonium acid urate: associated with laxative abuse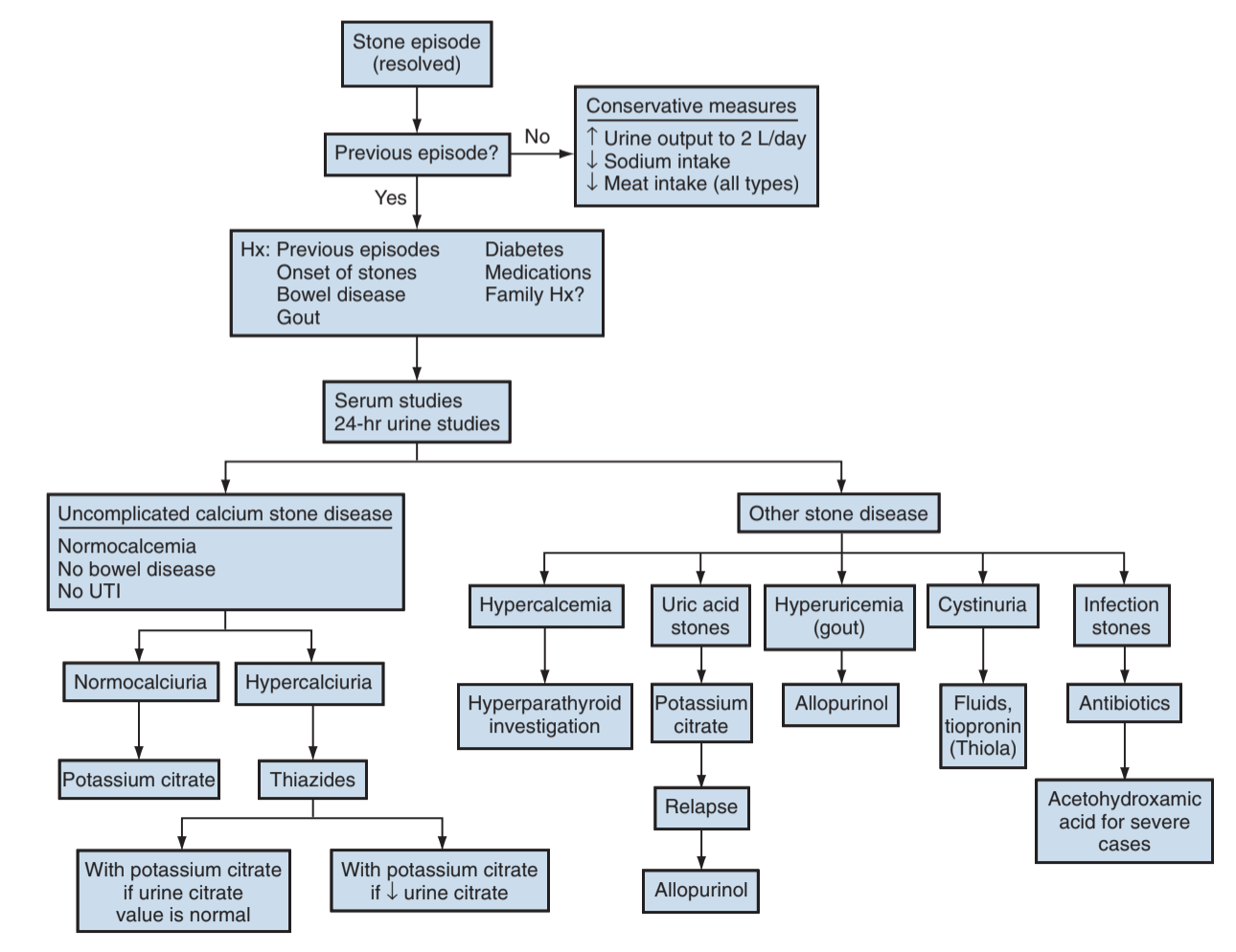 Medications
Thiazide Diuretics
Mechanism: distal tubule calcium resorption, sodium excretion
Indications: hypercalciuria, calcium stones
Side effects: hypokalemia (may need supplements), hyperuricosuria, hypercalcemia, hyperglycemia, hypocitraturia (secondary to intracellular acidosis), tachyphylaxis
Dosing: HCTZ 25mg BID, Chlorthalidone 25mg QD, Indapamide 2.5mg QD
Potassium Citrate (KCit)
Mechanism: increases urinary citrate, alkalinizes urine
Indications: calcium stones, low urinary citrate, Type I RTA, chronic diarrhea (use liquid form), thiazide-induced hypocitraturia
Side effects: GI symptoms, hyperK (requires regular monitoring), increased CaPhos risk, wax coating passes in stool
Dosing: 20mg BID-TID
Calcium supplements
Mechanism: prevents oxalate absorption, maintains normocalcemia
Indications: hypocalcemia, hyperoxaluria - test on and off supplementation
Side effects: increases calcium stone risk
Dosing: 500-600mg CaCarb BID
Sodium Bicarbonate, Sodium Citrate
Mechanism:
Indications: KCit replacement if hyperkalemia risk
Side effects: hypernatremia
Dosing:
Allopurinol
Mechanism: inhibits uric acid production
Indications: calcium stones in setting of hyperuricosuria (> 800/day) and normal calcium, do not give for uric acid stones
Side effects: transaminitis, rash, myalgias
Dosing: 300mg daily
alpha-mercaptopropionylglycine (Thiola)
Mechanism:
Indications: cystinuria
Side effects: transaminitis, anemia, asthenia, GI distress, rash
Dosing: 300mg BID, titrate up PRN
Acetohydroxamic acid
Mechanism: urease inhibitor
Indications: struvite stones that cannot be managed surgically
Side effects: phlebitis/DVT, hemolytic anemia (3-15%), hypercoagulable state, tremor, headache, rash, palpitations, GI distress, alopecia
Dosing: 250mg BID-TID
Follow-Up
Labs: repeat 24hr urine 6mo after initial assessment to check for improvements, then consider checking on annual basis to assess for adherence.
Imaging: no clear evidence for long term screening, but most recommend annual KUB + renal US to assess for stone formation/growth and silent hydronephrosis.
Important/Interesting Stone Studies
Borghi 1996: Increased fluid intake (> 2L) decreases stone recurrence rates over 5 yrs compared to controls (27 vs 12%)
Borghi 2002: low calcium diet versus low protein + low salt + moderate calcium, the moderate calcium diet had a 50% reduction in stone events compared to low calcium diet
Lotan 2004: 1st time stone formers are most cost effectively managed w/ conservative therapy, but metabolic workup is more beneficial for recurrent stone formers
Sources:
Lotan, Yair, et al. "Cost-effectiveness of medical management strategies for nephrolithiasis." The Journal of urology 172.6 Part 1 (2004): 2275-2281.
Pearle, Margaret S., et al. "Medical management of kidney stones: AUA guideline." The Journal of urology 192.2 (2014): 316-324.
Rule, Andrew D., et al. "The ROKS nomogram for predicting a second symptomatic stone episode." Journal of the American Society of Nephrology 25.12 (2014): 2878-2886.