Male Infertility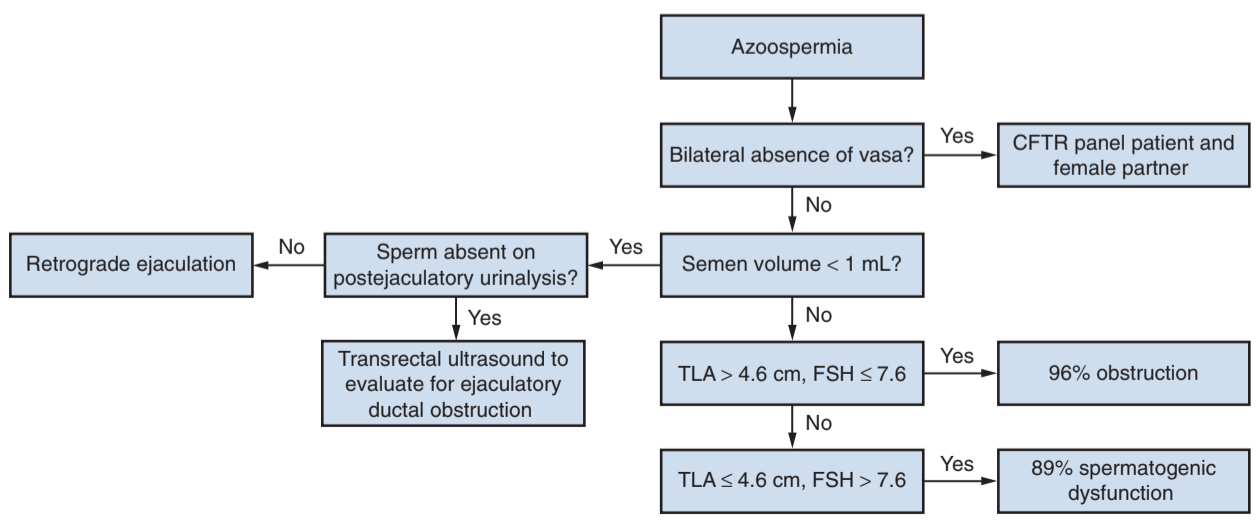 Azoospermia workup, from Campbell's
Workup
Normal sperm development
Spermatogenesis: occurs in spermatic tubules, mitosis (spermatogonia to spermatocytes), meiosis x2 (primary spermatocytes to secondary spermatocytes to spermatids), spermiogenesis (spermatids to spermatozoa)
Maturation: occurs in epididymis, acquire mobility and capacity to fertilize, completed at epididymal tail (stored here)
Capacitation: activation of sperm's ability to fertilize egg, only occurs in female genital tract
Hypermobility: increased mobility occurs after capacitation (only in female genital tract)
Acrosome reaction: head of sperm releases enzymes to dissolve the outer layer of ovum
Normal male ejaculation
Controlled by spinal ejaculatory center (T12-L2)
Emission: sympathetic mediated, bladder neck contraction, release of fluid into posterior urethra (stimulates urethral-muscle reflex)
Expulsion: activated by urethral-muscle reflex, contraction of bulbospongiosus/ischiocavernosus, mediated by pudendal nerve
Timing the workup
Wait 1yr before starting workup, 6mo if woman > 35yo
75% can achieve pregnancy within 6mo trying, 85% within 12mo, 90% within 2yr
30% male infertility will be identified as idiopathic
Both partners need to undergo workup
Consider if 2+ pregnancy losses or failed artificial reproduction cycles
History
Prior pregnancies and childbirth: some men may have had prior children
Ejaculate frequency: semen parameters peak after 1-2 days, then decline - no benefit in abstaining for long periods to "build up" semen
Intercourse: timing, frequency
Comorbidities: higher risk of infertility with HTN, HLD, obesity, DM, hypo/hyperthyroidism
No association with infertility: caffeine, cell phones
Medical Causes
TICS: Toxins, Infections/inflammation, Childhood history, Sexual history
Neurologic: DM, SCI, and MS all affect normal ejaculation
Cancer: can negatively affect sperm parameters even prior to treatment, testis cancer has even greater effect
Hyperthermia: cryptorchidism, heated seats, and laptop heat should be avoided
Infections: can cause strictures, prostatitis, testis failure, pre-pubertal mumps does not affect fertility, wait 3mo after febrile illness to check semenalysis
Medical risk factors: liver failure, DM, thyroid disorders
Hydrocele: increased prevalence in infertile patients but unclear cause and unclear benefit to performing hydrocelectomy
Kartagener syndrome: nonmotile cilia prevent sperm motility, also have bronchiectasis, sinusitis, situs inversus, diagnose with evaluation of axoneme
Young syndrome: thick epididymal secretions obstruct the vas, may also have bronchiectasis and sinusitis
Cystic fibrosis: absent vas, bronchiectasis, sinusitis, pancreatic disease, evaluate with CFTR panel
Congenital bilateral absence of vas deferens (CBAVD): isolated absence of vas (no URI symptoms)
Surgical Causes
RPLND: results in retrograde ejaculation
Hernia repair: can obstruct vas deferens or testicular blood supply, 1-2% vs 0.3% pediatric vs adult repair
Pediatric inguinal surgery: testis atrophy develops in 0.3%
Torsion: oligospermia (36-39%), antisperm antibodies (11%)
Cryptorchidism: paternity rates 96% (unilateral) and 70% (bilateral), orchiopexy recommended before 10yo
Medication Causes
Endocrine modulators: antiandrogens, spironolactone, HAART, steroids, estrogens, cimetidine, finasteride, allopurinol
5ARi: questionable effect on semen parameters, can consider stopping
Anabolic steroids: inhibits LH, withdrawal can take months/years to reverse
Illicit drugs: marijuana may decrease tesosterone, alcohol converts T to E, tobacco may affect sperm parameters, cocaine has questionable effects
Antipsychotics: antidopamine effect leads to elevated prolactin
Opioids: suppress LH at the hypothalamic level
Chemotherapy: can lead to DNA damage at 2yrs after administration, mainly platinum-based, alkylating agents, antimetabolites, vinca alkaloids, topoisomerase inhibitors
Antibiotics: tetracycline can be directly spermatotoxic, nitrofurantoin may have negative temporary effect
Sulfasalazine: leads to oligoasthenospermai, can switch to mesalazine
Environmental/Occupational exposure: heavy metals, pesticides, hyperthermia
Physical Exam
Secondary sexual characteristics: pubic hair, gynecomastia, arm span > 5cm height
Obesity: increased aromatase conversion to estradiol
Genital exam: location/size of testes, presence of varicocele, palpable vas deferens, abnormal urethral appearance
DRE: optional, SVs not normally palpable
Semenalysis
Highly variable, check minimum 2 separated by 2-4 weeks
Abstain from ejaculation for 24hrs (not more) to provide optimal sample
Volume: consider workup if < 1.0-1.5mL
Density: oligospermia (< 13.5million/mL) and cryptozoospermia (so few it's hard to measure)
Total #: volume x density (normal > 39mil)
Motility: asthenospermia (normal > 32%)
Morphology: teratospermia (overabundance of abnormal forms), globospermia (lacking acrosomes) normal > 4%
Vitality: necrospermia (large number nonliving sperm), normal > 58%
Antisperm antibodies: due to injury of blood/testis barrier, suspect if sperm agglutination or decreased motility, seen in vasectomy, testis trauma, orchitis, cryptorchidism, testis cancer, varicocele
Pyospermia: > 1million/mL, may cause injury secondary to reactive oxygen species, Pap smear will differentiate WBCs from immature germ cells
Fructose level: > 13umol/ejaculate, low levels may indicated ejaculatory duct obstruction
Labs
Not required for every patient
Lab indications: obtain if concern for impaired libido, erectile dysfunction, oligozoospermia, azoospermia, atrophic testes, or abnormal physical exam
Testosterone: normal > 280-300, 55+% should be bioavailable (check albumin + SHBG), peaks in the morning
LH/FSH: sertoli dysfunction indicated by elevated FSH, testicular dysfunction indicated by elevated LH
Estrogen: T/E ratio < 10 may indicate testicular dysfunction
Prolactin: consider testing if infertility associated with visual field changes, headaches, or ED, repeat if elevated level (large variation)
Hypergonadotropic hypogonadism: elevated LH/FSH with low T, indicates testicular dysfunction
Hypogonadotropic hypogonadism: low LH/FSH/T, indicates pituitary dysfunction
Diagnosing Infertility
Diagnoses (by semenalysis finding)
Semenalysis finding
Further workup
Interpreting findings
Azoospermia (absent sperm)
Semenalysis
Low volume + acidic pH indicates obstruction
Testis size
Cutoff testis axis 4.6cm determines whether obstruction present
Vas deferens
Absence indicates obstruction
FSH
Cutoff 7.6IU/L determines whether obstruction present
Karyotype + Y Microdeletion (if elevated FSH or testicular atrophy)
Kleinfelter and Y deletions are most common causes of non-obstructive azoospermia
TRUS (if normal T and vas, obstruction suspected)
Confirm ejaculatory duct obstruction
Low volume
History
Caused by DM, SCI, RPLND
Post-ejaculate urinalysis
Confirms sperm ending up in bladder
Round cells > 1mil/mL
Special stains
Differentiate pyospermia from germ cells
Sperm agglutination
Antisperm antibody testing
ICSI may be indicated for ASA instead of IUI
Poor sperm mobility
Viability testing
Assess whether nonmotile sperm can be used for ICSI
Adjunct Tests
Test
Indication
If positive:
Post-ejaculate urinalysis
Low-volume ejaculate
Sperm retrieval
Karyotype
Nonoobstructive azoospermia
microTESE (for Kleinfelter)

Repeat pregnancy loss
Sperm aneuploidy - ICSI, adoption, donor sperm
Y microdeletion
Nonobstructive azoospermia
Adoption (AZFa/AZFb) or ICSI (AZFc)
Transrectal US
Obstructive azoospermia + low volume/pH + normal T + palpable vas
TURED
CFTR gene panel
Absent vas deferens
Test female partner
TESE
Sperm DNA fragmentation
Repeat IVF failure
Repeat pregnancy loss
TESE + ICSI
Antisperm antibody testing
Concern for obstruction, azoospermia, agglutination
Recommend ICSI
Do not order if already planning ICSI
Scrotal US
Assess for varicocele in difficult scrotum (obese, high + tight)
Discuss clinical relevance of US varicocele
Abdominal imaging
Assess for malignant cause of new or nonreducible large right varicocele
Renal US
Assess for renal absence if vas absent unilaterally (26-75%) or bilaterally (10%)
Diagnoses (by cause):
Infertility Grouping
Diagnosis
Findings
Treatment
Gonadotropin Dysfunction
Kallman syndrome
Hypogonadotropic hypogonadism
Anosmia
HCG + FSH, GnRH pump
Incomplete hypoandrogenism
Increased LH
Decreased T
Clomiphene/Tamoxifen
Anostrozole/Letrozole
Pituitary tumors
Elevated prolactin
MR imaging if prolactin elevated (> 50ug/L)
Bromocriptine/Cabergoline
Transsphenoidal surgery
Exogenous suppression
Specific hx steroids or other drugs
Stop offening agent(s)
Testicular dysfunction
Kleinfelter (XXY)
azoospermia (92%) + small testes + hypergonadotropins
mosaic in 10-20%
microTESE + IVF/ICSI
Leydig cell (steroidogenic) dysfunction
Elevated LH
Decreased T
microTESE + IVF/ICSI
Y Microdeletions
azoospermia (AZFa/AZFb)
Adoption, donor sperm
oligospermia (AZFc)
microTESE + IVF/ICSI
Antisperm antibodies
secondary to blood/testis barrier breakdown
IVF/ICSI
Varicocele
Physical exam
Surgical repair
DNA Fragmentation
Assess after repeat IVF failure
TESE + ICSI
Transportation Dysfunction
Absence of Vas Deferens
Physical exam findings
History renal agenesis
TESE + IVF
Congenital Bilateral Absence of the Vas Deferens (CBAVD)
CFTR mutation
CFTR screen panel
TESE + IVF
Hypospadias
Epispadias
Physical exam findings
Intrauterine insemination
Ejaculatory duct obstruction
Azoospermia + Hypovolemia
TRUS findings (SV > 15mm AP, ED > 2.3mm)
TURED
Retrograde ejaculation
Azoospermia + Hypovolemia
Sperm on post-ejaculate urinalysis
Sperm retrieval (alkalinize with bicarb)
Sympathomimetic agents (25% success)
Anejaculation
Neurologic history
Prior RPLND
Penile vibratory device
Electroejaculation
Azoospermia
Obstruction: likely cause in 96% of patients with FSH < 7.6 and testis > 4.6cm
Nonobstruction: likely cause in 89% of patients with FSH > 7.6 and testis < 4.6cm
Biopsy: not indicated for initial workup, consider if indeterminate findings
Treatments
Medications
Class
Medication
Dose
Indication
Side effects
Gonadotropin agonist
Human Chorionic Gonadotropin (HCG)
1500-5000 IU 2-3x weekly
Titrate up to 10K IU/week
Titrate to T level
Hypogonadotropic hypogonadism
Nausea (12%)
Breast enlargement/tenderness (1-10%)
Headache (34%)
Injection discomfort (1-10%)
Human Menopausal Gonadotropin (HMG)
75-150 IU 2-3x weekly
Selective estrogen receptor modulator
Clomiphene citrate
25mg QD or 50mg EOD
Titrate to max 100mg QD
Titrate to T level
Headache (1%)
Blurred vision (2%)
Flushing (10%)
Breast discomfort (2%)
Nausea (2%)
Impaired libido
Gynecomastia (rare)
Aromatase inhibitor
Anostrozole
1mg daily
Hypergonadotropic hypogonadism (Kleinfelter syndrome)
Nausea (11-19%)
Headache (9-10%)
Hot flashes (12-26%)
Chest discomfort (2-12%)
Lestrozole
2.5mg daily
Dopamine agonist
Cabergoline
0.25mg 2x weekly
Titrate up to 1mg
Titrate per prolactin levels
Prolactin-secreting pituitary tumor
Headache (26%)
Dizziness (15-17%)
Nausea (27-29%)
Constipation (7-10%)
a-agonist
Pseudoephedrine
60mg PO QID
Retrograde ejaculation
restlessness
Nausea/vomiting
Weakness
Headache
Nervousness
Dizziness
Palpitations
Varicoceles
Prevalence: 15% all men, 40% subfertile men, more comon on L side, most common cause of infertility
Grading scale (1-3): palpable with Valsalva only, palpable standing without Valsalva, visible on exam)
Surgery recommended: palpable varicocele, infertility, and abnormal semen parameters
Sugery maybe recommended: palpable varicocele and associated testis pain (may not improve/resolve), adolescent with varicocele + small testis (reverses testicular atrophy but may not prevent infertility)
Surgery not recommended: non-clinically significant varicocele, even if scrotal/testis pain, non-obstructive azoospermia
Success: pain improves in 50-90%, semen parameters improve in 70%, rates based on surgeon experience/technique, microsurgical has 1% recurrence rate and 0.4% hydrocele rate
Varicocelectomy side effects: hematoma, hydrocele, edema, recurrence, atrophy, infection
Ejaculatory stimulation
Penile vibratory stimulation: vibrator stimulates ejaculation in anejaculatory men, ejaculation reflex pathway must be intact, usually does not work in RPLND or SCI patients
Electroejaculation: electrical current applied via transrectal probe, usually induces retrograde ejaculation (remove sperm from bladder), does not require ejaculation reflex, requires anesthesia (very painful)
Surgical treatment
Class
Procedure
Indications
Description
Side effects
Azoospermia diagnosis
Testis aspiration
Confirm obstructive (vs nonobstructive) azoospermia
Insert biopsy needle (thru skin or skin incision) and aspirate to assess for sperm
Hematoma, hematocele, spermatocele, hydrocele
Testis biopsy
Incise tunica albuginea, extrude tubules and remove, close incision
Low risk bleeding
Sperm retrieval
Tes(TESE)
Obstructive azoospermia
Obtain sperm via opening testis or epididymis and removing tubules
Bleeding, postop pain
microTESE
Nonobstructive azoospermia
Obtain sperm via assessing and extracting microtubules
Epididymal sperm extraction
Obstructive azoospermia with epididymal dilation
Obtain sperm via assessing and extracting microtubules
Improve sperm delivery
Vas reversal
Obstructive azoospermia (after vasectomy)
Obtain sperm via assessing and extracting microtubules
Hematoma (0.3%), granulomas (5%), delayed failure (5%), can consider TESE instead
Transurethral resection of ejaculatory ducts (TURED)
Obstructive azoospermia (ejaculatory ducts)
Resect ducts to remove obstruction, can transrectally inject dye to improve identification
Restenosis, pain, epididymoorchitis (chemical/infectious), retention, incontinence, hematuria
Assisted reproductive technology
Intrauterine insemination (IUI)
Normal sperm but unable to reach egg naturally, oligospermia (5-8mil)
Inject collected/concentrated sperm into uterus (via cervix) to allow natural fertilization of egg
Minimal risks
In vitro fertilization (IVF)
Sperm unable to reach egg, oligospermia (< 5mil)
Sperm placed in proximity to egg, natural fertilization, embryos placed within uterus for implantation
Risks of egg stimulation/retrieval
Multifetal pregnancy
Intracytoplasmic sperm injection (ICSI)
Sperm unable to fertilize egg, oligospermia (< 5mil)
Sperm directly injected into egg, embryos placed within uterus for implantation
Risks of egg stimulation/retrieval
4x risk for sex chromosome abnormalities
Congenital malformations (slight increased risk)
Spontaneous abortion/ectopic pregnancy
References
AUA Core Curriculum
Niederberger, C., S. Ohlander, and R. Pagani. "Male Infertility." Campbell-Walsh Urology 12 (2020).
Schlegel, Peter N., et al. "Diagnosis and Treatment of Infertility in Men: AUA/ASRM Guideline." (2020).
Wieder JA: Pocket Guide to Urology. Sixth Edition. J.Wieder Medical: Oakland, CA, 2021.