Erectile Dysfunction
Eval/Workup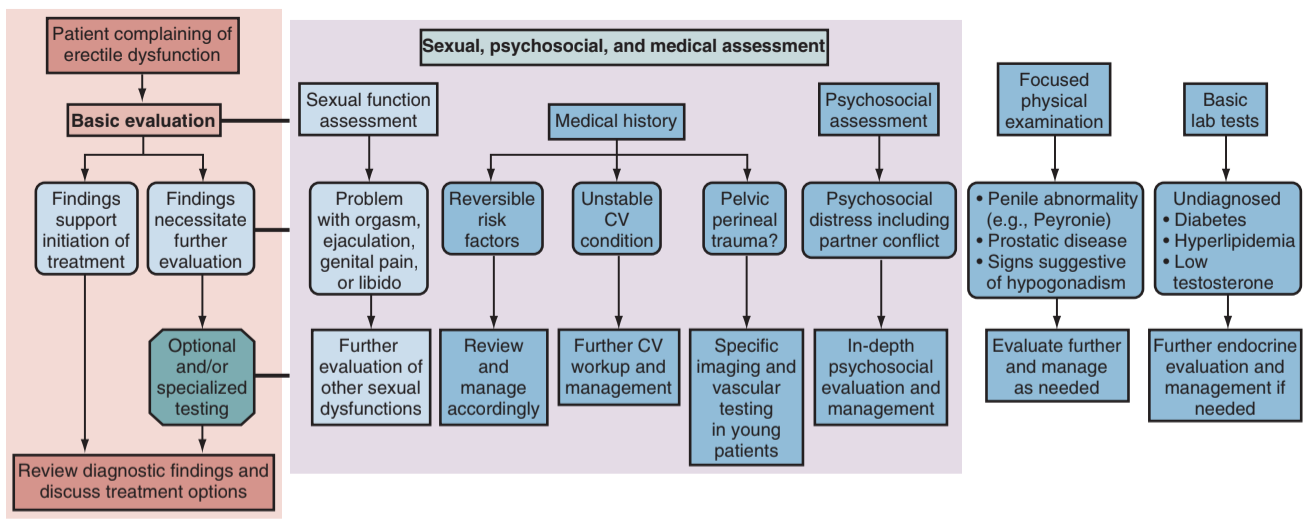 Thorough evaluation of erectile dysfunction, from Campbell's
History
HPI: onset, severity/rigidity, degree of bother, situational factors, pain, stable/worsening symptoms
Age: prevalence 1-10% < 40yo, 15% 40-49yo, 30% 50-59yo, 40% 60-69yo, 50-100% 70-90yo
Commonly associated risk factors: HTN (38-42%), DM (20%), HLD (42%), depression (11%), premature ejaculation (30-60%)
PMHx: cardiovascular disease, DM, endocrine issues (hypoT), neurologic disorders, psych diagnoses (depression, anxiety, stress), liver disease, alcoholism
PSHx: prostatectomy, cystectomy, aortoiliac vascualr surgery, aneurysm repair, proctocolectomy, pituitary surgery, penile surgery, pelvic trauma
Meds: antiHTN, SSRIs, TCAs, antipsychotics, MAOi, antiandrogens, cimetidine, opiates, 5ARi, LHRH agonists/antagonists, prior ED therapies
Social Hx: partner(s), substance use
Psychosexual factors: social, cultural, religious, education
Key Questions
Are you able to obtain + sustain an erection satisfactory for intercourse?
Do you have morning and/or nocturnal erections?
Are you able to masturbate?
Physical
Vitals: check for uncontrolled HTN
Testosterone deficiency: obesity, gynecomastia, decreased body hair
Genital exam: hypogonadism, penile curvature, testis presence and size
DRE: not required for evaluation
Further Diagnostics
Questionnaires: IIEF or SHIM (abridged version of IIEF)
Labs: can check BMP, glucose, lipids, HbA1c, testosterone (draw in AM)
Low testosterone: check bioavailable (serum-free) T (albumin + SHBG) and luteinizing hormone, consider prolactin and estrogen
Further workup (see below): consider if young, family hx cardiac disease, pelvic trauma, failed prior therapy, likely psychogenic, Peyronie disease, lifelong ED
Adjunct testing
Almost never required prior to offering treatment options, as only patients with arterial insufficiency benefit from specific treatment options
Nocturnal penile tumescence/rigidity (NPTR): detects erections during REM w/ strain gauge, BP cuff, "stamp roll test," determines organic vs psychogenic ED
ICI + stimulation: good erection after 10min rules out veno-occlusive disease but not arterial insufficiency
Penile duplex doppler sonography: perform ICI then examine, check arterial and venous flow
Cavernosometry: place two needles in corpora, infuse heparinized saline and inject erectogenic medication, measure intracavernosal pressure, assess "flow to maintain" (flow required to maintain pressure 150mmHg) and "intracavernosal pressure decay (pressure decline after stopping infusion)
Cavernosography: infuse contrast during cavernosometry and obtain images
Pudendal arteriography: gold standard for assessing arterial insufficiency, assess patency of inferior epigastrics, stenosis of penile blood supply, ability to bypass blockages
Cavernous arterial systolic occulsion pressure (CASOP): perform ICI, then use BP cuff to determine presure when blood flow becomes detectable
Penile brachial index: similar to CASOP but measured when flaccid, penile SBP divided by brachial SBP
Test
Arterial insufficiency
Venous leak
Psychogenic ED
NPTR
Poor erection
Good erection
ICI + stimulation
Penile ultrasound
PSV < 30cm/s
PSV < 60cm/s (sum of R + L)
cavernous artery diameter < 0.7mm
Normal PSV, EDV < 3cm/s
RI ≤ 0.8
No abnormalities
Cavernosometry
No abnormalities
Flow to maintain < 3mL/min
IC pressure decay > 45mmHg in 30s
Cavernosography
Venous drainage visualized
CASOP
Brachial SBP - CASOP < 35mmHg
No abnormalities
Penile brachial index
PBI ≤ 0.7
Cardiac evaluation
Importance of evaluation
Penis/heart relationship: the penis is the dipstick of the heart, development of ED can predate cardiac disease by 5-10 years (25% increased risk at 10yrs)
MI risk during intercourse: sex causes < 1% MI, absolute risk < 0.01% within 2hr sex
Assess METS: ask whether patient tolerate 20min walking on flat surface or walking 2 flights stairs in 10 seconds, if patient can tolerate 3 METs activity without chest pain then can tolerate sexual activity
Workup: check blood pressure, T, lipids, HbA1c if not checked within past 12mo
Cardiac meds: PDE5i contraindicated if taking nitrates, guanylate cyclase stimulators (riociguat, nicorandil), vardenafil contraindicated with QT prolonging antiarrhymthics, a-blockers + PDE5i can worsen hypotension
Princeton III criteria
Low risk: no cardiac disease and able to exercise w/o symptoms, have undergone successful revascularization, Class I-II heart failure, controlled asymptomatic HTN, mild cardiac valve disease
Intermediate risk: mild/moderate stable angina, MI in past 2-8 weeks, Class III heart failure, or non-cardiac vascular disease (PVD, CVA, TIA)
High risk: unstable/refractory angina, recent MI (< 2 weeks), arrythmias, uncontrolled HTN/DM, Class IV heart failure, moderate/severe valve disease, obstructive hypertrophic cardiomyopathy
Management: intermediate/high risk require cardiology consult/evaluation prior to starting ED therapies, low risk requires no further workup
PDE5 Inhibitors
Tips for Improved Efficacy
Use 9-10 times before increasing dose
Increased dose increases side effects but not efficacy
Sexual stimulation required
No evidence that early use helps regain erections after prostatectomy
Overall 70% report success with sexual intercourse, only 40-50% if diabetic
Risks/Contraindications
Contraindications: nitrates, severe liver/renal disease
Relative contraindications: baseline hypotension or hypertension, drugs that increase PDE5i halflife (Cyp-P450 3A4 inhibitors), retinitis pigmentosa, cardiovascular disease
a-blockers + PDE5i: okay to use but increased risk for hypotension
nitrates + PDE5i: no pharmacologic antidote if co-administered
Hypotension management: fluids, a-agonists, Trendelenburg position, rarely requires intraaortic balloon pump
Cross-reactions: antidepressants, antifungals, antiHTN, HAART
Common side effects: dyspepsia (4-10%), headache (7-16%), flushing (4-10%), myalgia + back pain (0-3%, congestion (3-4%), visual disturbances (0-3%)
Blue/green color vision change: due to PDE6 cross-reactivity, not seen with tadalafil
Sudden unilateral vision loss (NAION): overall extremely rare (3/100K), possibly not even a real association
Options
| Drug | Dosing | Onset | Avoid with fatty food | Headache/Dyspepsia/Flushing | Backache/Myalgias | Blurred/Blue Vision |
| --- | --- | --- | --- | --- | --- | --- |
| Sildenafil (Viagra) | 25-100mg | 30-60min | Yes | Yes | Rare | Yes |
| Tadalafil (Cialis) | 5-20mg | 60-120min | No | Yes | Yes | Rare |
| Vardenafil (Levitra) | 5-20mg | 30-60min | Yes | Yes | Rare | Rare |
Everything but PDE5i and IPP
Lifestyle changes
General tips: maintain ideal weight, exercise
Drug use: stop smoking, alcohol, and other drug use
Medications: stop or switch to medications with lower ED risk
Comorbidities: optimize HTN, DM, cardiac disease
Psychogenic ED: consider sexual counseling
Intracavernosal Injections
Options: alprostadil (cAMP stimulator), papaverine (non-specific PDEi), phentolamine (a1-blocker), atropine, bimix (papaverine + phentolamine), trimix (bimix + alprostadil)
Efficacy: 54-100%, satisfaction 46-99%
Side effects: priapism (highest with papaverine), pain (highest with alprostadil), fibrosis (highest with papaverine), hypotension and systemic side effects (highest with veno-occlusive leak)
Contraindications: hx pripaism, coagulopathy, unstable cardiac disease, reduced manual dexterity, MAOi use (HTN crisis if a-agonist needed to reverse a priapism)
Anticoagulation: not a contraindication, hold pressure to prevent hematoma
Dosing: alprostadil (2.5-60ug/mL), bimix (20ug/mL + 0.5mg/mL), trimix (10ug/mL + 30mg/mL + 1mg/mL), maximum 3x weekly with > 24hr between doses
Vacuum Assist Device + Occlusion ring
Satisfaction: patient (60-80%), partner (70+%)
Weak seal: trim pubic hair and use adequate lubricant
Abnormal sensation: may create fulcrum effect (flaccid proximal, rigid distal) or abnormal feel/appearance (blue/gray color, cool to touch)
Side effects: bruising (18%), pain (18%), difficult ejaculation (22%), device difficulty (20%)
Contraindications: priapism risk, penile fibrosis, bleeding disorder or anticoagulation (can cause hematoma)
Frequency: do not use for > 30min, wait at least 1hr between uses
Intraurethral Alprostadil (MUSE)
Dosing: 125, 250, 500, 1000 mcg
Directions: urinate before use, insert pill/applicator, roll penis to dissolve medication, use maximum BID, test in office prior to prescribing (2% risk hypotension)
Efficacy: 50-70%
Side effects: genital pain (6.5-35%), urethral trauma (1-5%), urethral pain (0-29%), dizziness (0-7%), painful erection (1%), potential risk for priapism
Contraindications: high risk for priapism, distal urethral stricture, penile fibrosis, balanitis, urethritis, having sex with pregnant woman (unless using condom)
Testosterone therapy (see separate page)
Do not supplement testosterone if normal T levels
Baseline assessment: DRE, PSA, CBC, LFT, lipids, repeat 3-6mo after starting treatment, then annually
Give short course testosterone (3mo), if no improvement then discontinue
Common side effects: increased Hgb, OSA, gynecomastia, acne
Arterial revascularization
Indications: only patients with proven arterial insufficiency, usually focal stenosis from trauma
Contraindications: atherosclerosis, veno-occlusive disease, tobacco use
Procedure: anastomose inferior epigastric to dorsal penile artery or deep dorsal penile vein, can cause glans hyperemia, success rates 60-70% at 5yr
Penile Prosthesis
Counseling
Irreversible treatment (destroys native corpora)
Can use with VED, does not work with other ED treatments
Satisfaction: 86-98% (inflatable), 66-89% (malleable)
Expectations: will not replicate normal appearing erections, lengthen penis, engorge glans, affect libido, dissatisfaction reported due to perceived length, chronic pain/coolness, difficulty operating, decreased sensation
Malleable implant: can be used to keep condom catheter in place (spinal cord injury), but increased risk for erosion if poor/no sensation
Predictors of postop dissatisfaction (CURSED Penis): Compulsive, Unrealistic, Revision, Surgeon shopping, Entitled, Denial, and Psychiatric
Preoperative optimization: ensure no UTI or systemic infection, HbA1c < 7.5-8.5%
Risks + Side Effects
Post-surgical side effects: penile edema/hematoma (3%), urinary retention (2%)
Urethral injury: 1-3% risk, abort procedure, repair urethra, place catheter, consider placement in 4-6 weeks, can leave cylinder in uninjured side (if already dilated) to avoid shortening
Crural injury: 1-3% risk, do not need to abort procedure but does require repair to prevent proximal sliding
Crossover: ensure correct location during dilation, can fix intraop without aborting procedure, may present postoperatively and require repair to resituate
Infection: 2-5% risk, usually within 3mo implantation, requires immediate explant of all implanted parts, can occasionally attempt salvage replacement,
Erosion: 2% risk, more common in SCI (unable to feel erosion occurring), surgery to remove and repair overlying tissue with placement of spacer cylinder, can replace after 5-6mo
Extrusion: surgery to resituate cylinder in correct position vs repair + explant
Failure: 5-40% risk at 10-15yrs
Reservoir erosion into bowel/bladder: rare, requires device removal and repair
Penile necrosis: rare, can be caused by compromising distal blood flow in high-risk patients, remove device to optimize blood flow
Aneurysm: cylinder herniation through corporotomy defect (early) or weakness of device wall due to frequent/aggressive long-term use, identify with physical exam or MRI, replace cylinders
Penile shortening: no objective difference noted, some subjective differences reported
Cold glans: due to lack of engorgement, can use PDE5i or MUSE to help engorge glans tissue
Glans bowing (concorde deformity): cylinders too short, replace with longer cylinders or anchor glans to distal corpora tunica albuginea through dorsal subcoronal incision
Glans buckling (S-shaped deformity): cylinders too long, requires replacing with adequate length cylinders
Autoinflation: occurs with increased abdominal pressure on reservoir, more common if no lockout valve, prevent with low pressure cavity for reservoir, can replace reservoir
References
AUA Core Curriculum
Burnett, A. and R. Ramasamy. "Evaluation and Management of Erectile Dysfunction." Campbell-Walsh Urology 12 (2020).
Burnett, Arthur L., et al. "Erectile dysfunction: AUA guideline." The Journal of urology 200.3 (2018): 633-641.
Mellon, M. and J. Mulcahy. "Surgery for Erectile Dysfunction." Campbell-Walsh Urology 12 (2020).
Wieder JA: Pocket Guide to Urology. Sixth Edition. J.Wieder Medical: Oakland, CA, 2021.