Erectile Dysfunction
Eval/Workup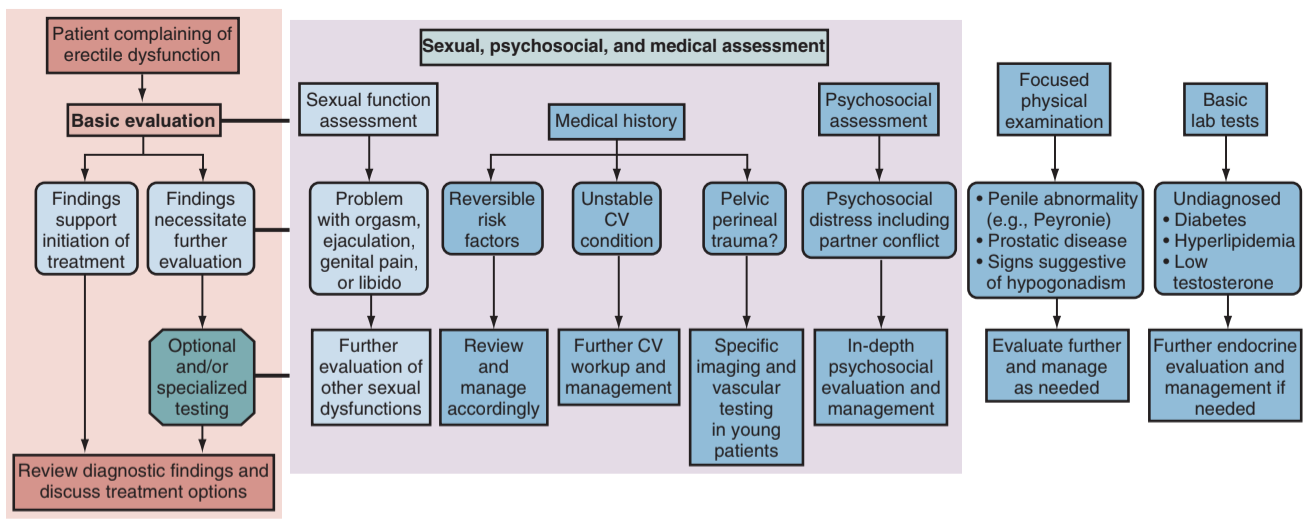 Thorough evaluation of erectile dysfunction, from Campbell's
History
HPI: onset, severity, degree of bother, situational factors, pain, stable/worsening symptoms
Age: prevalence 1-10% < 40yo, 15% 40-49yo, 30% 50-59yo, 40% 60-69yo, 50-100% 70-90yo
Commonly associated risk factors: HTN (38-42%), DM (20%), HLD (42%), depression (11%), premature ejaculation (30-60%)
PMHx: cardiovascular disease, DM, endocrine issues (hypoT), neurologic disorders, psych diagnoses (depression, anxiety, stress), pelvic trauma
Meds: antiHTN, SSRIs, TCAs, antipsychotics, antiandrogens, cimetidine, opiates, 5ARi, LHRH agonists/antagonists, prior ED therapies
Social Hx: partner(s), substance use
Psychosexual factors: social, cultural, religious, education
Key Questions
Are you able to obtain + sustain an erection satisfactory for intercourse?
Do you have morning and/or nocturnal erections?
Are you able to masturbate?
Physical
Check vitals for uncontrolled HTN
Assess for signs of testosterone deficiency: obesity, gynecomastia, decreased body hair
Genital exam: hypogonadism, penile curvature, testis presence and size
DRE not required for evaluation
Further Diagnostics
Questionnaires: IIEF or SHIM (abridged version of IIEF)
Can check BMP, glucose, lipids, HbA1c, testosterone (draw in AM)
If low T, check bioavailable (serum-free) T and luteinizing hormone, consider prolactin
Adjunct workup (US, cavernosometry, ICI testing, nocturnal penile tumescence) not required for majority of patients
Consider further workup if: young, family hx cardiac disease, pelvic trauma, failed prior therapy, likely psychogenic, have peyronies, lifelong ED
Cardiac evaluation
Importance of evaluation
The penis is the dipstick of the heart - development of ED can predate cardiac disease by 5-10 years (25% increased risk at 10yrs)
If patient can tolerate 3 METs activity without chest pain, can tolerate sexual activity
Ask whether patient tolerate 20min walking on flat surface or walking 2 flights stairs in 10 seconds
Princeton III criteria
Low risk: no cardiac disease and able to exercise w/o symptoms, have undergone successful revascularization, Class I-II heart failure, controlled asymptomatic HTN, mild cardiac valve disease
Intermediate risks: mild/moderate stable angina, MI in past 2-8 weeks, Class III heart failure, or non-cardiac vascular disease (PVD, CVA, TIA)
High risk: unstable/refractory angina, recent MI (< 2 weeks), arrythmias, uncontrolled HTN/DM, Class IV heart failure, moderate/severe valve disease, obstructive hypertrophic cardiomyopathy
Intermediate/high risk require cardiology consult/evaluation prior to starting ED therapies
PDE5 Inhibitors
Tips for Improved Efficacy
Use 9-10 times before increasing dose
Increased dose increases side effects but not efficacy
Sexual stimulation required
No evidence that early use helps regain erections after prostatectomy
Overall 70% report success with sexual intercourse, only 40-50% if diabetic
Risks/Contraindications
Contraindications: nitrates, severe liver/renal disease
Okay to use PDE5i + a-blockers but increased risk for hypotension
Hypotension with PDE5i: fluids, a-agonists, Trendelenburg position, may require intraaortic balloon pump
No pharmacologic antidote to co-administration of nitrates + PDE5i
Cross-reactions: antidepressants, antifungals, antiHTN, HAART
Common side effects: dyspepsia (4-10%), headache (7-16%), flushing (4-10%), myalgia + back pain (0-3%, congestion (3-4%), visual disturbances (0-3%)
Blue/green color vision change due to PDE6 cross-reactivity, not seen with tadalafil
Sudden unilateral vision loss (NAION): overall extremely rare (3/100K), possibly not even a real association
Options
| | | | | | | |
| --- | --- | --- | --- | --- | --- | --- |
| Drug | Dosing | Onset | Avoid with fatty food | Headache/Dyspepsia/Flushing | Backache/Myalgias | Blurred/Blue Vision |
| Sildenafil (Viagra) | 25-100mg | 30-60min | Yes | Yes | Rare | Yes |
| Tadalafil (Cialis) | 5-20mg | 60-120min | No | Yes | Yes | Rare |
| Vardenafil (Levitra) | 5-20mg | 30-60min | Yes | Yes | Rare | Rare |
Non-Surgical, Non-PDE5i Treatments
Intracavernosal Injections
Options: alprostadil (cAMP stimulator), papaverine (non-specific PDEi), phentolamine (a1-blocker), atropine
Efficacy 54-100%, satisfaction 46-99%
Side effects: priapism, pain (highest with papaverine), fibrosis
Contraindications: hx pripaism, coagulopathy, unstable cardiac disease, reduced manual dexterity, MAOi use (HTN crisis if a-agonist needed to reverse a priapism)
Can use even if taking anticoagulants
Dosing: alprostadil (5-40ug/mL), bimix (20ug/mL + 0.5mg/mL), trimix (10ug/mL + 30mg/mL + 1mg/mL)
Vacuum Assist Device
High satisfaction: patient (60-80%), partner (70+%)
If unable to maintain seal, trim pubic hair and use adequate lubricant
May create fulcrum effect (flaccid proximal, rigid distal) or abnormal feel/appearance (blue/gray color, cool to touch)
Side effects: bruising (18%), pain (18%), difficult ejaculation (22%), device difficulty (20%)
Increased caution if at higher risk for bleeding
Do not leave ring on for > 30min
Intraurethral Alprostadil (MUSE)
Dosing: 100, 250, 500, 1000 mcg
Directions: urinate before use, insert pill/applicator, roll penis to dissolve medication
Efficacy: 50-70%
Test in office prior to prescribing (2% risk hypotension)
Side effects: genital pain (6.5-35%), urethral trauma (1-5%), urethral pain (0-29%), dizziness (0-7%), painful erection (1%), potential risk for priapism
Testosterone therapy
Do not supplement testosterone if normal T levels
Baseline assessment: DRE, PSA, CBC, LFT, lipids, repeat 3-6mo after starting treatment, then annually
Give short course testosterone (3mo), if no improvement then discontinue
Common side effects: increased Hgb, OSA, gynecomastia, acne
Non-Medical Therapies
Therapy to discuss psychogenic causes
Lifestyle modification: diet, exercise
Assess medications, switch off ED-inducing medications
Penile Prosthesis
Counseling
Irreversible treatment (destroys native corpora)
Can use with VED, does not work with other ED treatments
Satisfaction: 86-98% (inflatable), 66-89% (malleable)
Will not replicate normal appearing erections, lengthen penis, engorge glans, affect libido
Dissatisfaction reported due to perceived length, chronic pain/coolness, difficulty operating, decreased sensation
Malleable implant can be used to keep condom catheter in place (spinal cord injury), but increase risk for erosion if poor/no sensation
Predictors of postop dissatisfaction (CURSED Penis): Compulsive, Unrealistic, Revision, Surgeon shopping, Entitled, Denial, and Psychiatric
Ensure no UTI or systemic infection, HbA1c < 7.5-8.5%
Risks + Side Effects
Post-surgical side effects: penile edema/hematoma (3%), urinary retention (2%)
Urethral injury: 1-3% risk, abort procedure, repair urethra, place catheter, consider placement in 4-6 weeks, can leave cylinder in uninjured side to avoid shortening
Crural injury: 1-3% risk, do not need to abort procedure but does require repair to prevent proximal sliding
Crossover: ensure correct location during dilation, can fix intraop without aborting procedure, may present postoperatively and require repair to resituate
Infection: 2-5% risk, usually within 3mo implantation, requires immediate explant of all implanted parts
Erosion: 2% risk, more common in SCI (unable to feel erosion occurring), surgery to remove and repair overlying tissue with placement of spacer cylinder, can replace after 5-6mo
Extrusion: surgery to resituate cylinder in correct position vs repair + explant
Failure: 5-40% risk at 10-15yrs
Reservoir erosion into bowel/bladder: rare, requires device removal and repair
Penile necrosis: rare, can be caused by compromising distal blood flow in high-risk patients, remove device to optimize blood flow
Aneurysm: cylinder herniation through corporotomy defect (early) or weakness of device wall due to frequent/aggressive long-term use, identify with physical exam or MRI, replace cylinders
Penile shortening: no objective difference noted, some subjective differences reported
Sources
AUA Core Curriculum
Burnett, A. and R. Ramasamy. "Evaluation and Management of Erectile Dysfunction." Campbell-Walsh Urology 12 (2020).
Burnett, Arthur L., et al. "Erectile dysfunction: AUA guideline." The Journal of urology 200.3 (2018): 633-641.
Mellon, M. and J. Mulcahy. "Surgery for Erectile Dysfunction." Campbell-Walsh Urology 12 (2020).