Upper Tract Obstruction
Workup
What happens during upper tract obstruction?
Phase 1 (1-2hr): ureteral pressure and RBF increase, afferent arteriole vasodilates to offset drop in GFR (drops 50% in 4hr, 75% in 12hr, 95% in 24hr)
Phase 2 (3-4hr): ureteral pressure rises but RBF decreases
Phase 3 (5+hr): ureteral pressure and RBF decrease due to afferent arteriole vasoconstriction, RBF drops to 70% at 24hr, 50% at 72hr, 20% at 2wks, and 12% at 8wks
Bilateral obstruction: RBF increases slightly for 90min, then RBF and medullary blood flow decline, ureteral pressure remains elevated x24hr
Initial evaluation
Dietl's crisis: pain with increased fluid intake (specific not sensitive)
History vesicoureteral reflux (may cause ureteral dilation and kinking)
History stones and stone surgery
History malignancy, XRT
History AAA or endometriosis (can cause periureteral fibrosis)
History TB (can cause multifocal strictures)
Prior surgery with risk for ureteral injury
Prior UPJ surgery (affects treatment decision)
Imaging considerations
CT or US to assess degree of anatomic obstruction, crossing vessel (do not need to confirm preop), mass
NM renal scan (MAG3) to assess split function and severity of obstruction (Lasix T 1/2)
If repairing a ureteral stricture, obtain simultaneous antegrade/retrograde to assess location and length of stricture
Whitaker test: perfuse saline at 10mL/min via PCN, drain bladder with catheter, monitor pressures in renal pelvis, nonobstructed = 12-15cm, obstructed > 15cm, useful for otherwise equivocal obstruction
Indications for intervention
Symptomatic obstruction (can be difficult to confirm)
Worsening split renal function
Development of stones or infection
Persistent hypertension
UPJ Obstruction Management
Considerations for treatment
Consider nephrectomy if < 15-20% split function
Can repeat studies after stent or PCN if unclear with obstruction
Indications for treatment: functional compromise, symptomatic obstruction, infection, kidney stones
Pyeloplasty
Key goal: widely patent anastomosis with watertight closure without tension
Preop drainage only recommended if infection, severe pain, or worsening renal function (pelvic distension improves operative dissection)
Most common technique is Anderson Hynes dismembered pyeloplasty, but can perform Y-V, spiral flap, ureterocalycostomy
Ureterocalycostomy: indicated for small intrarenal pelvis, horseshoe kidney, or salvage procedure
Place stent and leave for 4-6 weeks
Consider temporary drain to prevent urinoma formation, but do not place on suture line (creates fistula)
Endopyelotomy
Perform full-thickness lateral incision (avoids hilar vessels) into peripelvic fat
Incise with laser, wire balloon
Leave stent (tapered if possible) for ~4-6 weeks
Reasonable option after failed pyeloplasty
Consider antegrade access for simultaneous stone treatment
Contraindications: long stricture (> 2cm), active infection, coagulopathy, crossing vessel entanglement (otherwise not a contraindication)
Postop management
Follow-up: repeat renal scan 1mo after stent removal, then follow up at 6mo then annually for 2-3yrs (will catch most failures)
Renal US may show persistent hydronephrosis, renal scan is better study to confirm resolution of obstruction and check for recurrence
Success rates: > 90% for pyeloplasty, 79-88% for endopyelotomy

Algorithm for treatment of benign ureteral strictures, from Campbell's

Stricture length treated with each repair, from Campbell's
(Benign) Ureteral Stricture Management
Endoscopic management
Stent placement successful in most (80+%) cases
Chronic stent exchanges can be used instead of definitive repair, patient-specific selection
Metallic stents can stay longer than plastic (12mo)
Retrograde balloon dilation: option for short strictures (< 2cm) but may require multiple procedures, use 4cm 5-8mm balloon, inflate for 10min at stricture site, leave stent for 2-4 weeks, success 50-85%
Endoureterotomy: incise away from major vessels (proximal = lateral, distal = anterior), can use cold knife or laser, success 66-83%
Open repair
Ureteroureterostomy (UU): upper/mid strictures, perform spatulated tension-free anastomosis with running stitch x2, leave foley and drain for 1-2 days, success rates 90%
Transureteroureterostomy (TUU): contraindicated with hx stones, RPF, malignancy, prior XRT, chronic pyelo, correct reflux if present, tunnel donor ureter under sigmoid mesentery proximal to IMA and minimize mobilizing recipient ureter
Ureteroneocystotomy: distal strictures, includes any reanastomosis of ureter to bladder, more difficult with small/contracted bladders, no benefit for antireflux repair
Psoas hitch: provides 5cm extra length, may require ligation contralateral bladder pedicle, avoid suturing genitofemoral nerve
Boari flap: provides 10-15cm extra length, useful when defect extends proximal to pelvic brim
Renal mobilization: rotate inferiorly and medially on vascularpedicle, then hitch lower pole to retroperitoneal muscle
Ileal ureter: anastomose isoperistaltic segment, less reflux if > 15cm used, contraindications are CKD, BOO, IBD, and XRT enteritis, can perform bilaterally with use of one long segment (reverse 7 technique), consider endoscopic surveillance for malignancy starting after 3yrs
Buccal graft: rare, cover with omental flap
Autotransplant: anastomose via gibson, can anastomose renal pelvis directly to bladder
Leave stent for 4-6 weeks in most situations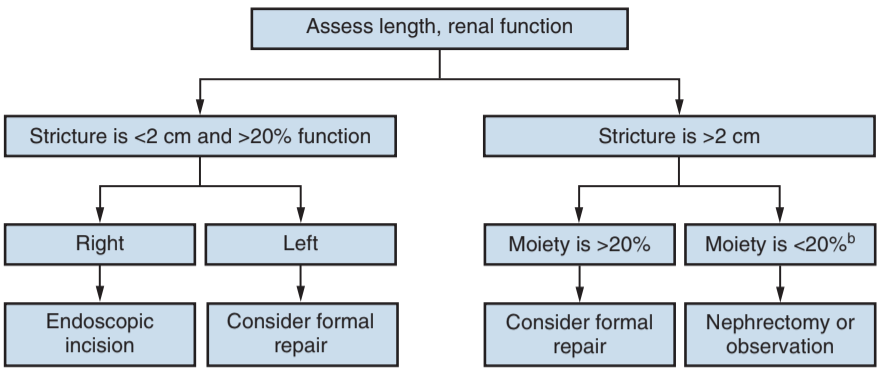 Ureteroenteric anastomotic stricture management, from Campbell's
Specific causes of ureteral obstruction
Ureteroenteric anastomotic stricture
Occurs 4-9%, more common on left side (greater tension)
Perform loopogram, antegrade nephrogram, or CTU to assess degree of obstruction and rule out malignancy
May benefit from PCN placement to relieve obstruction and better assess degree of obstruction
Differentiate from expected obstruction due to refluxing anastomosis
Management: consider endoscopic (laser vs balloon) if > 6-12mo initial surgery and stricture < 1-2cm, otherwise perform definitive surgical repair
Success: 75% for open repair vs 15% for balloon dilation at 3yrs
Retroperitoneal fibrosis
Develops near L4-L5 near aorta, causes extrinsic ureteral compression
Pain relieved by aspirin
Can present with back/flank pain, weight loss, DVT and leg edema, HTN, hematuria
Imaging (CT, IVP, RGPG) will show medial deviation of ureters, RPF best characterized with MRI
Medical management: refer to rheumatology, mainly use steroids but may require other immunosuppresants, 80% show clinical improvement, 60mg daily tapering to 5mg daily, 50% relapse rate
Ureterolysis: start distally and work proximally, use split and roll technique, consider wrapping with omentum or intraperitonealizing ureters, 90+% success for relieving obstruction
Sources
AUA Core Curriculum
Nakada, S. and S. Best. "Management of Upper Urinary Tract Obstruction." Campbell-Walsh Urology 12 (2020).