Male Stress Urinary Incontinence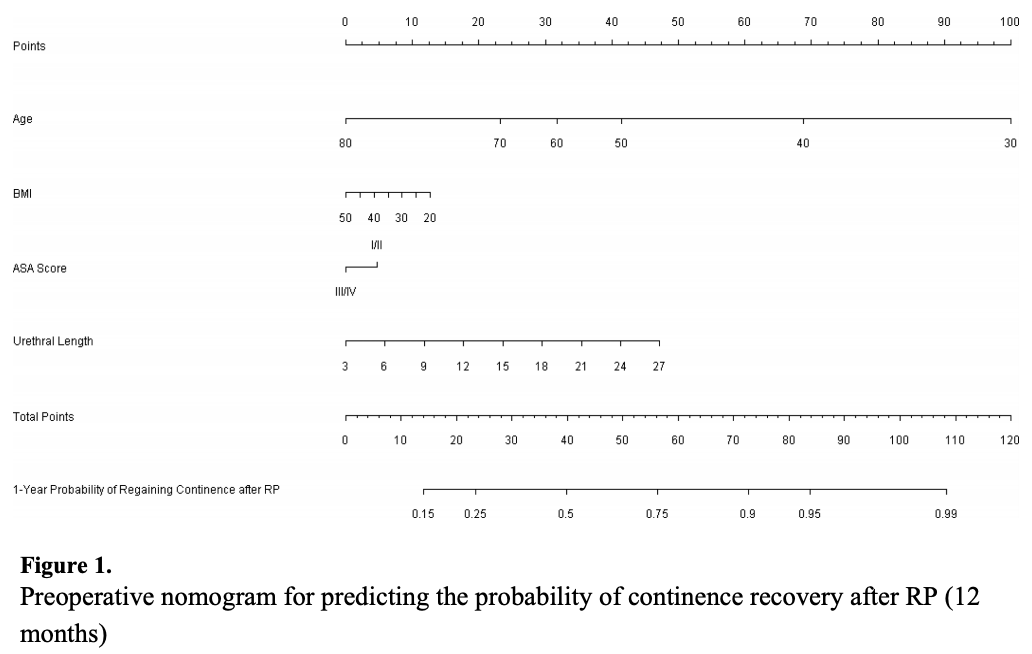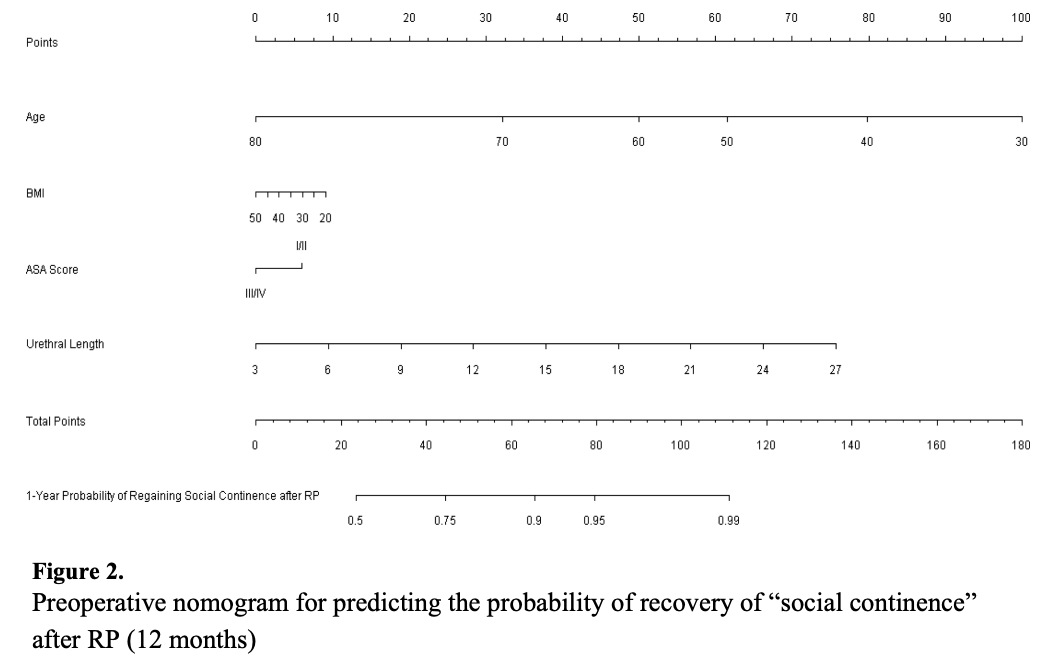 Matsushita, Kazuhito, et al. "Preoperative predictive model of recovery of urinary continence after radical prostatectomy." BJU international 116.4 (2015): 577-583.
Normal Post-Prostatectomy Expectations
Incontinence
Continence: 90% by 6mo, 94% by 12mo, 95% by 24mo
Kegels: start 3-4 weeks prior to surgery for best results
XRT worsens incontinence rates
Salvage prostatectomy: 20-70% incontinence rate
Climacturia
Rate: ~30% (range 20-93%)
50% report as bothersome, 33% avoid sexual situations
70% SUI also report climacturia...and 70% climacturia report SUI
Robotic surgery decreases time to no climacturia
Risk factors: prior TURP, shorter urethral length
Treatments: pre-sex urination, condoms, PFPT
Workup + Evaluation
History
Self-reported hx SUI: 95% PPV, 100% NPV
Hx: prostatectomy: 5% will have persistent SUI 2yrs after surgery
Hx TURP: SUI 0-8%, up to 70% have reported some urge incontinence
Confirm UUI vs SUI - 29-48% report OAB symptoms
Severity: pads per day
Further Workup
Cystoscopy: assess for stricture, bladder neck contracture
Urodynamics: use only if it would affect treatment options
35% patients will not demonstrate SUI while UDS catheter is in place - bladder neck contracture may be present
Repair BNC prior to any incontinence treatment, and confirm success with cystoscopy
Artificial Urinary Sphincter
Preop Evaluation
Consider surgery at 12mo if persistent SUI, but can offer as early as 6mo
Confirm mental and manual ability to operate AUS - assess grip strength
If history of XRT, AUS has better results than sling (continence 56% vs 89%) but increased revision rate overall (HR=1.56)
Surgical tips
Single cuff via perineal approach is preferred
Tandem cuff has increased explant rates (17% vs 4%)
Abort procedure if urethral injury noted
Success
PPD: preop (median 4) -> postop (median 0.6)
Leakage quantity: full continence (20%), few drops of leakage (55%), less than a teaspoon leakage (22%)
92% would undergo again, 96% would recommend to a friend
Complications
Failure: 24% at 5yrs, 50% at 10yrs
Infection: 1-5%, explant then wait 3-6mo for reimplant
Erosion: 1-10%, presents with hematuria, dysuria, or retention
Persistence incontinence: accidental deactivation, fluid loss, or improper cuff sizing
Recurrent incontinence: fluid loss, urethral atrophy, or cuff erosion
Fluid loss: assess for balloon leak with CT or US imaging
Consider cystoscopy to assess erosion or atrophy, cycle cuff
Revision: consider cuff resizing, adjusting position, tandem cuff, or transcorporal approach
Urinary diversion: multiple AUS failures, intractable BNC, detrusor instability
Non-AUS Therapies
Conservative therapies
Kegels: can start before prostatectomy, decrease time to regaining continence but do not improve overall chances of regaining continence
Pelvic Floor PT: consider as adjunct if mild SUI
Catheters: useful for high volume leakage and skin breakdown but should be last resort, SPT will not work if patient has sphincteric incompetence
Condom catheter: may provide improved quality of life but require proper sizing
Clamps: release every 2 hours to prevent erosion and do not wear overnight, do not use if patient has memory deficits, poor manual dexterity, impaired sensation, or OAB symptoms
Pads: variety of options for patient preferences, but even 1 PPD may be bothersome
Sling
Reasonable option for mild/moderate incontinence
If sling fails, AUS has lower failure rate than repeat sling (6% vs 55%)
Short term complications: urinary retention (resolves within 1 week), pelvic/perineal pain (resolves within 12 weeks)
Bulking agents
Efficacy: full continence (17%), improvement (50%), increased leakage (1.5%)
Complications: retention, frequency, dysuria, UTI
Balloon
Option for mild incontinence
Efficacy: 60-81% report 0-1 PPD
Explant rates: 4-20%
Sources
Matsushita, Kazuhito, et al. "Preoperative predictive model of recovery of urinary continence after radical prostatectomy." BJU international 116.4 (2015): 577-583.
Sandhu, Jaspreet S., et al. "Incontinence after prostate treatment: AUA/SUFU Guideline." The Journal of urology 202.2 (2019): 369-378.