Female Stress Urinary Incontinence
Who has Stress Incontinence?
Reported as 49% prevalence
Index patient: otherwise healthy woman, interested in surgical therapy, SUI or stress-predominant MUI, no prior SUI surgery, low grade POP
Non-Index Patient: POP stage 3-4, non-stress predominant SUI, incomplete emptying with elevated PVR, prior SUI surgery, mesh complications, high BMI, neurogenic LUTS, advanced age
Workup
History
Inciting factors: cough, sneeze, lifting, walk/run (PPV 73-74%, NPV 66-86%)
Degree of bother
Assess characteristics: chronicity, frequency/severity, treatment expectations
Pad usage
UTI/LUTS: urgency, frequency, nocturia, dysuria, hematuria, slow flow, hesitancy, incomplete emptying
Pelvic symptoms: pain, pressure, bulging, dyspareunia
GI symptoms: constipation, diarrhea, splinting to defecate
OB Hx: gravity, parity, delivery method, menopause status
Prior SUI (non)surgical therapy
PMHx, meds
Fluid intake (water, alcohol, caffeine)
Questionnaires: haven't been shown to be overall helpful
Physical
Abdominal exam
Pelvic exam w/ moderately full bladder: pelvic prolapse, vaginal atrophy, pelvic floor dysfunction
Q-tip test: demonstrates urethral mobility, not predictive of SUI
Focused neuro exam
Adjuncts
Objective demonstration of SUI: positive stress test, involuntary urine loss while supine and/or standing
48hr pad test: PPV 81%, NPV 87%
1hr pad test: 94% sensitivity, 44% specificity, PPV 69%, 85% NPV
Assess post-void residual: single elevated PVR is not reliable
Urinalysis: check for infection/hematuria
Definitely needs further workup if...
Unclear diagnosis, unable to demonstrate SUI, concern for neurogenic LUTS, abnormal UA (hematuria/pyuria), urge predominant MUI, elevated PVR, high grade PVR (3-4), significant voiding dysfunction
May need further workup if...
OAB symptoms, prior failed surgery, prior prolapse surgery
Obtional Adjuncts:
Cystoscopy: not required except for specific diagnoses, recommended if prior SUI surgery (especially if mesh used)
UDS not required if SUI is obvious, but optional in non-index patients
Nonsurgical options
Observation: not bothered, not interested, or too sick for surgery
PFPT
Inserts: urethral inserts, pessaries
Surgical Options
Midurethral Sling
Uses synthetic mesh - FDA approved
Retropubic: placed via suprapubic incision
Transobturator: placed via lateral incision
Goal is urethral support (loose sling), not urethral kinking (tight sling)
Pubovaginal sling
Placed at bladder neck, not at midurethra
Harvest autologous rectus or fascia lata
Non-autologous sources are not recommended (worse outcomes)
Burch Colposuspension
Useful if undergoing A/P surgery at the same time (hysterectomy etc)
Avoids mesh and fascial harvest complications
Intraurethral bulking agents
Inject material into submucosal space to coapt urethra
Less invasive with shorter operative and recovery time
Non-Index Patients
Intrinsic sphincteric deficiency (ISD): retropubic MUS, autologous PVS, and bulking agents - transobturator MUS does not provide adequate support with an immobile urethra
Diverticulectomy, urethrovaginal fistula repair, or mesh excision: avoid mesh placement at same time (high risk for erosion), but staged procedure is okay
History XRT, scarring, or poor tissue quality: avoid mesh placement (high risk for erosion)
Pelvic prolapse repair: all options available, see nomogram for probability of needing concurrent SUI procedure
NGB: factor in patient-specific risks/benefits
Prepregnancy: high rate of SUI recurrence, consider waiting until completing childbirth, can use any option
Diabetes: increased risk of mesh erosion, but can use any option
Obesity: increased BMI decreases overall effectiveness, but can use any option
Age > 65yrs: overall lower success rates
Risks/Complications
General Risks
Pain: abdominal, pelvic, vaginal, groin, thigh, dyspareunia
Bleeding
Infection: UTI rates highest within first 3mo
Intraop injury: do not place mesh sling if urethral injury
Mesh: exposure, erosion, perforation
LUTS: unmask or worsen OAB symptoms
Retropubic sling
Vascular/visceral injuries
Bladder/urethral perforation
Voiding dysfunction
Suprapubic pain
Transobturator sling
Groin pain
Repeat surgery
Pubovaginal Sling
Factor in morbidity of fascial harvest
Burch Colposuspension
20% have wound complications
Bulking Agents
Need for repeat injections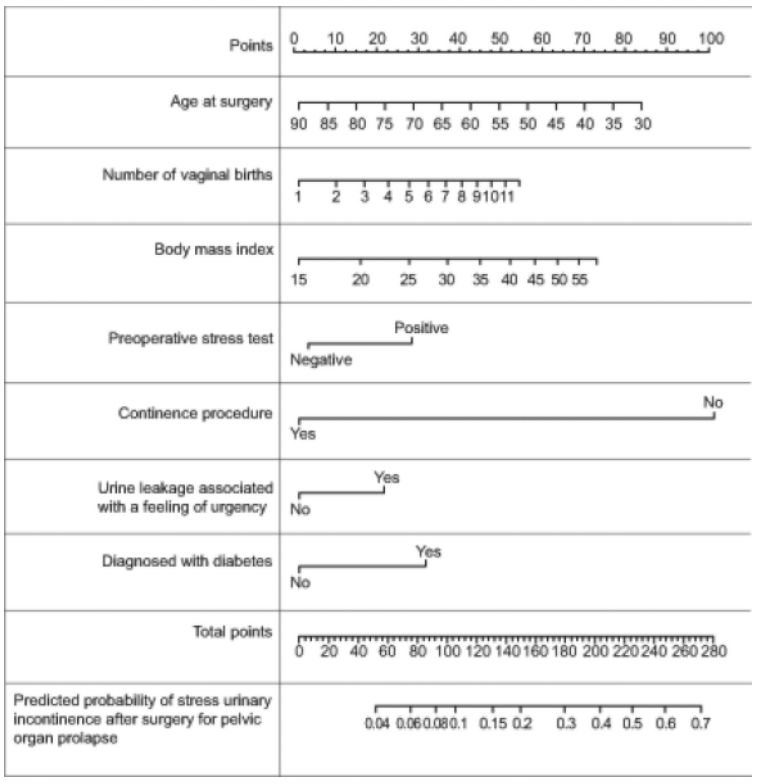 Jelovsek, J. Eric, et al. "A model for predicting the risk of de novo stress urinary incontinence in women undergoing pelvic organ prolapse surgery." Obstetrics and gynecology 123.2 0 1 (2014): 279.
Important Stress Incontinence Studies
CARE (Brubaker 2008): colposuspension at time of sacrocolpopexy leads to less postoperative SUI (without preoperative SUI)
OPUS (Wei 2009): anterior vaginal wall prolapse repair, postoperative SUI rates 27% if retropubic MUS performed (vs 43% for sham procedure), NNT 6.3 to see benefit of adding MUS
TOMUS (Kobashi 2017): at 5yrs, minimal difference in success between retropubic and transobturator midurethral slings
SISTEr (Albo 2007): PVS vs Burch, effectiveness (no SUI, no need for retreatment, negative stress test was 66% vs 49%, retreatment rates was 4% vs 13%
Sources
Albo, Michael E., et al. "Burch colposuspension versus fascial sling to reduce urinary stress incontinence." New England Journal of Medicine 356.21 (2007): 2143-2155.
Brubaker, Linda, et al. "Two-year outcomes after sacrocolpopexy with and without burch to prevent stress urinary incontinence." Obstetrics and gynecology 112.1 (2008): 49.
Jelovsek, J. Eric, et al. "A model for predicting the risk of de novo stress urinary incontinence in women undergoing pelvic organ prolapse surgery." Obstetrics and gynecology 123.2 0 1 (2014): 279.
Kobashi, Kathleen C., et al. "Surgical treatment of female stress urinary incontinence: AUA/SUFU guideline." The Journal of urology 198.4 (2017): 875-883.
Richter, Holly E., et al. "Retropubic versus transobturator midurethral slings for stress incontinence." New England Journal of Medicine 362.22 (2010): 2066-2076.
Wei, John, et al. "Outcomes following vaginal prolapse repair and mid urethral sling (OPUS) trial—design and methods." Clinical Trials 6.2 (2009): 162-171.