Pediatric Trauma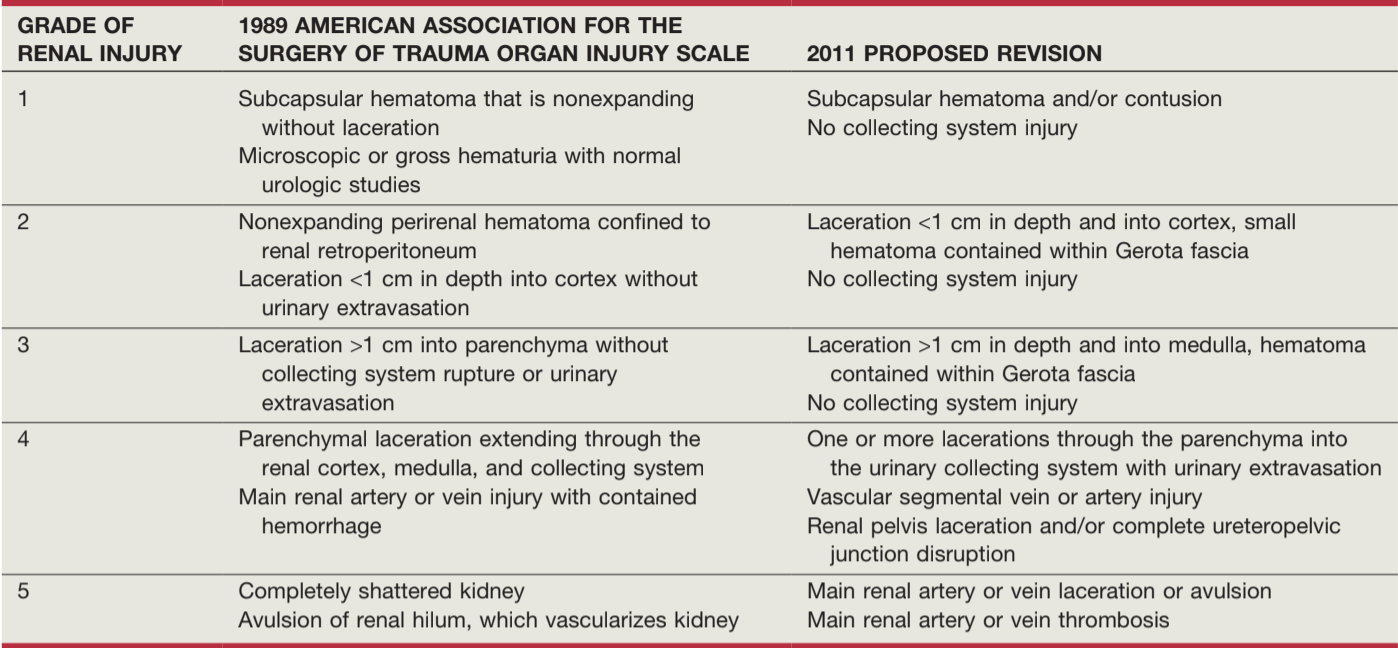 Renal AAST classification from 1999 + 2011, from Campbell's

Indications for renal imaging, from Campbell's

Indications for intervention for Grade 4-5 injuries, from Campbell's
Renal injuries
Pediatric population concerns
More susceptible to injury - less perirenal fat, less abdominal muscles, less rib protection
Hydronephrosis and UPJO are 3-5x more common in pediatric than adult trauma
Hypotension occurs at a much later stage (better BP reserve)
Absence of hematuria does not rule out renal injury
FAST exam: low sensitivity (22-96%) for renal injuries, CTU recommended
General management
Imaging indications: any abdominal/flank penetrating trauma, or blunt trauma with -> gross hematuria, microscopic hematuria (> 50 RBC) + hypotension, rapid deceleration injury, or direct flank injury
Deceleration injury specific to children: UPJ avulsion (more mobile spine), intimal tear of renal artery (less perirenal fat, more mobile renal pedicle)
Confirm hemodynamically stable and grade renal injury
Grade 1-3: usually conservative management, especially if blunt injury
Grade 4-5: can attempt conservative management vs endoscopic/surgical intervention
Surgical indications: hemodynamic instability with renal hemorrhage, expanding pulsatile retroperitoneal hematoma (found during laparotomy), post-embolization bleeding
Conservative management: bed rest, serial Hgb, serial exams - continue bed rest until hematuria resolved and Hgb stable
Consider repeat renal US in 48-72hrs for Grade 4-5 (not required), only repeat CT if needing more info
25% angioembolization and 15% urinoma risk for hemodynamically stable Grade 3-5
On-table IVP: 2mL/kg contrast bolus, KUB 10-15 minutes later, confirms presence/absence contralateral kidney
Obtain follow up renal scan if concern for loss of function or hypertension
Use flank protection for contact sports if solitary kidney after trauma
Specific management:
Urinoma: 85% resolve spontaneously, persistent urinoma presents with flank pain + ileus + low grade fever, recommend stent (4-6 weeks) + foley to maximize drainage (90% resolution), require percutaneous drain for persistent leaks, nephrostomy tube rarely required
Delayed bleed: appear 1-4 weeks after injury, consider 2-3U RBCs prior to embolization if stable, otherwise up-front embolization, 80% success
Postembolization syndrome: flank pain, fever, ileus, occurs in < 10% patients, if fever persists consider reimaging for abscess
Operative indications: persistent hemodynamic instability or inability to control with embolization
Renal artery occlusion: can consider nephrectomy vs angioplasty/stent
UPJ disruption or rupture: can immediately repair vs stent if stable
Nephrectomy required ~5% all injuries, usually if renal artery injured

Ureteral AAST classification, from Campbell's
Ureteral injuries
Presentation
10% mortality rate due to severity of associated abdominal injuries
Iatrogenic ureteral injuries ~1% for GI/GYN
Delayed phase CT required to assess for extravasation or obstruction
Management
Stent and drain placement if concern for ureteral injury after penetrating injury
General concept: no intervention (Grade 1), endoscopic +/- open (Grade 2-3), open (Grade 4-5)
If unstable, can perform diversion with delayed repair - cutaneous ureterostomy with stent, ligation with nephrostomy tube, or drain placement
If delayed diagnosis, divert urine and repair 6-12 weeks later, can attempt stent placement for partial injuries
If no formal repair, remove stent and obtain US in 4-6 weeks, then annual US for 2-3 years
Bladder + Urethral injuries
Bladder injuries
Blunt trauma underlying cause for 80%
50% bladder injuries also have pelvic injury
Obtain cystogram (XR/CT) if pelvic fracture + hematuria, concerning mechanism + hematuria, or pelvic fracture + concern for bladder rupture
Repair indications: intraperitoneal injury, exposed bone, rectal/vaginal injury, bladder neck injury, need for internal fixation or abdominal surgery
Keep catheter for 1-2 weeks, then obtain cystogram prior to removal
Urethral injuries
Perform urethrography if concerning mechanism, urinary retention, or hematuria
Place suprapubic tube if unable to obtain urethral drainage
Immediate open repair not recommended due to high complication/failure rate
Follow up after formal repair for 1 year to assess for recurrent strictures
Complications: stricture recurrence (10%), incontinence (20%), erectile dysfunction

Penile AAST classification, from Campbell's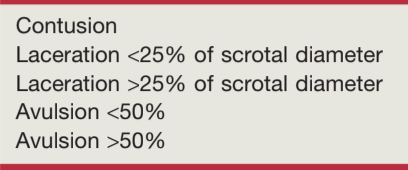 Scrotal AAST classification, from Campbell's

Testis AAST classification, from Campbell's

Vaginal AAST classification, from Campbell's

Vulvar AAST classification, from Campbell's
Genital injury
Penile injury
Amputation: usually from circumcision or strangulation, can repair without microvascular reanastomosis and catheter 1-2 weeks if urethral repair
Animal bites: debride, irrigate, can loosely close or allow to heal via secondary intent
Scrotal/Testis injury
<5% cause for acute scrotum
US warranted if concern for testicular rupture
If no violation of tunica vaginalis, can irrigate and close
If concern for tunica vaginalis injury, perform formal debridement and repair in OR with possible drain placement
Exploration warranted if concern for rupture, debride and close tunica albuginea
Scrotal skin loss managed with primary closure
Follow up in 6 weeks with exam and US to confirm no missed injury
Vaginal/Vulvar injury
80% are straddle injuries, 5% penetrating injuries
Hymenal injury correlated with sexual abuse
If concern for associated injuries, EUA + cystoscopy + vaginoscopy warranted
Sexual Abuse
Risk factors: other forms of abuse, high stress environment, poor social/familial support, increased risk during adolescence
Exam statements: always preface with "we are going to examine [insert age-appropriate genital description], this is okay because I am a doctor and your [caregiver] is here, otherwise no one else should look at or touch your private areas"
Speculum: usually no need unless active vaginal bleeding
Rectal exam: DRE usually not needed, endoscopic exam only if bleeding present, otherwise just examine externally
Majority of post-abuse exams do not have any abnormal findings
Diagnostic findings: evidence of ejaculation or pregnancy, SUI (syphilis, gonorrhea, HIV) not acquired perinatally/IV, new genital/anal injuries in absence of adequate accidental explanation, abnormally enlarged hymenal opening for age
Hematuria in children
Evaluation
History: duration, timing, recent illness, other GU conditions, activity, medications
Exam: check for hypertension, rash, petechiae, pallor, abdominal masses, external genitalia
Labs: confirm RBC on microscopy (not dipstick), assess for UTI
Glomerulonephritis evaluation: serum creatinine, complement C3, CBC, antistreptolysin O, anti-DNase B, urinary Ca/Cr ratio, family history
Renal biopsy indications: onset < 1yo, hematuria + HTN, systemic symptoms, low C3 > 8wks, family history renal failure, hearing loss
Specific diagnoses
Benign familial hematuria: family history hematuria without hearing loss or renal failure
Alport syndrome: hematuria/proteinuria, hearing loss, and ocular abnormalities, males more affected (X-linked), evaluate with nephrology and audiology evaluations
Post-strep glomerulonephritis: develops 1-3 weeks after skin/URI, usually self-resolving, may require management of fluid retention and HTN, antibiotics will not shorten GN course
IgA nephropathy: develops within days of URI, occasionally progresses to renal failure, managed with steroids
Membranoproliferative glomerulonephritis: many inciting factors, usually treated with steroids, often progresses to renal failure
Henoch Schonlein purpura: systemic vasculitis with palpable lower extremity purpura, hematuria/proteinuria, joint pain/swelling, vomiting/abdominal pain, managed with supportive therapy (steroids)
Lupus (SLE): variety of presenting symptoms, renal biopsy findings help determine treatment options
Microscopic polyangiitis nodosa (MPN) + granulomatosis with polyangiitis (GP): rapidly progressive small vessel vasculitis, can have sinusitis, cough, pulmonary hemorrhage, renal biopsy positive for P-ANCA (MPN) or C-ANCA (GP), may require plasmapheresis
Hypercalciuria: thought to be caused by trauma from calcium crystals, diagnosed with urinary Ca/Cr ratio > 0.2-0.5, screen with spot test and confirm with 24hr collection (> 4mg/kg/d), check serum Ca, Phos, Vit D, and PTH, manage with salt restriction and increased fluid intakes, consider citrate supplements and thiazides
Sickle cell: hypoxia causes decreased medullary blood flow, leading to congestion and papillary necrosis and bleeding
References
AUA Core Curriculum
Baskin, Laurence S. Handbook of pediatric urology. Lippincott Williams & Wilkins, 2018.
Schlomer, B. and M. Jacobs. "Pediatric Genitourinary Trauma." Campbell-Walsh Urology 12 (2020).