Bladder Cancer (+ UTUC and Urethral Cancer)
Bladder Cancer Presentation
Bladder Cancer Risk Factors
Tobacco use: increases risk by 2-3x
Chemical exposure: aromatic amines, polycyclic aromatic hydrocarbons, arsenic
Cyclophosphamide: used for lymphoma and leukemia, risk is dose dependent, 4.5x increased risk
Lynch Syndrome: UTUC risk higher than bladder cancer
Other syndromes: Peutz-Jegher, Cowden, Li-Fraumeni, Costello, NF1
Schistosomiasis: endemic in 76 countries, causes SCC
History of pelvic XRT: 15-30yr latency period, 2-4x higher for cervical cancer patients, EBRT more likely cause than brachytherapy for prostate cancer
Chronic catheter use: increased risk of SCC from chronic inflammation
Pioglitazone: has been shown to have an increased risk (PROactive trial)
Arsenic: causes Blackfoot disease (seen in Taiwan), with hyperkeratosis and cardiac issues
Non-risk factors: fluid intake, food, caffeine, alcohol
Presentation
Microscopic hematuria: seen in almost 100% bladder cancer patients at presentation - 2.6% AMH workups are diagnosed malignancy
Gross hematuria: seen in 85% bladder cancer patients at presentation - 20% gross hematuria patients are diagnosed with malignancy
Dysuria without UTI: suspect carcinoma in situ
Mass on CT/MR: can skip cystoscopy, go straight to TURBT
Cytology: not useful for screening, but worth checking if history of HG or CiS disease - 60-70% sensitivity, vs only 10-30% for LG disease
Hydronephrosis: concerning for muscle-invasive disease
Every patient should undergo upper tract imaging (CTU, MRU, RGPG) for initial staging and to rule out hydronephrosis or upper tract disease - accuracy 72% for perivesical invasion, 86% for LN metastasis
TURBT Checklist, Anderson et al.
Obtaining Bladder Cancer Diagnosis
TURBT Tips
Blue light: HAL preferentially accumulates in tumors, detects 15% more Ta and 41% more CiS, decreases recurrence rates, wait 3mo after BCG (increased false positive rates)
Narrow band: enhances contrast between surfaces, decreases recurrence rates (27%->6%)
Cytology: more sensitive for HG/CiS, less sensitive for LG
Can perform clinic fulguration for suspected TaLG lesions
Use 70 degree lens to evaluate bladder neck
Stenting not required when ureteral orifice is resected, but use cutting current only with quick strokes - 4% postop hydronephrosis
Negative cystoscopy + positive cytology: random bladder biopsy -> prostatic biopsy -> retrograde pyelograms +/- upper tract cytology -> diagnostic ureteroscopy
Perforations: rare (0.36%), intraperitoneal require exploration + closure
Post-TURBT intravesical chemotherapy
Recommended for presumed low/intermediate risk
Reduces risk of recurrence by 10-15% (NNT=7.2)
Administer within 6hrs (24hr okay but less ideal) after TURBT, hold in bladder for 60 minutes
Do not administer if concern for perforation or extensive resection
Repeat TURBT
Perform repeat TURBT in 4-6 weeks if T1 disease, high risk Ta disease, incomplete resection, or variant histology (if attempting to avoid cystectomy)
Overall: 40% have residual disease on repeat TURBT
High risk Ta disease: residual tumor present in up to 50% TaHG, 15% get upstaged
T1 disease: 15-20% upstaged if muscle present vs 40-50% upstaged if muscle not present on initial TURBT
Residual T1 on reTURBT: up to 80% risk of progression to MIBC
UTUC Workup
< 5% patients with bladder cancer have UTUC
Upper tract imaging is recommended (by AUA guidelines) at first diagnosis of bladder cancer
Risk factors: CiS, high grade NMIBC, trigonal tumors
0.8-10% will eventually develop UTUC
Bladder pathologies
NMIBC vs MIBC
NMIBC (70-80%): Ta (noninvasive, 60-70%), T1 (lamina propria (20-30%)), TiS (10%)
MIBC (20-30%): T2 (muscularis propria), T3 (perivesical fat), T4a (prostate, vagina), T4b (pelvic sidewall)
Non-malignant TURBT findings
Squamous metaplasia: seen in 40% women and 5% men, no biopsy/treatment required
Inverted papilloma: benign, can cause hematuria, 1% chance recurrence, grow in endophytic pattern with nests in lamina propria
Papilloma: benign, stalks with normal urothelium
Leukoplakia: similar to squamous metaplasia but shows flaky plaques floating in the bladder, presents with rUTI + frequency + urgency, no longer considered pre-malignant
Cystitis cystica and follicular cystitis: common, seen with chronic inflammation/obstruction and recurrent UTIs, no malignancy risk
Eosinophilic cystitis: allergic reaction, biopsy shows eosinophils in urothelium, manage with anticholinergics, antihistamines, and steroids
Granulomatous cystitis: seen with TB infection and BCG therapy, manage with isoniazid + B6 (if BCG) or RIPE (if TB)
Malakoplakia: brownish bladder plaques, histology shows von Hansemann cells (granular macrophages) with Michaelis-Gutmann bodies (targetoid inclusions), treat with resection and antibiotics
Amyloidosis: appears like cancer, confirm diagnosis and workup with amyloid expert, manage with TURBT and intravesical DMSO
Premalignant and recurrent TURBT findings
Cystitis glandularis: potential malignant transformation (adenocarcinoma), regular surveillance
Inflammatory myofibroblastic tumor: appears as a tumor, spindle cells with inflammation, manage with TURBT, regular surveillance
Nephrogenic adenoma: caused by chronic irritation, present with hematuria/dysuria, treated with resection, can recur
Bladder leiomyoma: arise from detrusor, seen as smooth bulge under urothelium, require TURBT or partial cystectomy
Bladder paraganglioma: present with hematuria/HTN, can cause hypertensive crisis during TURBT, treat with resection
Hemangioma: can cause hematuria, usually seen in patients < 30yo, manage with resection, can be seen in Sturge-Weber syndrome
Variant Histology
Micropapillary: 0.7-2.2% prevalence, 50+% are T3-T4, 51% and 24% 5 and 10 year survival, does not respond to BCG or NAC
Sarcomatoid: 0.3-0.6% prevalence, 28% 5yr cancer-specific survival
Plasmacytoid: < 1% prevalence, responds to NAC but commonly relapses, risk for causing peritoneal carcinomatosis
Nested: rare, often locally invasive
Squamous differentiation: 16-22% prevalence, higher risk of progression/recurrence
Glandular differentiation: 10% prevalence, similar recurrence rates
Management: poor response to intravesical chemotherapy, recommend up-front cystectomy or repeat TURBT (if attempting bladder sparing approach)
64% are found to have T3-T4 disease during cytectomy as opposed to only 34% for pure urothelial histology
Non-Urothelial Bladder Cancers
Small cell: aggressive but chemosensitive, treated with platinum based therapies, 78% 5yr survival with NAC + cystectomy vs 36% for up front cystectomy (possibly due to higher stage at presentation)
Squamous cell: no benefit to NAC, managed with up front cystectomy
Adenocarcinoma: may be due to direct extension or metastatic disease (most common cause), should undergo screening colonoscopy, treat with up front cystectomy, minimal benefit with chemo/XRT
Urachal cancer: rare, treat with en bloc resection of bladder dome + urachal ligament + umbilicus
Neuroendocrine: rare + aggressive, treat with NAC then cystectomy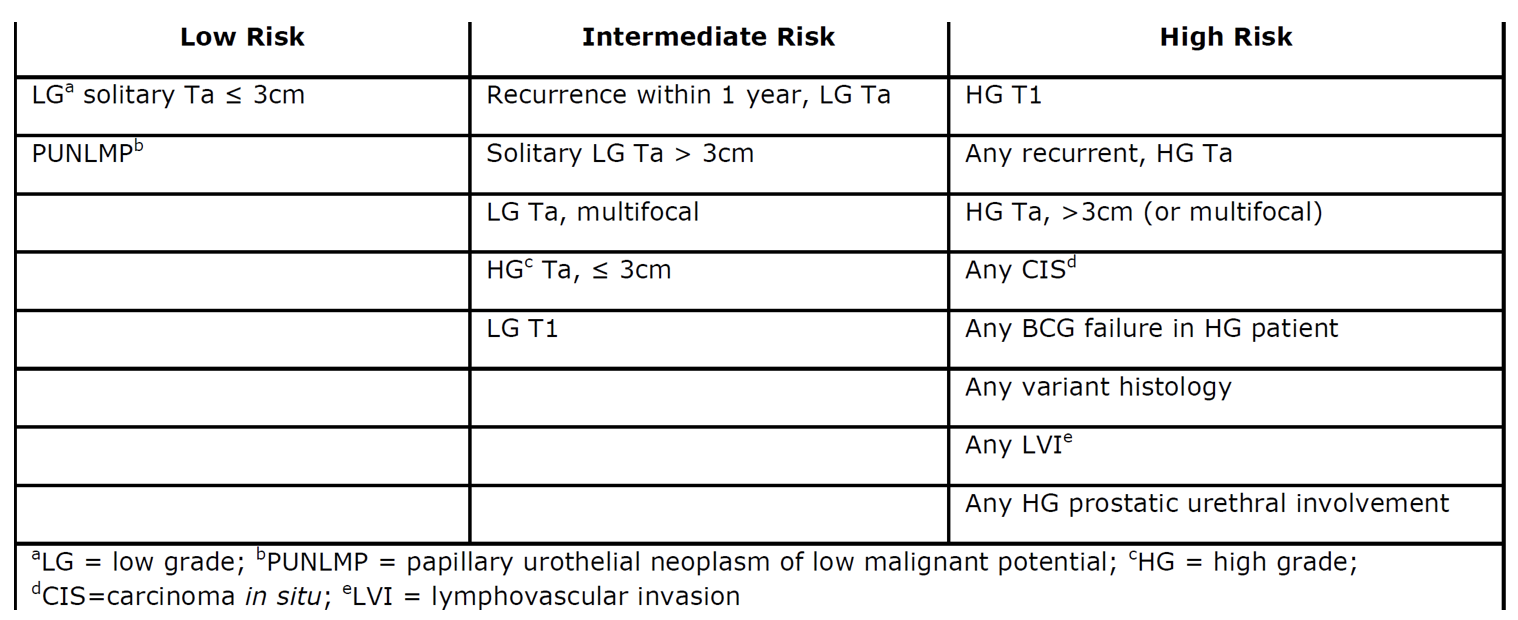 NMIBC risk classification, from AUA NMIBC Guidelines

NMIBC risk of recurrence and progression, from Campbell's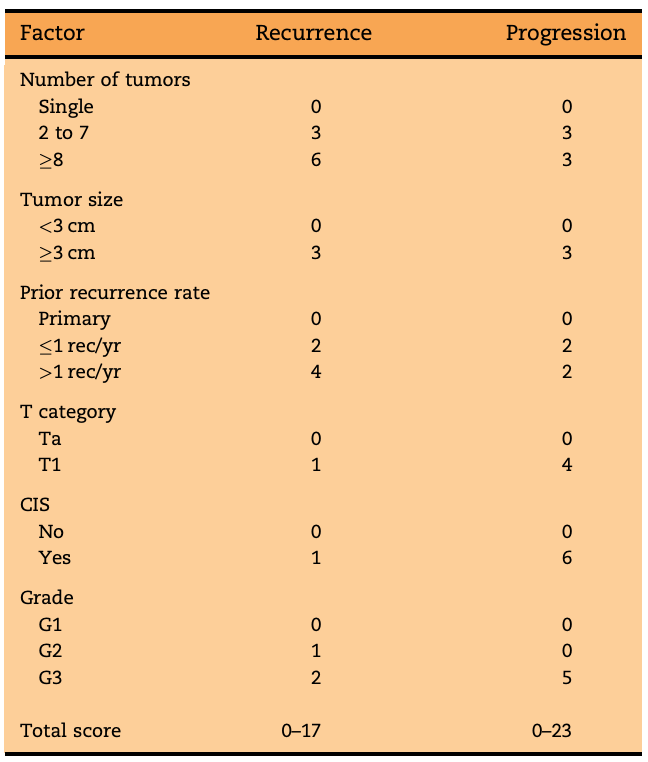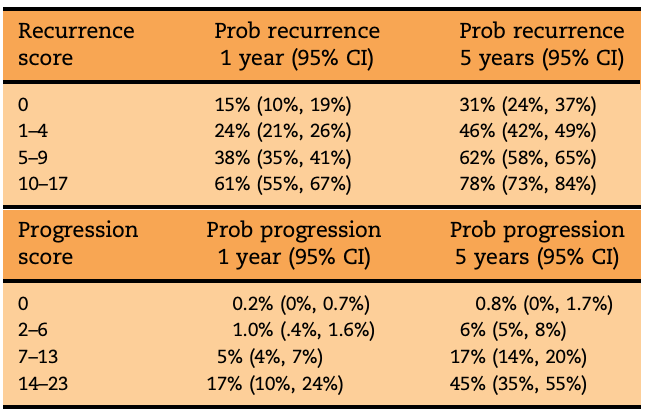 EORTC risk tables, from Sylvester et al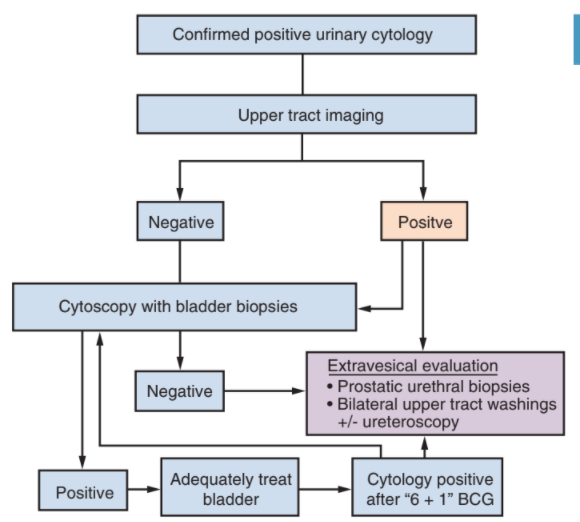 Management of positive cytology, from Campbell's
Risks of Recurrence and Progression
Low grade may be a separate disease and may not progress to high grade
TaLG: 50-70% recurrence, < 5% progression
T1HG: > 80% recurrence, 50% progression
CiS: 40-83% progression if untreated, up to 20% have invasive disease on cystectomy, increases upstaging in cystectomy for T1 disease (55% vs 6%), node-positive disease in 3%
Grade is a greater predictor of progression as opposed to stage
Upstaging occurs in 34-62% T1 disease
Low risk recommendations
No intravesical chemotherapy recommended
Surveillance cystoscopy at 3mo then annually for 5yrs
No upper tract surveillance required (0.6-0.9% risk)
Can consider in-office fulguration of sub-centimeter recurrence
Intermediate risk recommendations
Induction therapy recommended, consider maintenance therapy x1yr if complete response to induction
Surveillance cystoscopy + cytology q3-6mo for 2yrs, then q6-12mo for 2yrs, then annually
"Consider" upper tract imaging - < 10% UTUC rate
High risk recommendations
Induction therapy recommended, continue maintenance therapy x3yrs if complete response to induction
SWOG 8507 (Lamm 2000): give maintenance BCG x3 at 3, 6, 12, 18, 24, 30, and 36mo - recurrence-free survival at 5yrs increased 41% -> 60%
EORTC 30692: increased recurrence-free survival (HR 1.61) at 5yrs if 3yrs BCG instead of only 1yr
BCG has been shown to decrease recurrence and stage progression, whereas MMC only decreases recurrence
Surveillance cystoscopy + cytology q3-4mo for 2yrs, then q6mo for 2yrs, then annually
Repeat upper tract imaging q1-2yrs - 10% UTUC rate
Can offer up-front cystectomy for recurrent T1, CiS, LVI, and variant histology
Recurrences (intermediate/high risk)
If persistent/recurrent disease or positive cytology: consider prostatic urethral biopsies and upper tract evaluation, prostatic urethra affected in 24-39% recurrences, 20% with positive cytology have urethral disease, and 25% with recurrence have upper tract disease
If persistent/recurrence disease after iBCG/iMMC: repeat induction BCG/MMC, up to 50% response after 2nd course but 20-50% progression
If persistent/recurrent disease within 6mo of iBCG x2 or iBCG + mBCG: do not give further BCG, consider up-front cystectomy instead of giving more BCG (80% failure rate)
If persistent/recurrent disease within 12mo of iBCG x2 or iBCG + mBCG but unwilling/unfit for cystectomy: consider intravesical chemotherapy, pembrolizumab (CiS within 12mo completing BCG), or clinical trials (if available)
Up-Front Cystectomy
Consider if T1 recurrence after iBCG x1, T1 persistence on reTURBT, T1 plus CiS/LVI/variant histology
Mortality rates are worse when NMIBC progresses to MIBC as opposed to an initial MIBC diagnosis
Up to 50% with NMIBC are upstaged at cystectomy and 15% already have micrometastases
10yr survival for NMIBC cystectomy 67-92%
Not recommended for low/intermediate risk disease unless all other options have failed
Prostatic urethral cancer
90% have associated bladder cancer, but only seen in 3% bladder cancer patients
Usually CiS
Difficult to treat with intravesical therapy
Stromal invasion: T4 disease, 25% 5yr overall survival
BCG
Types
Live-attenuated strain (8 types) of TB, reconstituted in 50mL saline
No evidence for preferred strain, strength, or combining with other agents
Administration and success
Hold in bladder for 1-2hrs, avoid if recent traumatic catheterization, minimize fluid intake prior
30% remain disease free at 10yrs
Only intravesical therapy with proven decreased progression rates (15% vs 37%)
T1 disease: 16-40% recurrence and 4-40% progression rates
Less efficacious than TURBT for residual tumors
50% success for prostatic urethral tumors
Risks/side effects
Contraindications: immunocompromised patients, prior BCG sepsis, gross hematuria, traumatic catheterization, incontinence
Side effects: dysuria, hematuria, fever (5%), BCG sepsis (0.5%)
70% report some side effects, 8% need to stop therapy
BCG Grade 1 toxicity: obtain UCx, manage symptoms
BCG Grade 2 toxicity (symptoms > 48hrs) obtain UCx + CXR + LFTs, treat with rifampin + isoniazid, consider dose reduction and pretreating with isoniazid prior to BCG administration
BCG Grade 3 toxicity (allergy or solid organ involvement): isoniazid + rifampin, stop BCG, consider ID consult
BCG failures
BCG refractory: persistent disease after 6mo or progression after 3mo
BCG relapse: recurrence after BCG treatment, early (within 12mo) or late (> 24mo)
BCG intolerance: disease persistence due to inability to tolerate BCG due to side effects
BCG unresponsive: BCG refractory or relapse within 6mo treatment
If BCG unresponsive, recommend up front cystectomy (best survival), intravesical therapies, or immunotherapy
Other NMIBC Therapies
Mitomycin (MMC)
Benefits: recurrence RR=0.71, no effect on progression
Tips: no fluids 8hrs prior, alkalinize urine with NaBicarb 1.3g night before + morning of + 30min prior to instillation, give high concentration (40mg/20mL water)
Side effects: bladder contraction (5%), allergy (5%), cystitis (30-40%), skin reaction (if touches skin)
Doxorubicin/Epirubicin
Benefits: recurrence - RR=0.80 for doxorubicin, RR=0.63 for epirubicin
No effect on progression
Side effects: bladder contraction (5%) with doxorubicin, cystitis (10-40%)
Gemcitabine
Can give immediately post-TURBT, give with doxorubicin for BCG refractory disease
Side effects: LUTS (10-20%), hematuria (5%), cystitis (1-3%), myelosuppression (rare), pulmonary fibrosis (rare)
Pembrolizumab
Approved for BCG-unresponsive, high-risk NMIBC with CiS
Side effects: dermatitis (20%), pneumonitis (8%), colitis (2%), hepatitis (1%), nephritis (0.5%)
Other immunotherapies
IFN-2a: stimulates immune response, given with BCG, flu symptoms (15-20%), fever (10%)
Nadoferagene firadenovec: gene therapy with adenovirus, induces IFN-2a production, causes LUTS (60%)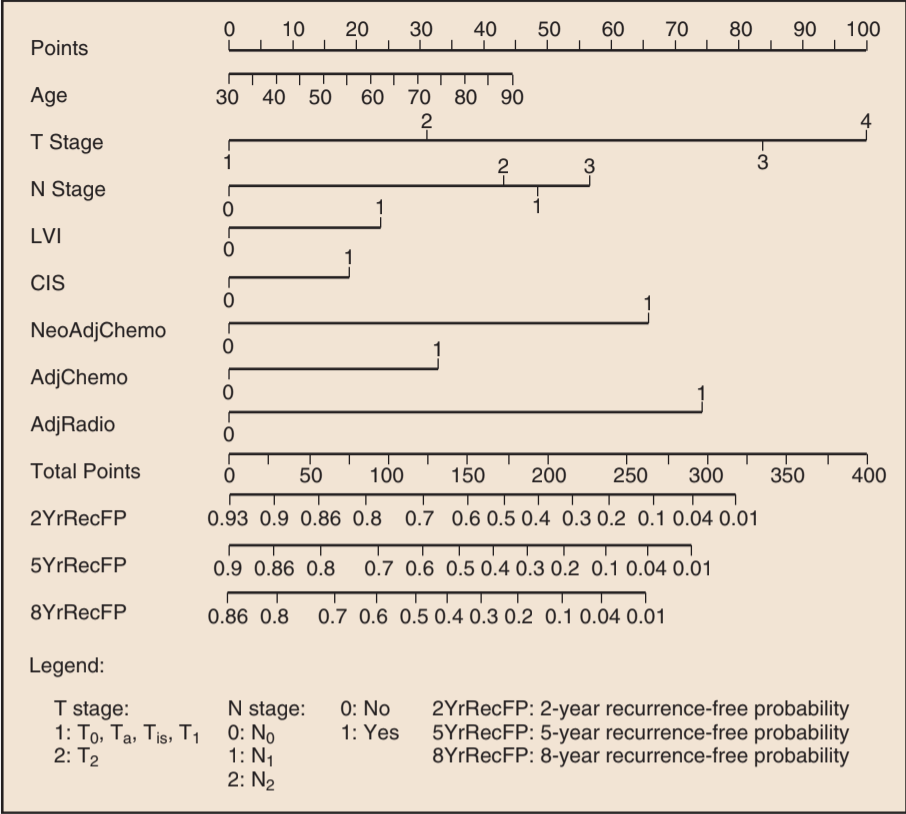 Postop nomogram to predict recurrence, from Karakiewicz et al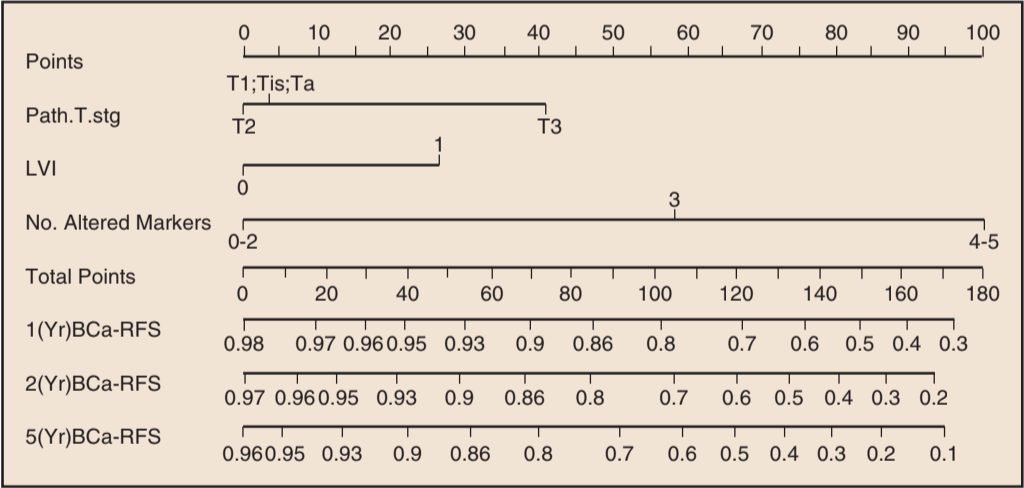 Postop monogram to predict recurrence (including biomarkers), from Shariat et al
Considerations
Mortality rate 85% at 2yrs if untreated
No need for reTURBT if T2+
Obtain CT A/P w/ contrast, chest imaging, and labs
CT chest for smokers, CXR for non-smokers
PET: not recommended as initial staging due to excretion via bladder, but has 80% accuracy for diagnosis LN metastases
Determine ability to remove bladder, presence of LN mets, presence of hydro, presence of UT disease, local extent of disease, presence of distant mets
Gold standard is neoadjuvant chemotherapy -> radical cystectomy
Neoadjuvant Chemotherapy
Cisplatin-based therapy is gold standard
Options currently ddMVAC or gem/cis
NAC decreases all cause mortality (65% -> 59%, HR=0.75) and cancer-specific mortality (50% -> 35%, HR=0.60) at 8yrs, lengthens median survival (46mo -> 77mo) - 5-6% increased survival at 10yrs
Cisplatin side effects: nephrotoxicity, cardiotoxicity, neurotoxicity, ototoxicity
Cisplatin exclusions: CrCl < 60, NYHA III-IV, CTCAE grade 2 hearing loss, sensory neuropathy
If unable to receive cisplatin -> go straight to cystectomy (do not pass go)
Carboplatin has not been shown to be an adequate substitute for cisplatin
Can consider adjuvant chemotherapy if neoadjuvant not given
Bladder preserving therapies
For patients unable/unwilling to undergo cystectomy
Trimodal therapy (TURBT + chemo + XRT) is gold standard, all three are required
Criteria: unifocal tumor, no CiS, no hydronephrosis, complete resection obtainable
Maximal TURBT + negative reTURBT -> up to 82% survival at 5yrs
XRT-sensitizing chemotherapy (5-FU, MMC) - disease-free survival 67% vs 54% at 2yrs, HR 0.68
Up to 40% require delayed cystectomy -> may increase mortality rate
Complications: early GI toxicity (68%), early GU toxicity (84%), late GI toxicity (27%), late GU toxicity (29%)
5yr survival reported as cystectomy (46%) vs bladder-sparing (28%)
Partial cystectomy: consider for small solitary tumors away from ureteral orifice and ability to obtain complete resection, also for urachal cancer, 69% overall survival at 5yrs
Chemotherapy without cystectomy has high risk for recurrence
Metastatic Bladder Cancer
Up front chemotherapy (MVAC, DD-MVAC, gem/cis)
Response rates 70% but median survival 14 months and 5yr survival 5-20%
Cisplatin exclusion criteria: WHO/ECOG > 2, CrCl < 60, Grade 2+ audiometric hearing loss, Grade 2+ peripheral neuropathy, NYHA Class III+ CHF - substitute carboplatin but decreased efficacy
MSKCC data: assess whether Karnofsky < 80% and/or visceral mets - median survival 33mo, 13mo, 9mo for presence of 0, 1, or 2 factors
Avelumab: approved for maintenance after chemotherapy for metastatic or locally unresectable disease
Cystectomy
Perform 6-8 weeks after neoadjuvant therapy (no later than 12 weeks)
Offer to any patient without metastases (M0)
Repeat imaging prior to surgery to confirm no metastases
Optimize performance status: smoking cessation (8 weeks prior), nutrition optimization
Perform preoperative stoma marking with patient standing and sitting
Preop meds: no proven benefit for bowel prep, give alvimopan 30-90min prior, give IV antibiotics within 1hr surgical incision, give heparin prior to surgical incision and start SCDs
PLND: metastases present in 25% at time of cystectomy, 70-80% develop recurrence as opposed to 30% with node-negative disease, increased sensitivity for node-positive disease with removal of greater number of nodes
LND boundaries: genitofemoral nerve laterally, internal iliac artery medially, cooper ligament inferiorly, ureter crossing iliac vessels superiorly
Do not complete cystectomy if unresectable nodal disease, evidence of extensive periureteral disease, fixed bladder to sidewall, or tumor invading rectosigmoid colon - aborting cystectomy has poor prognosis
Positive ureteral margin 6-8%, no clear indication for frozen examinzation
Consider male urethrectomy if widespread CiS of prostatic urethra or stromal invasion, female urethrectomy if T4 disease
Anticoagulation x4 weeks reduces VTE risk by 82% (4.6->0.8%)
Complications: ileus (2-32%), infection (5-39%), diversion issues (up to 33%), readmission (10-30%), mortality (3%, 4-6% if > 75yo)
Adjuvant therapy
Chemotherapy: offer if high risk for recurrence (T3-T4, N+), no prior neoadjuvant chemotherapy, and able to receive chemotherapy, should be cisplatin-based
XRT: offer if margin or node positive disease, improves local control but not overall survival
Immunotherapy: currently no role
Post-Cystectomy prognosis
5yr recurrence rates: ≤ pT1 (10-25%), pT2 (20-30%), pT3 (40-60%), pT4 (50+%), pN1+ (70%)
Most recurrences within 2-3yrs and are non-curative
RTOG (from AUA): 5yr survival overall (57%) and disease specific (71%), 10yr survival overall (36%) and disease specific (65%)
Risk of UTUC 1-8%, monitor w/ CT q6mo for 2-3yrs postop
Monitor urethral remnant for recurrences (4-8%)
Urethral recurrence after cystectomy
Seen 1-15%, usually within 2yrs but ~10% after 5yrs
Can occur either from local extension or from field effect
Risk factors: multifocal bladder tumors, CiS, hx NMIBC, prostatic urothelial carcinoma (males), positive urethral margin, and cutaneous diversion, bladder neck involvement (females)
Orthotopic neobladder may have protective effect due to continued urethral exposure to urine
Prophylactic urethrectomy indicated for positive urethral margin or gross urethral involvement, although can be performed as a staged procedure
Questionable benefit to obtaining urethral cytology to screen for recurrence
Can give intraurethral BCG for noninvasive recurrence
Manage most with urethrectomy, convert neobladder to cutaneous diversion
Upper Tract Urothelial Carcinoma (UTUC)
UTUC by the numbers
Bilateral: 5%
Multifocal: 10-20%
History bladder cancer: 4-41%, depending on population
Disease recurrence: 22-47% in bladder, 2-6% in contralateral renal unit
Spread: 60% are invasive, 7% are metastatic
Risk Factors
Lynch syndrome (HPNCC): suspect if UTUC and age < 60, or first degree relatives x2 with HPNCC-related cancers
Tobacco: 2.5-7x increased risk
Occupational: exposure to aromatic amines increases risk 4-5.5x
Aristolochic acid (Chinese herb) nephropathy: Aristolochia fangchi produces compound that induces p53 mutation, resulting in ESRD and UTUC
Arsenic: associated with UTUC and peripheral vascular disease (blackfoot)
Inflammation: increased risk with chronic irritation (stones, UTI)
Workup
Symptoms: hematuria (56-98%), flank pain (20-30%), lumbar mass (10%) - incidental diagnosis (15%)
Cystoscopy: assess for associated bladder cancer
CT urography: sensitivity 67-100%, specificity 93-99%
Hydronephrosis: seen with invasive ureteral tumors in 80%
Bilateral disease seen in 1-4% patients
Ureteroscopy: required for diagnosis, can obtain tissue via biopsy (low false-negative rate), can be performed antegrade if necessary (potential risk of tract seeding), can use basket, laser, or loop resection
Organ-sparing management
Warranted for low-risk disease (need all criteria): unifocal, < 2cm, low-grade cytology, low grade on biopsy, no invasion on imaging
Can consider for poor renal function, solitary kidney, poor surgical candidate, bilateral tumors
Mitomycin hydrogel: can administer antegrade/retrograde, stays in kidney then dissolves, administer weekly, side effects include ureteral stenosis (44%), UTI (32%), hematuria (31%), flank pain (30%), nausea (24%)
BCG: not recommended at this time
Segmental ureterectomy: consider for isolated tumor, reanastomose with stent, avoid tumor spillage, 5-15% risk for unilateral relapse, 2-10% risk for stricture
Nephroureterectomy
Nephroureterectomy with bladder cuff is gold standard for any high-grade or invasive lesions
Neoadjuvant chemotherapy with MVAC or gem/cis recommended (may not have post-op renal function to receive adjuvant chemotherapy)
Lymphadenectomy recommended at time of nephroureterectomy, need to remove 8+ to ensure pN0 status
Give single dose of intravesical chemotherapy (mitomycin, gemcitabine) immediately postoperatively to decrease risk for bladder cancer
For LN+ or metastatic disease, give chemotherapy and only consider surgery for good radiographic response
Immunotherapy (PDL-1 inhibitors) may be warranted for neoadjuvant and post-chemo relapses
5yr survival after nephroureterectomy: Ta/T1 60-90%, T2 43-75%, T3 16-33%, T4 0-5%, N1+ 0-4%, M1+ 0%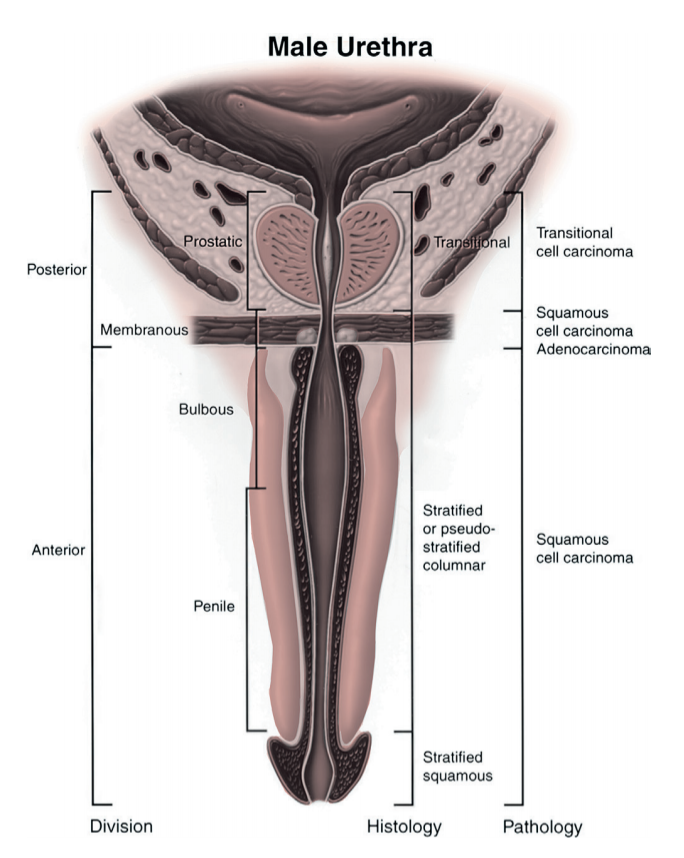 Male urethra and associated cancer pathology, from Campbell's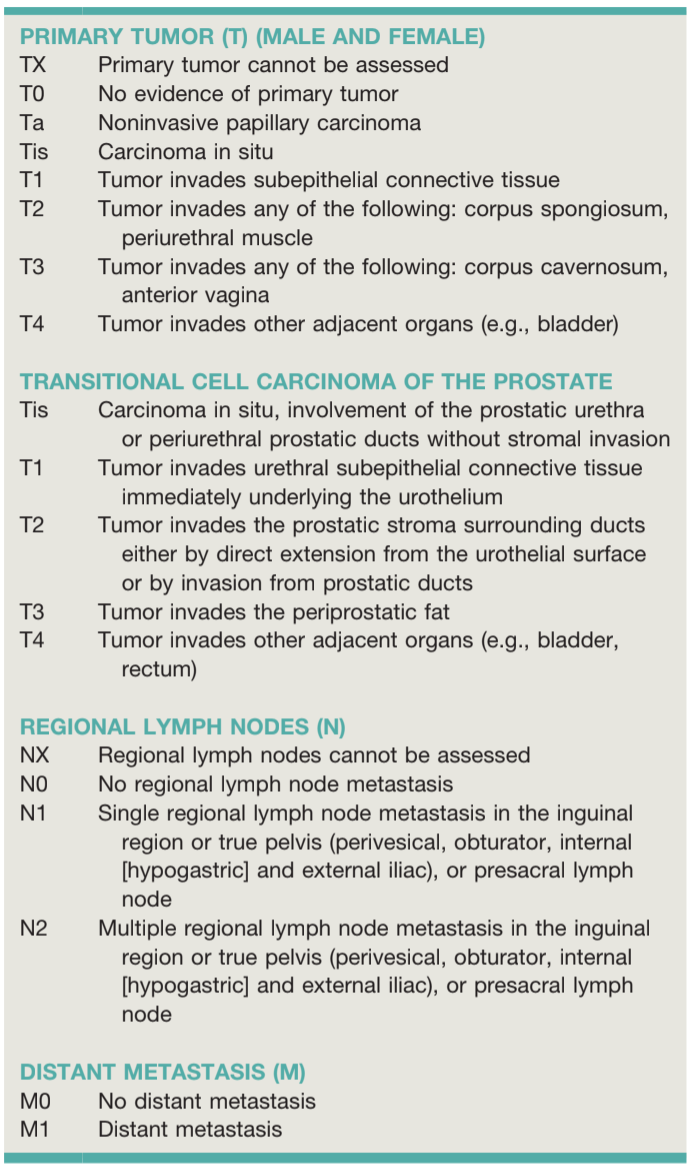 TNM staging for urethral cancer, from Campbell's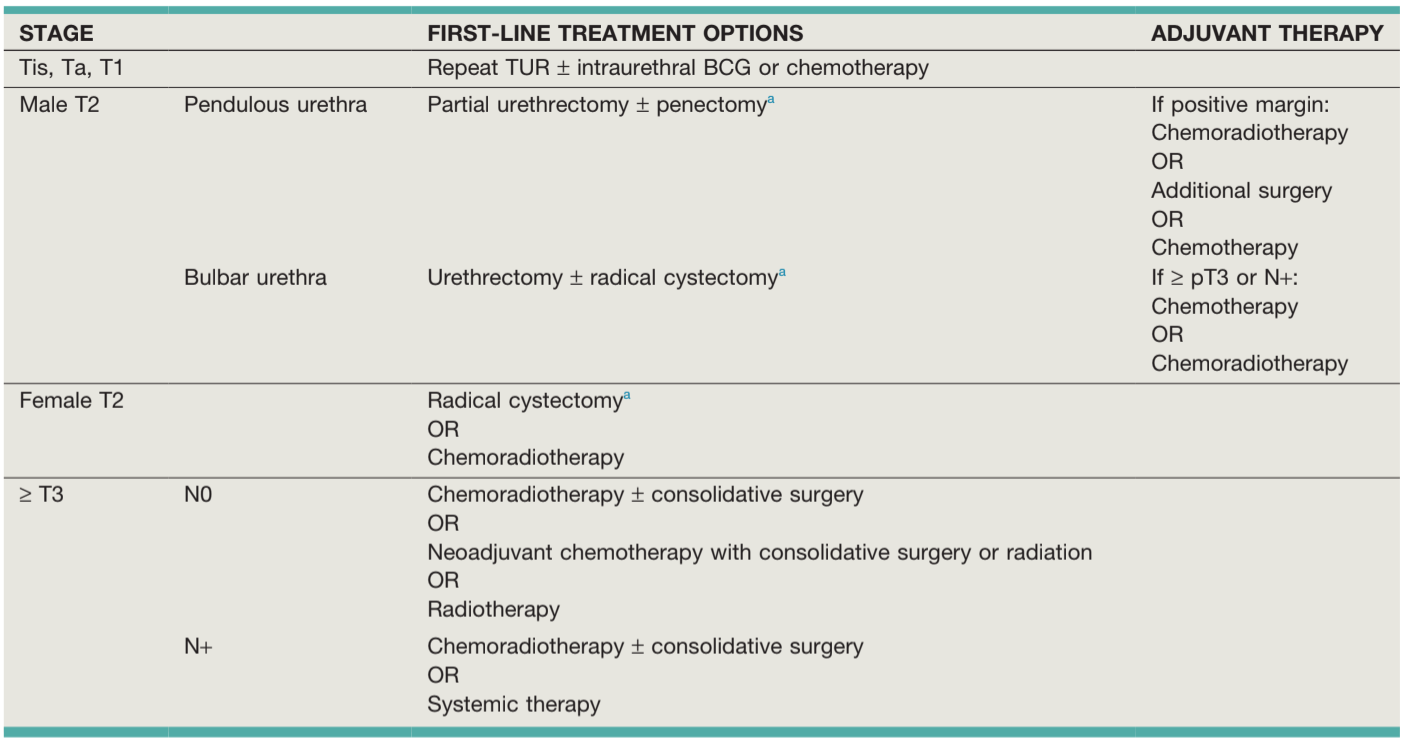 NCCN treatment recommendations for urethral cancer, from Campbell's

NCCN treatment recommendations for localized prostatic urethral cancer, from Campbell's
Urethral Tumors
Benign tumors
Leiomyoma: hormone sensitive, found submucosally, can assess on exam and MRI, excise transurethrally or transvaginally
Hemangioma: may be associated with cutaneous hemangioma syndromes, may cause hematuria and discharge, can cause pain if thrombosed, visualize with cystoscopy, MRI may be beneficial (larger/deeper than appearing on cystoscopy), treat with fulguration, ablation, or open excision/reconstruction
Fibroepithelial polyp: rare, cause filling defect on RUG/VCUG, seen as smooth tumor with stalk on cystoscopy, treated with resection
Male urethral cancer
Stricture disease is most common risk factor, seen in 50+% urethral cancer
Other risk factors: lichen sclerosis, STIs, urethritis, hx XRT, trauma, instrumentation, HPV
Presents with hematuria, LUTS, discharge, and penile/perineal mass
Anterior urethra drains via inguinal and external iliac lymph nodes, posterior urethra drains via pelvic lymph nodes, palpable inguinal nodes seen in 20-30% cases at presentation, always represent metastatic disease
MRI is best imaging for assessing disease spread, can consider RUG and US as adjuncts
Pendulous urethra treatment: TUR, urethrectomy +/- penectomy, questionable benefit to prophylactic node dissection
Bulbar urethra treatment: TUR, excision and anastomosis, radical cystoprostatectomy + penectomy
Superficial prostatic disease: consider TURP + BCG to remove affected tissue and increase BCG exposure - 56% response, 44% progression
Deep prostatic disease (ductal/stromal): radical cystoprostatectomy +/- urethrectomy +/- (neo)adjuvant chemotherapy
Lymphadenectomy: perform pelvic LND during cystoprostatectomy, inguinal LND only if palpable/enlarged (< 10% risk for metastatic disease if clinically negative nodes)
5yr prognosis: cancer specific survival 50-70%, overall survival 40-50%
Female urethral cancer
Adenocarcinoma most common type
Increased prevalence in setting of urethral diverticulum (6%)
MRI best modality to assess disease extent
Management: local excision (works for distal tumors), urethrectomy, exenteration, XRT, chemo - multimodal therapy recommended
TUR has high risk for incontinence
Prognosis: 5yr survival 40-60%, 20% have ILND recurrence at 2yrs
Chemotherapy
Urothelial: MVAC, gem/cis
Squamous: PMB, TPF, VBM, TIP (B=bleomycin, F=5-FU, I=ifosfamide, M=methotrexate, P=cisplatin, T=paclitaxel, V=vincristine)
Adenocarcinoma: FOLFOX (5-FU + folinic acid + oxaliplatin), FOLFIRI (5-FU + folinic acid + irinotecan + cetuximab)
References
AUA Core Curriculum
Anderson, C. and J. McKiernan. "Tumors of the Urethra." Campbell-Walsh Urology 12 (2020).
Anderson, Christopher, et al. "A 10-item checklist improves reporting of critical procedural elements during transurethral resection of bladder tumor." The Journal of urology 196.4 (2016): 1014-1020.
Chang, Sam S., et al. "Diagnosis and treatment of non-muscle invasive bladder cancer: AUA/SUO guideline." The Journal of urology 196.4 (2016): 1021-1029.
Chang, Sam S., et al. "Treatment of non-metastatic muscle-invasive bladder cancer: AUA/ASCO/ASTRO/SUO guideline." The Journal of urology 198.3 (2017): 552-559.
Guzzo, T., J. Christodouleas, and D. Vaughn. "Management of Muscle-Invasive and Metastatic Bladder Cancer." Campbell-Walsh Urology 12 (2020).
Jarret, T., S. Matin, and A. Smith. "Surgical Management of Upper Urinary Tract Urothelial Tumors." Campbell-Walsh Urology 12 (2020).
Kallidonis, P., and E. Liatsikos. "Urothelial Tumors of the Upper Urinary Tract and Ureter." Campbell-Walsh Urology 12 (2020).
Kates, M., and T. Bivalacqua. "Tumors of the Bladder." Campbell-Walsh Urology 12 (2020).
Lamm, Donald L., et al. "Maintenance bacillus Calmette-Guerin immunotherapy for recurrent TA, T1 and carcinoma in situ transitional cell carcinoma of the bladder: a randomized Southwest Oncology Group Study." The Journal of urology 163.4 (2000): 1124-1129.
Margulis, Vitaly, et al. "Preoperative multivariable prognostic model for prediction of nonorgan confined urothelial carcinoma of the upper urinary tract." The Journal of urology 184.2 (2010): 453-458.
Navai, N. and C. Dinney. "Surgical Management of Bladder Cancer: Transurethral, Open, and Robotic." Campbell-Walsh Urology 12 (2020).
Sheldon, Curtis A., et al. "Malignant urachal lesions." The Journal of urology 131.1 (1984): 1-8.
Sylvester, Richard J., et al. "Predicting recurrence and progression in individual patients with stage Ta T1 bladder cancer using EORTC risk tables: a combined analysis of 2596 patients from seven EORTC trials." European urology 49.3 (2006): 466-477.
Woldu, Solomon L., Aditya Bagrodia, and Yair Lotan. "Guideline of guidelines: non‐muscle‐invasive bladder cancer." BJU international 119.3 (2017): 371-380.
Zabell, J., and B. Konety. "Management Strategies for Non-Muscle-Invasive Bladder Cancer." Campbell-Walsh Urology 12 (2020).