Adrenal Masses, Malignancies, and Other Disorders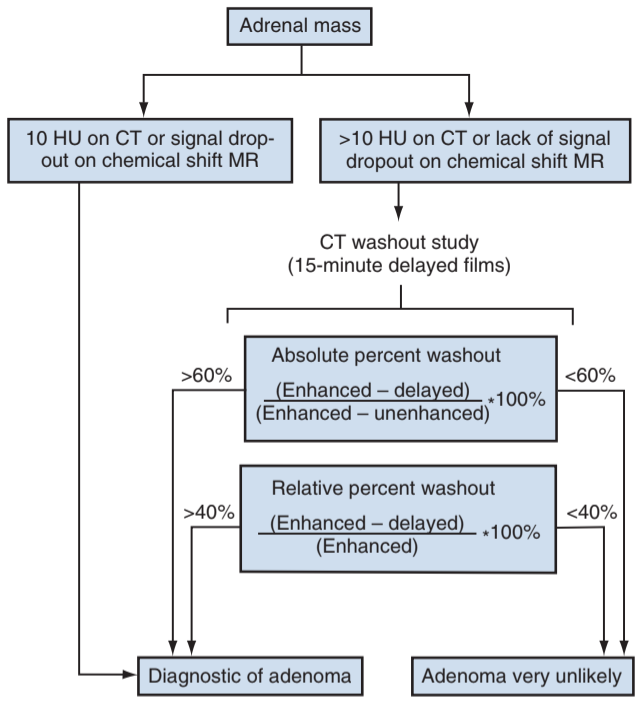 Imaging algorithm for adrenal incidentaloma, from Campbell's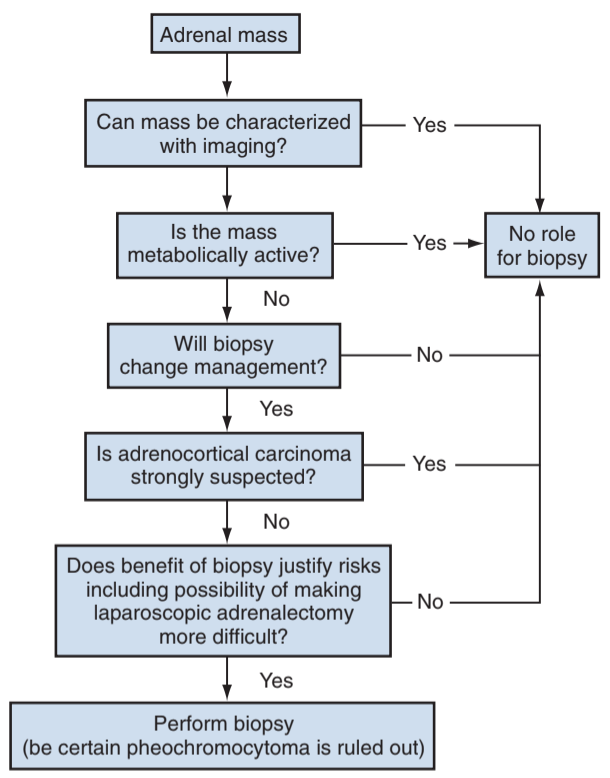 Biopsy algorithm, from Campbell's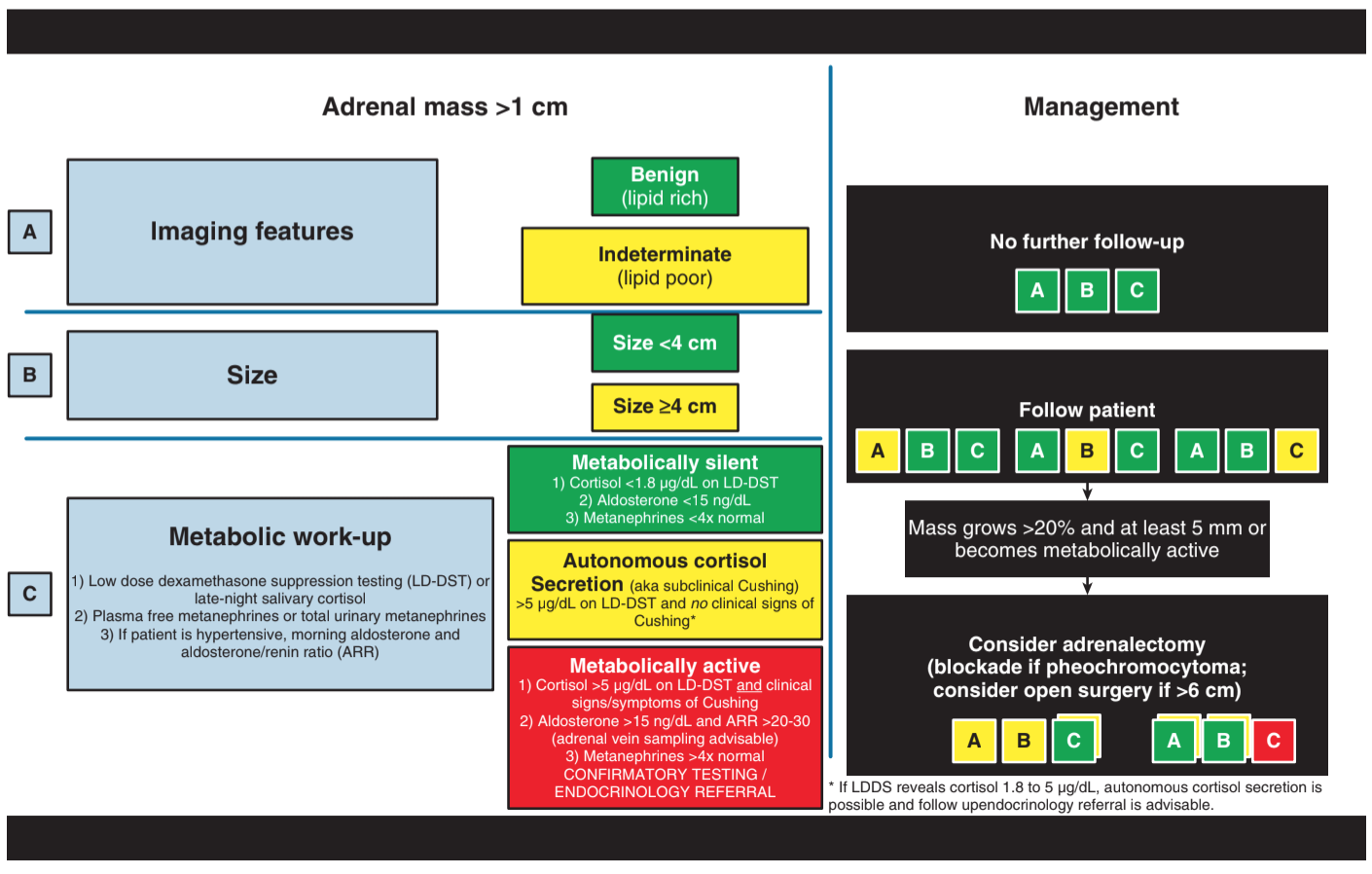 Surveillance algorithm of adrenal adenoma, from Campbell's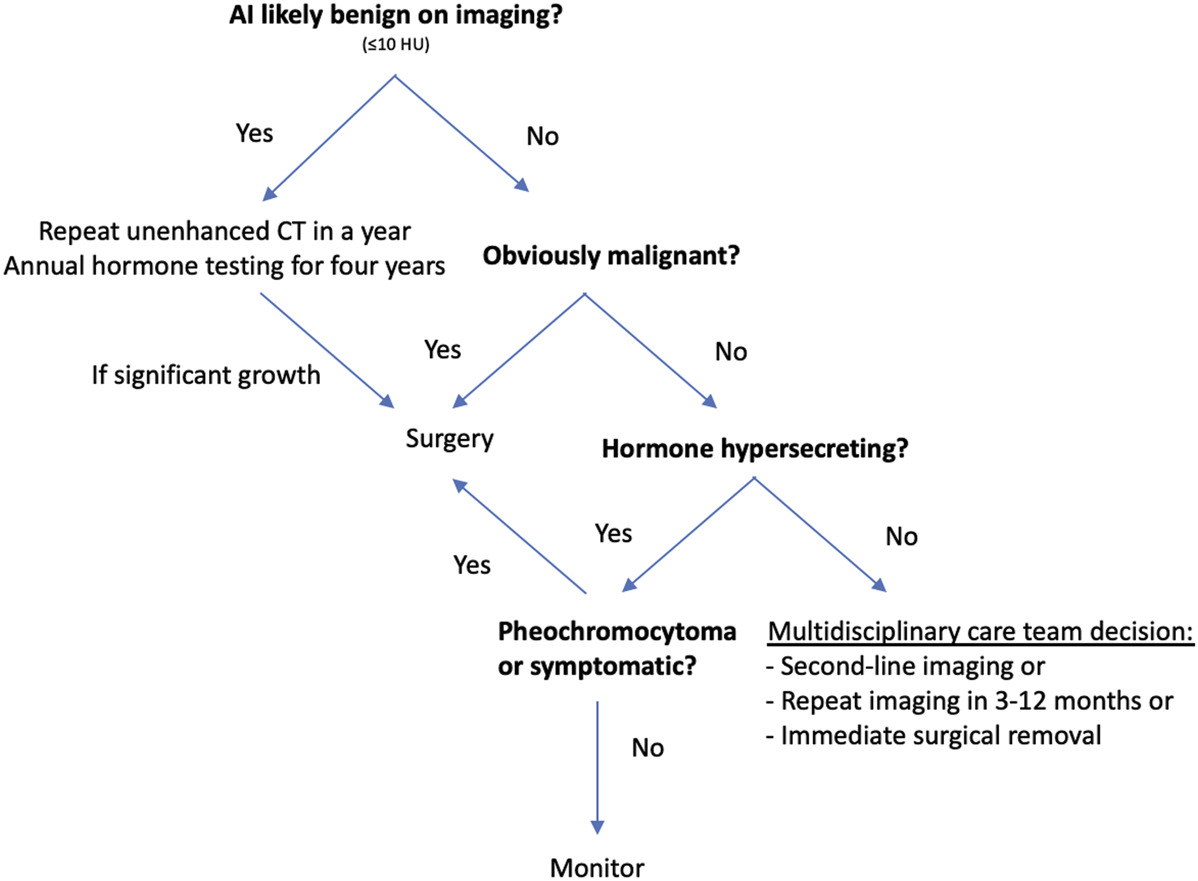 Surveillance algorithm of adrenal adenoma, from Maas 2021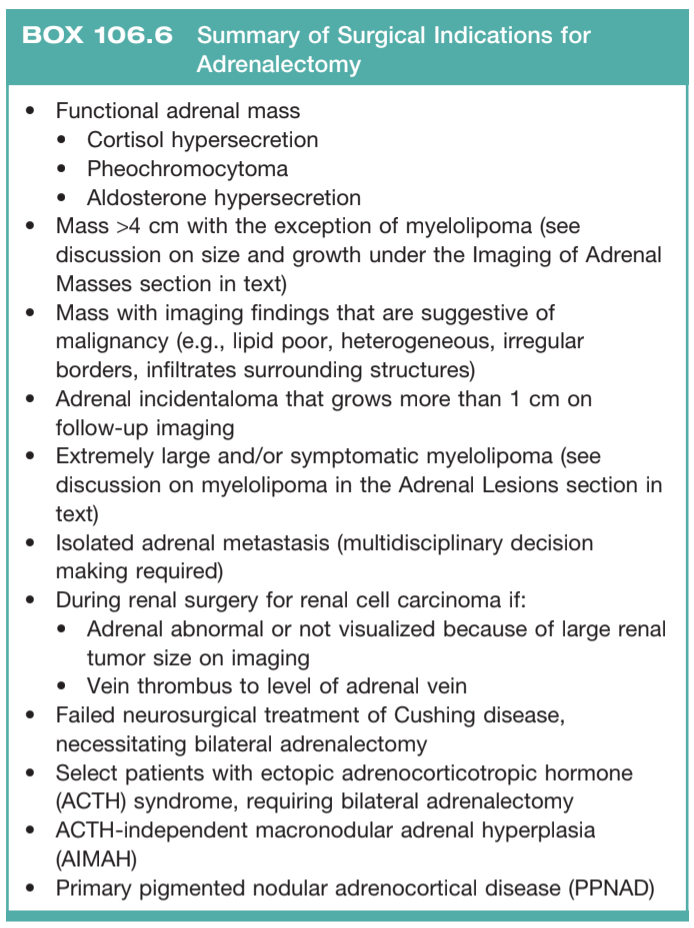 Adrenalectomy indications, from Campbell's
How to Workup an Adrenal Incidentaloma
Identification
Incidental diagnosis of adrenal mass > 1cm without presence of another malignancy
20% may be surgical candidates
Size matters: if < 4cm, 2% are adrenal carcinomas, 4-6cm increases to 6%, 4cm recommended as cutoff for surgical intervention (93% sensitivity and 42% specificity)
Two questions: is mass metabolically active, and/or is it a malignancy?
Metabolic Workup
< 10% adenomas are metabolically active
Every patient should undergo metabolic workup at diagnosis
Cortisol: assess with low dose dexamethasone suppression test - take 1mg between 11PM-12AM, check cortisol between 8-9AM the following day, normal < 1.8ug/dL, range 1.8-5ug/dL considered "possible autonomous cortisol secretion"
Catecholamines: either use free fractionated plasma metanephrines (avoid stimulating agents, draw after 20 minutes supine) or 24hr urinary fractionated metanephrines (collect after discarding first morning void)
Aldosterone: assess with aldosterone/renin ratio drawn 8-10AM, cutoff ARR > 20 and aldosterone level > 15, consider obtaining only if HTN or hypoK
Sex steroids: not recommended due to rarity of hypersecretion, only recommended if carcinoma is suspected or obvious signs of feminization/virilization - check DHEA, 17-ketosteroids, testosterone (virilization), 17B-estradiol (feminization)
Imaging
Identification of intracytoplasmic lipid helps differentiate benign adenomas from other causes
Unenhanced CT: < 10HU has 71% sensitivity (29% are lipid-poor) and > 98% specificity for adrenal adenoma, if < 10HU then no further imaging required, risk for metastasis in setting of prior extra-adrenal malignancy is < 7%
Contrast CT: if performed for another reason, usually nondiagnostic but may provide more information on general appearance
Washout CT: adenomas exhibit rapid contrast washout, image at 15-minutes, > 60% washout vs noncontrast (absolute washout) or > 40% washout vs arterial phase (relative washout)
MRI: less sensitive than CT, preferred for patients < 40 and/or pregnant patients
Functional imaging (PET/CT): useful if unclear tumor origin, hx extra-adrenal malignancy or potential malignancy
Interval growth: if > 20% increase or 5mm maximal growth, concerning for malignancy, recommend removal
Biopsy
Indications: not metabolically active, not clearly benign on imaging, and pathology results would alter management
Complications: bleeding, pneumo/hemothorax, risk of HTN crisis if pheochromocytoma
Surveillance (based on guideline summary from Maas 2021)
Imaging: repeat in 12mo if obviously benign (minimal benefit for repeating sooner)
Labs: < < 2% spontaneously start producing hormones, recommend annual labs for 4-5yr with symptom check at that time
Malignant transformation: reportedly < 0.2%
Surgery recommendations
Laparoscopic: ≤ 6cm and no concern for local invasion
Open: concern for local invasion
Indeterminate: individualized approach if patient does not fit into above categories
Relevant Physiology and Embryology to Keep in Mind
Adrenal layers (outer to inner)
Zona Glomerulosa: produces mineralocorticoids, mainly aldosterone, stimulated by angiotensin II
Zona Fasciculata: produces glucocorticoids, mainly cortisol, stimulated by ACTH
Zona Reticularis: produces sex steroids (androgens and estrogens), stimulated by ACTH
Medulla: produces catecholamines, mainly epinephrine, stimulated by sympathetic input
Potential Congenital Abnormalities
Agenesis: not common, usually develop normally despite renal anomalies, adrenal gland will be discoid in shape due to lack of renal interaction
Rests: accessory tissue, can be found along path of gonadal descent, most commonly seen as hyperplastic abnormal testis tissue in CAH
Benign Adrenal Neoplasms
Adrenal Adenomas
Prevalence: 0.5% if in 20s, 7% if 70+yo, 6% of autopsy patients
85-90% incidentally diagnosed adrenal masses are adenomas, with 7% of these exhibiting hormone secretion
Subsequent function: 1.7% nonfunctional adenomas gained function on follow-up
The goal of the workup is to rule out malignancy and metabolic/hormonal activity
CT imaging: < 10HU on noncontrast CT and > 40-60% contrast washout are highly likely to be adenomas
Need for follow-up after workup is controversial due to low rates of growth and hormonal activity
Other adrenal lesions (all are rare)
Oncocytoma: > 30% reported as malignant, surgery recommended
Myelolipoma: can rupture (more common if > 10cm), diagnosed based on CT appearance, observe unless symptomatic
Ganglioneuroma: CT may show < 40HU and stippled calcifications
Cysts: CT imaging w/ sharply marginated fluid without enhancement, cyst excision/aspiration may be required to rule out malignancy, most can be observed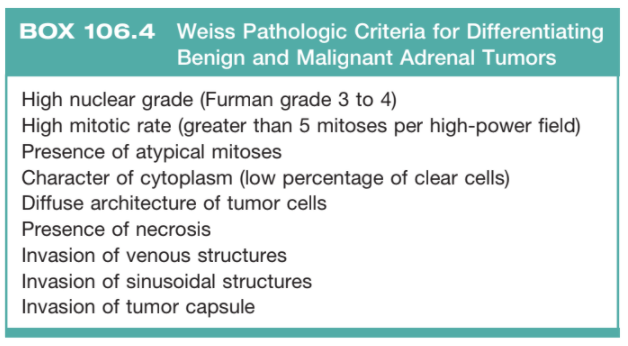 Weiss Criteria, from Campbell's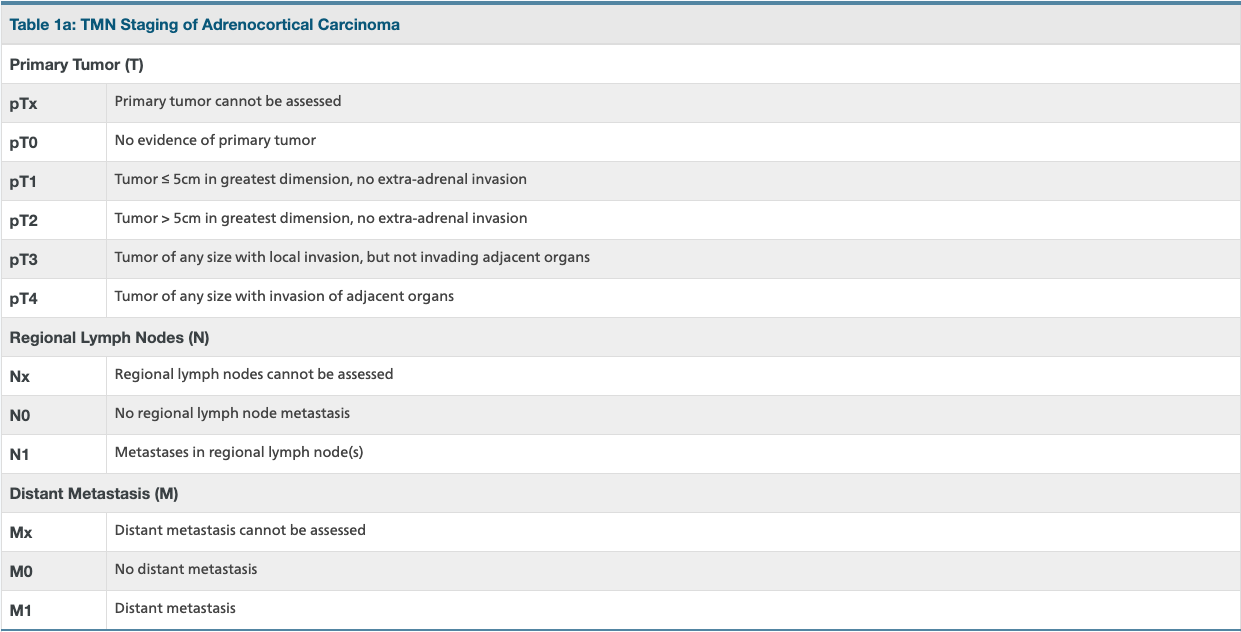 Adrenocortical carcinoma TNM staging, from AJCC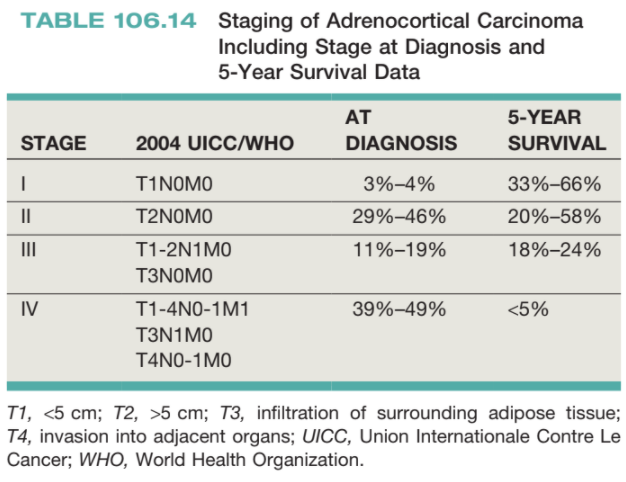 5yr survival, from Campbell's
Adrenal Malignancies
Primary Adrenocortical Carcinoma
Common symptoms: hormonal hypersecretion (40-60%), abdominal pain/fullness (30%)
Test for steroid hormones as well as precursor molecules
Imaging: CT/MR A/P, larger tumors more likely to be malignant (10% if > 4cm, 25% if > 6cm), usually > 25HU on non-contrast imaging and < 50% washout, chest imaging is required, bone scan and MR head only if bone/neuro symptoms
Weiss criteria: 3+ criteria have 100% sensitivity and 96% specificity for diagnosing malignant vs benign adrenal masses
Surgical resection recommended, with en bloc resection
Consider removal of mass and metastases if able to remove > 90% disease burden
Surveillance: CT C/A/P q3mo for 2-3yrs, then space out to q6mo until 5yrs postop
XRT: recommended for CNS and bone metastases
Mitotane: DDT derivative, most commonly used adjuvant chemotherapy
Overall 5yr survival 20-47%
Metastases to the Adrenal Gland
Prevalence: in setting of prior extra-adrenal malignancy, > 50% newly diagnosed adrenal lesions are metastatic disease
Imaging: metastases tend to be lipid-poor, > 10HU on noncontrast CT and do not show contrast washout, risk of malignancy is 7% if otherwise benign-appearing on CT
Treatment: can consider biopsy, adrenalectomy, or surveillance depending on clinical scenario
Adrenalectomy: recommended for RCC if radiographically abnormal or tumor thrombus in the renal vein
Surveillance: screen adrenal mass at same interval as primary malignancy
Biopsy: only if not metabolically active, not clearly benign on imaging, and pathology results would alter management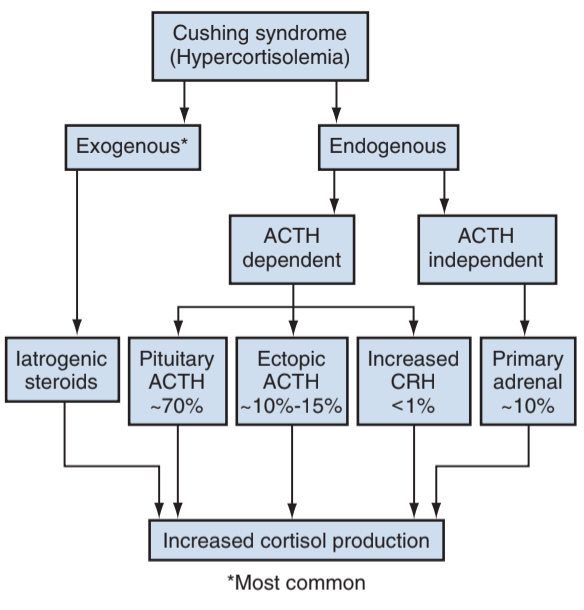 Kutikov, A., P. L. Crispen, and R. G. Uzzo. "Pathophysiology, evaluation, and medical management of adrenal disorders." Campbell-Walsh Urology 12 (2020).
Hypercortisolism (Cushing Syndrome)
Causes
Exogenous: most common cause due to treatment of other conditions
ACTH dependent: 80% due to pituitary tumor (Cushing disease), ectopic ACTH production usually secondary to malignancy
ACTH independent: due to adrenal adenomas, carcinomas, or hyperplasia
Urologic Indications for Hypercortisol Workup
Hypogonadal hypogonadism: consider if low T/gonadotropins and ED or libido issues
Stones: seen in up to 50% Cushing syndrome patients, increased stone risk even after treatment for Cushing
Workup
Low dose dexamethasone suppression test: nighttime administration of dexamethasone should suppress ACTH and therefore cause decreased cortisol levels the next morning, but patients with Cushing syndrome will not have suppressed cortisol levels due to lack of negative feedback
Identify source: check ACTH level, low level indicates primary adrenal, high level indicates pituitary or ectopic source
Low ACTH: check abdominal imaging, consider exogenous sources if no adrenal lesions noted
High ACTH and no obvious source screening imaging is non-diagnostic - measure ACTH levels in the inferior petrosal sinus vs peripheral plasma after CRH stimulation - high ratio indicates pituitary source whereas normal ratio indicates ectopic source
Autonomous Cortisol Secretion
Definition: indeterminate range 1.8-5ug/dL
Low (< 1%) risk for progression to overt Cushing syndrome
Screening: assess for HTN, HLD, DM, vertebral fractures - all can be exacerbated/worsened by cortisol excess
Surgery: consider only if clearly from adrenal adenoma and concern that low elevation of cortisol is causing undesired side effects
Treatment
Exogenous steroids: taper source to prevent withdrawal
Pituitary source: transsphenoidal surgical resection, with 60-80% cure and 25% relapse
Solitary adrenal lesion: unilateral adrenalectomy
Bilateral adrenal lesions or resistant to pituitary treatment: bilateral adrenalectomy
Ectopic source: resection of ectopic source or bilateral adrenalectomy if unable to identify source (up to 35% patients)
Medical therapies: metyrapone, aminoglutethimide, ketoconazole, etomidate, mitotane
Nelson syndrome: pituitary adenoma growth after bilateral adrenalectomy, seen in 8-29% patients

Kutikov, A., P. L. Crispen, and R. G. Uzzo. "Pathophysiology, evaluation, and medical management of adrenal disorders." Campbell-Walsh Urology 12 (2020).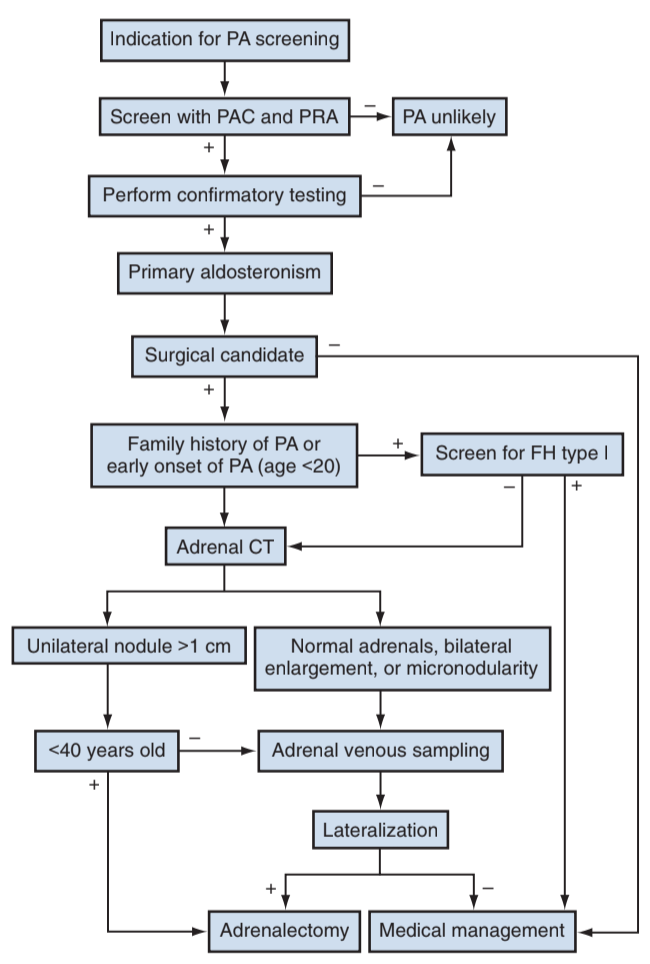 Kutikov, A., P. L. Crispen, and R. G. Uzzo. "Pathophysiology, evaluation, and medical management of adrenal disorders." Campbell-Walsh Urology 12 (2020).
Hyperaldosteronism (Conn Syndrome)
Causes
Idiopathic hyperplasia: no obvious adenoma, less likely to cause hypokalemia
Adenoma: more likely to cause hypertension and hypokalemia
Rare causes: adrenal carcinomas, ectopic production, familial causes
Workup
Screening: usually found during workup for refractory hypertension, prevalence 2-13% depending on severity of blood pressure
Hypokalemia: seen in 17-50% patients, also may report myalgias, polyuria, headaches
Stop spironolactone and other receptor blockers 4 weeks prior to testing
Hormonal screen: check morning (8-10AM) aldosterone and renin concentrations, calculate ratio (aldosterone/renin), perform confirmatory test if positive due to testing variability
No need for subtype differentiation if patient is not a surgical candidate
Genetic screening: indicated if family hx aldosteronism, age of onset < 20yo, or family hx CVAs
CT imaging: adenomas < 10 HU, 20% less than 1cm
Adrenal vein sampling: lateralizes source of aldosterone if not obvious on imaging, expected lateralizing ratio is > 2:1-4:1, not needed if < 40 and clear unilateral adenoma, or patients with ACC
Treatment
Adrenalectomy: for lateralizing aldosterone secretion
Ensure Mg + Phos repletion, normalize fluid status, BP control, and stress dose cortisol
Medical management: spironolactone (25->400mg/d) and eplerenone (25->100mg/d) for patients who are not surgical candidates
Adrenal Insufficiency (Addison Disease)
Causes
Autoimmune: most common cause in developed countries, may be seen in autoimmune polyendocrine syndrome
Tuberculosis: most common cause in developing countries
Sheehan syndrome: peripartum pituitary failure
Others: hemorrhage, amyloidosis, sarcoidosis, hemochromatosis
Evaluation and Management
Diagnosis: often made clinically, but confirmed with morning cortisol and ACTH, plus aldosterone and renin
Adrenal crisis: hypotension unresponsive to fluid resuscitation, abdominal pain, nausea, vomiting, fever
Mineralocorticoid deficiency: only seen in primary Addison disease
Hyperpigmentation: ACTH stimulation also increases peptides that stimulate skin melanin production
Treatment: glucocorticoids (+/- mineralocorticoids), give stress dose steroids prior to surgery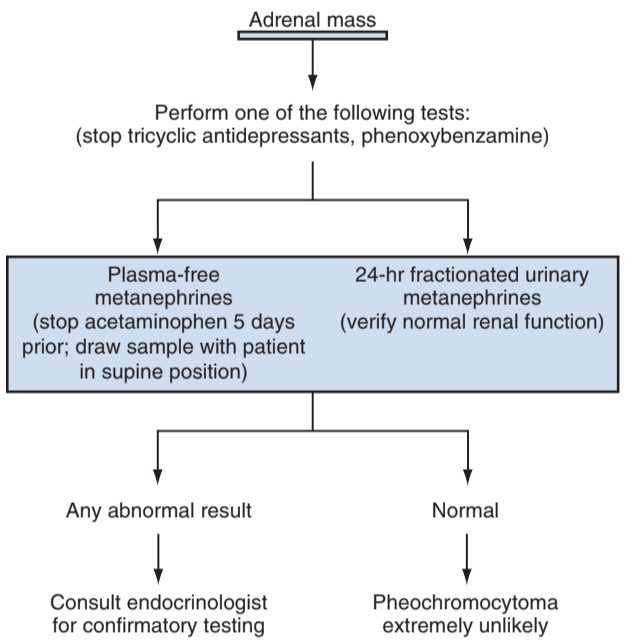 Kutikov, A., P. L. Crispen, and R. G. Uzzo. "Pathophysiology, evaluation, and medical management of adrenal disorders." Campbell-Walsh Urology 12 (2020).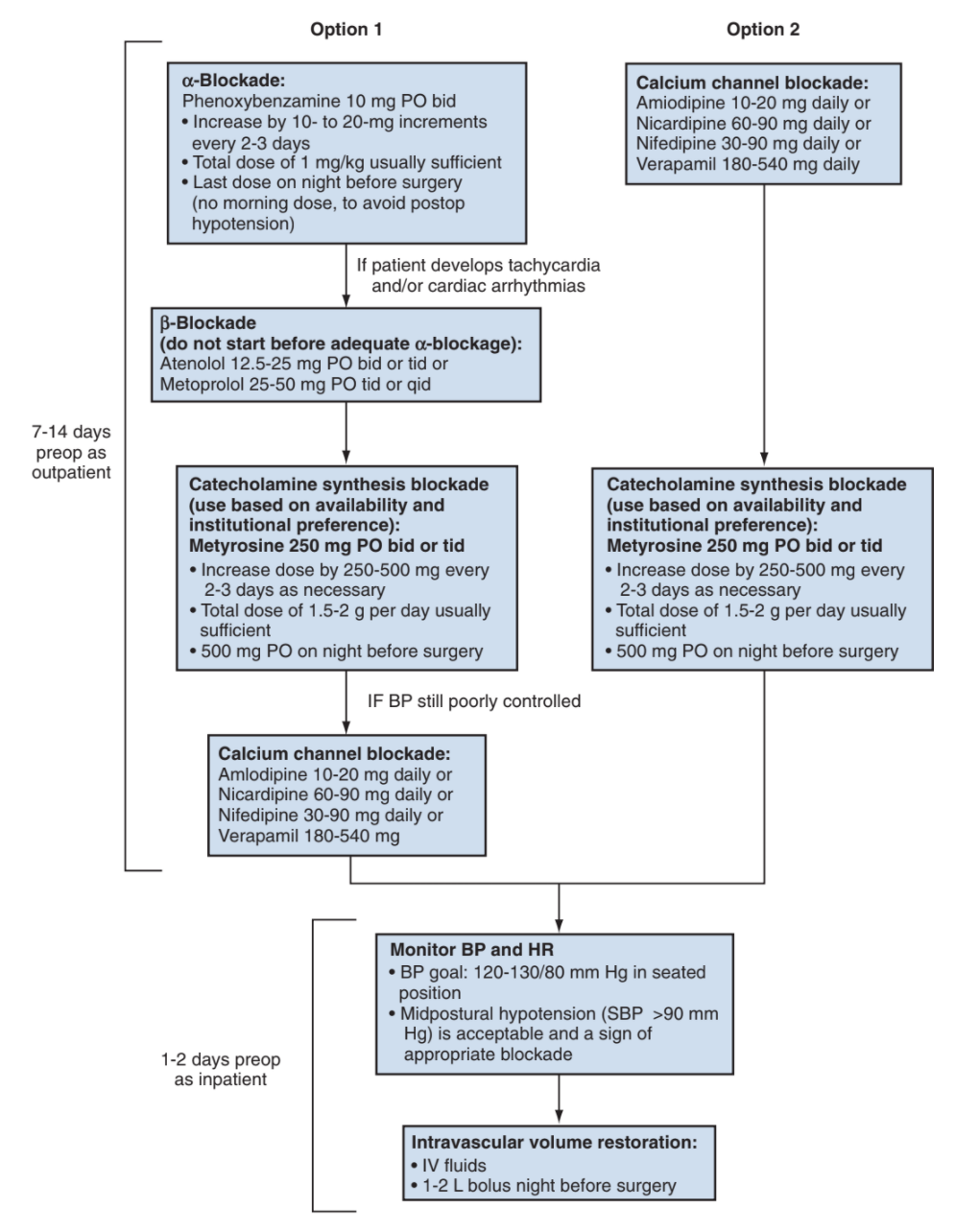 Kutikov, A., P. L. Crispen, and R. G. Uzzo. "Pathophysiology, evaluation, and medical management of adrenal disorders." Campbell-Walsh Urology 12 (2020).
Pheochromocytoma (PCC) and Paragangliomas (Extra-adrenal PCCs)
Symptoms/Presentation
Classic triad: headache, episodic diaphoresis, tachycardia
Underlying cause in 0.5% HTN cases
Epinephrine-producing tumors: may cause syncopal or hypotensive episodes due to B2 vasodilation
Norepinephrine-producing tumors: cause hypertension and sweating due to A1 vasoconstriction
Malignant PCC defined by presence of clinical metastasis
Familial syndromes: seen in 1/3 cases, including MEN2A, MEN2B, VHL, NF1, PGL-1, PGL-4
Workup
CT imaging: 10-35HU without contrast, do not exhibit rapid contrast washout
PET: 18F-FDG is gold standard for staging, some centers use 68Ga-DOTATATE
Metaiodobenzylguanidine (MIBG): analog of norepinephrine, used for staging, being replaced with PET
Metanephrines: are metabolites of catecholamines, produced at a steady rate, and are more accurately detected than catecholamine episodic surges
Genetic screening: obtain if family hx, < 50yo, multiple tumors, malignancy, or bilateral disease
Treatment/Follow-Up
Laparoscopic adrenalectomy: standard of care, although open approach may be required
a-blockade: start phenoxybenzamine 7-14 days preop, dose 10mg BID, titrate up to maintain a systolic BP of 120-130
B-blockade: can be used to prevent tachycardia and arrhythmias, but should never be started before a-blockade (can exacerbate HTN)
Malignant PCC: surgery is palliative, chemotherapy consists of cyclophosphamide + vincristine + dacarbazine (CVD)
Recurrence: up to 16% at 10yrs, surveill with annual lab screening, imaging only based on lab results
References
AUA Core Curriculum
Fassnacht, Martin, et al. "Management of adrenal incidentalomas: European society of endocrinology clinical practice guideline in collaboration with the European network for the study of adrenal tumors." European journal of endocrinology 175.2 (2016): G1-G34.
Lim, SK. and K. Ho Rha. "Surgery of the Adrenal Glands." Campbell-Walsh Urology 12 (2020).
Maas, Marissa, et al. "Discrepancies in the recommended management of adrenal incidentalomas by various guidelines." The Journal of Urology 205.1 (2021): 52-59.
Kutikov, A., P. L. Crispen, and R. G. Uzzo. "Pathophysiology, evaluation, and medical management of adrenal disorders." Campbell-Walsh Urology 12 (2020).