Urinary Tract Infections (UTIs)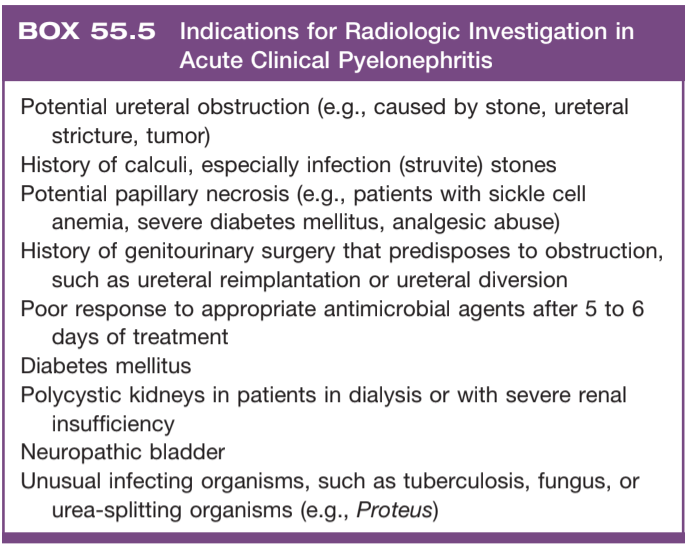 Cooper, K. L., G. M. Badalato, and M. P. Rutman. "Infections of the urinary tract." Campbell-Walsh-Wein Urology. 12th ed. Elsevier (2020): 1129-1201.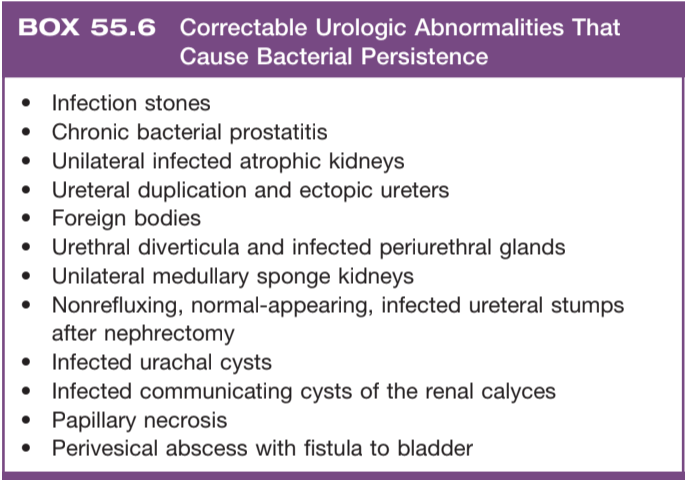 Cooper, K. L., G. M. Badalato, and M. P. Rutman. "Infections of the urinary tract." Campbell-Walsh-Wein Urology. 12th ed. Elsevier (2020): 1129-1201.
UTI Evaluation
Presenting symptoms
Common: frequency, urgency, dysuria, suprapubic pain, fever
Hematuria: can occur with UTI, check UA
Pneumaturia/fecaluria: high suspicion for fistula
Differential: bladder pain syndrome, STI, VUR, vaginitis/urethritis
Collecting the Sample
Obtain clean catch (0 squamous cells is best sample)
If tube (foley/PCN) present, consider exchanging (if possible) prior to collecting sample
If ostomy, catheterize stoma for collection
Do not collect from bag
Lab Findings
Leukocyte esterase: sensitive but not specific for UTI
Nitrites: produced by Enterobacteriaceae, also seen with pyridium
Cloudy urine: pyuria or precipitated phosphate crystals in alkaline/concentrated urine
Defining Asymptomatic Bacteruria
Bacteria in urine in the absence of any symptoms
1-5% healthy young women, 20% women older than 80
23-89% patients using CIC vs 100% patients with longterm catheter usage
DO NOT TREAT even if diabetic, SCI, foreign body in GU tract
Do not screen and do not treat prior to non-urologic surgery
Only treat if pregnant or undergoing GU instrumentation
Oral Antibiotics for Outpatient UTIs
Antibiotic
Normal Dosing
Side Effects
Tips
Nitrofurantoin (Macrobid)
100mg BID
GI effects
Peripheral neuropathy
Hemolysis if G6PD
Pulmonary hypersensitivity reaction (rare)
Only works well for GU infections (not tissue)
Don't give if GFR < 50 (inadequte excretion)
Caution in elderly patients
Do not take with quinolones, Mg, or probenecid
Trimethoprim-Sulfamethoxazole (Bactrim)
Double-Strength (800/160mg) BID
Rashes
GI effects
Hyperkalemia
Stevens Johnson syndrome (rare)
Avoid in pregnancy
Can exacerbate effects of warfarin
Fosfomycin
3g sachet x1
Headache
GI effects
Vaginitis
Not used frequently in US due to cost ($70-90)
Ciprofloxacin (Cipro)
Levofloxacin (Levaquin)
500mg BID
250mg BID or 750mg daily
GI effects, dizziness, photosensitivity
CNS effects
Tendon rupture
Avoid in children or pregnancy
Decreased oral absorption with iron, zinc, or antacid (separate by 2hrs)
Can lower seizure threshold
Cefuroxime
Cefoxitin
Do not use if patient has prior immediate hypersensitivity to penicillins
Use with caution if delayed hypersensitivity to penicillins
Ampicillin (w/ Sulbactam)
875/125mg BID
Hypersensitivity rash
Diarrhea

Rash more likely when viral disease present
Cystitis
Tips for diagnosis/management
Dysuria is most specific symptom, but differentiate from vaginitis
If only symptoms are foul-smelling or cloudy urine, encourage hydration and reassess
Dysuria + frequency + no vaginal irritation - UTI probability > 90%
Repeat UCx is not necessary if symptoms resolve with treatment
Factors indicating complicated cystitis
Anatomic: cystocele, fistula, diverticulum
Obstruction: BOO, UPJO, stricture
Iatrogenic: hospital-acquired infection, recent GU surgery, indwelling catheter
Functional: NGB, PFD, VUR, elevated PVR, incontinence
Other factors: pregnancy, stones, DM, immunosuppresion
Emphysematous cystitis
Seen in patients w/ complicating factors: DM, age, BOO, NGB
CT (required for diagnosis) shows air within bladder wall (submucosal)
Treatment: abx, catheterization, and DM management
Renal Infections
Acute Pyelonephritis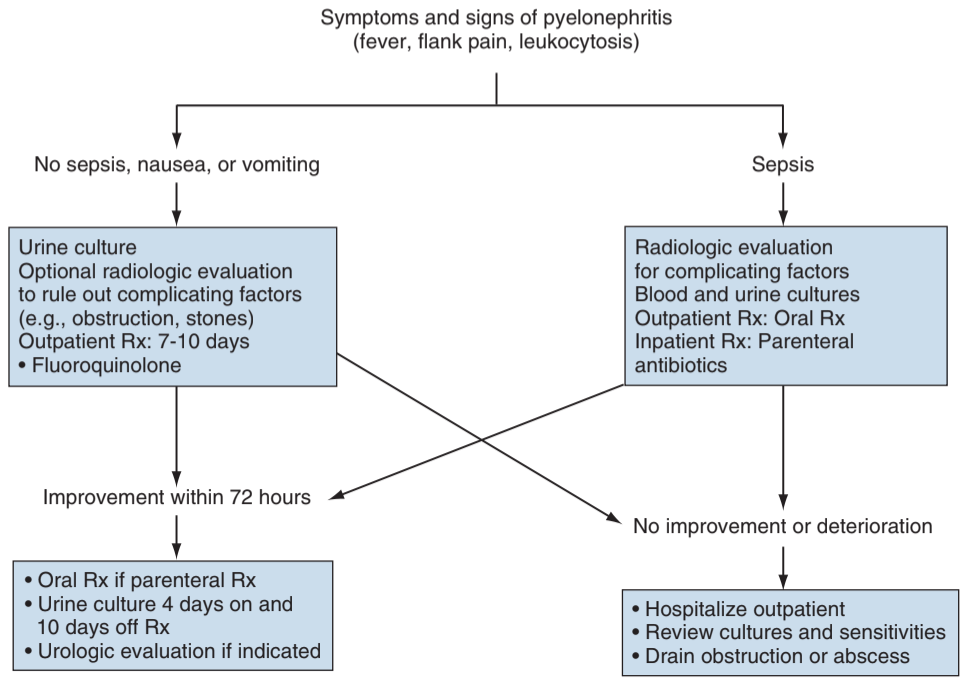 Cooper, K. L., G. M. Badalato, and M. P. Rutman. "Infections of the urinary tract." Campbell-Walsh-Wein Urology. 12th ed. Elsevier (2020): 1129-1201.
Acute pyelo is a clinical diagnosis: fever + flank pain, lower urinary symptoms may (not) be present
DO NOT diagnose acute pyelo based on CT findings
Obtain BCx if male, or female with systemic symptoms or with risk factors
Imaging is not required, but can obtain renal US to assess for stones/hydro
CT imaging warranted in patient with systemic symptoms or presumed complicated pyelo
Uncomplicated patient can be treated outpatient with PO antibiotics
Patients with persistent fever and symptoms > 72hrs despite abx, assess with CT imaging
Emphysematous Pyelonephritis
Gas-forming infection usually seen with DM + obstruction
Mortality rate 19-43%
Most present with fever + vomiting + flank pain
Diagnosis made by demonstrating air in renal parenchyma
Treat w/ PCN placement - nephrectomy if extensive gas w/ renal destruction
Acute Focal/Multifocal Bacterial Nephritis
Presents similar to pyelonephritis but with more severe symptoms
Diagnosed via CT with contrast, area of decreased enhancement
Treat with IV abx for 7+ days, then 7 days PO abx
Renal Abscess
Can present with variety of symptoms - fever, chills, abd/flank pain, weight loss, cystitis
If < 3-5cm (depending on reference), treat with abx and observe
If > 3-5cm, clinically unstable, or immunocompromised, drain percutaneously
Infected Hydronephrosis +/- Pyonephrosis
Bacterial infection in a hydronephrotic kidney +/- parenchymal destruction
Imaging shows hydronephrosis with abnormal fluid, possible fat stranding
Treat with either stent or PCN
Perinephric abscess
Abscess extending through renal capsule but contained within Gerota's
Caused by abscess rupture, extravasation of infected urine, or spread from another source
Psoas abscess: limping, flexion + external rotation of hip
Mortality rate 12-50%
If < 3cm, treat with abx only, otherwise drain abscess
Differentiate from pyelonephritis: usually have symptoms > 5 days, and repain febrile for longer than 4 days
Chronic pyelonephritis
Rare cause of renal failure in patients without underlying abnormalities
Blunted/dilated calyces and cortical scars seen on imaging
Xanthogranulomatous pyelonephritis (XGP kidney)
Specific pathology due to accumulation of lipid-filled macrophages, requires pathology for diagnosis - may be mistaken for ccRCC
Presents with flank pain, fever, persistent bacteruria
CT triad: unilateral enlargement + little/no function + large stone in renal pelvis, present in 50-80% patients
Usually treated with nephrectomy (may be difficult), although stones can be treated with PCNL
Genital infections
Fournier gangrene
Gangrene of male genitalia, usually with underlying comorbidities/causes
Spreads along tissue plans - Dartos fascia, Colles fascia, Scarpa fascia
If suspected, perform immediate extensive debridement, SPT if urethral invovement, colostomy if colonic/rectal involvement
Orchiectomy rarely required due to separate blood supply
Periurethral abscess
Can spread through Buck fascia and cause extensive infection
Treat with SPT drainage and debridement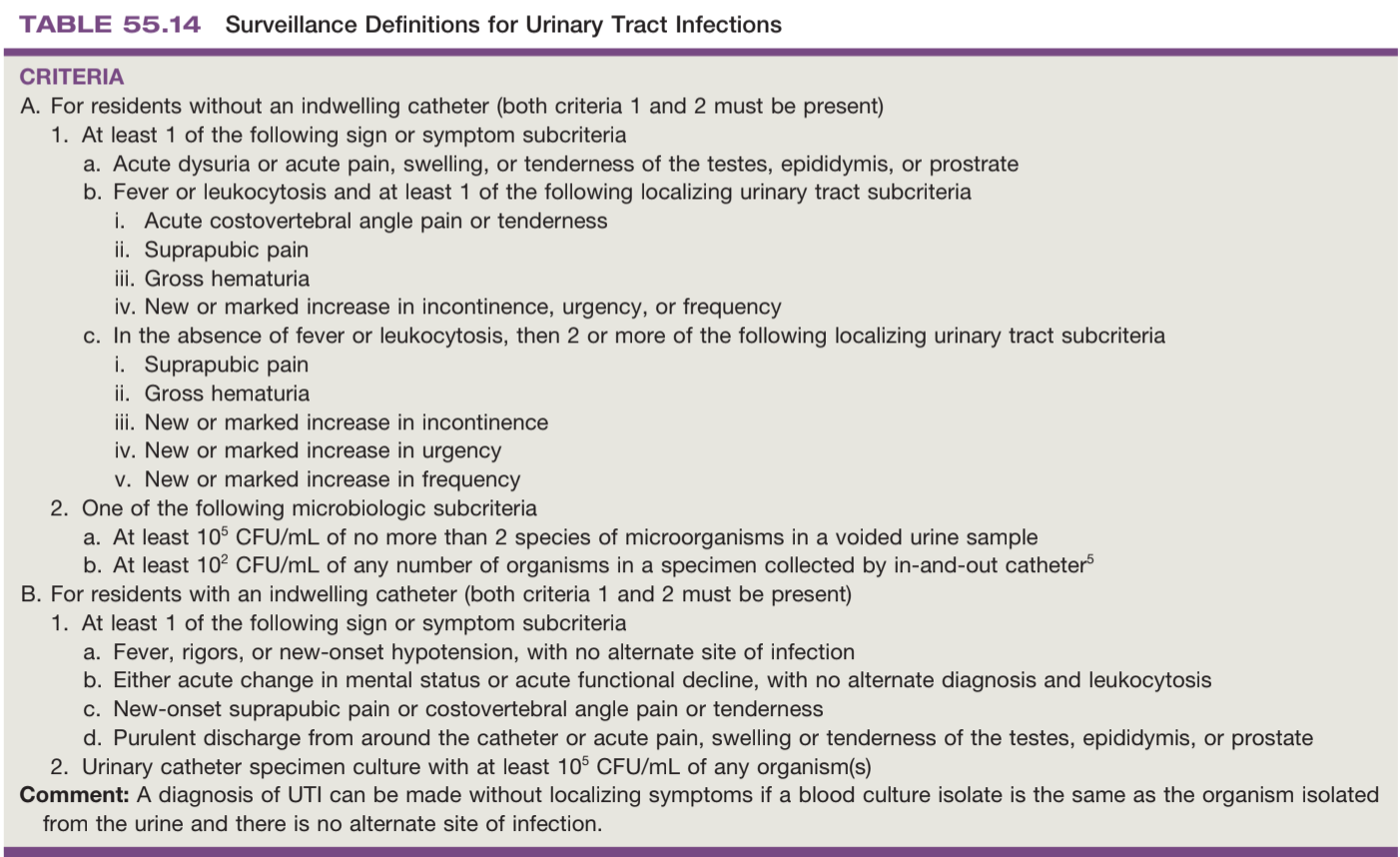 Cooper, K. L., G. M. Badalato, and M. P. Rutman. "Infections of the urinary tract." Campbell-Walsh-Wein Urology. 12th ed. Elsevier (2020): 1129-1201.
Special considerations
Spinal Cord Injury Patients
Do not screen or treat asymptomatic bacteruria in patients with SCI and indwelling catheters
Antibiotic prophylaxis and irrigation have not been shown to decrease bacteruria
References
Cooper, K. L., G. M. Badalato, and M. P. Rutman. "Infections of the urinary tract." Campbell-Walsh-Wein Urology. 12th ed. Elsevier (2020): 1129-1201.