Recurrent UTIs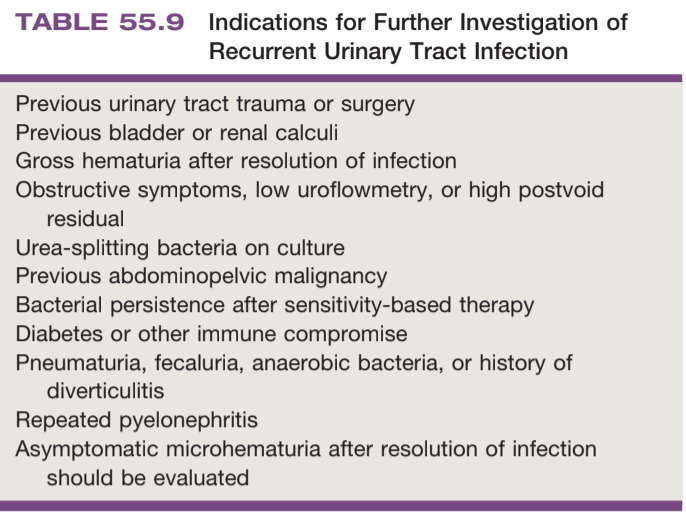 Indications for further UTI workup, from Campbell's
Workup and Diagnosis
Definitions
Recurrent UTI: 2+ UTIs in 6mo or 3+ UTIs in 1yr
Uncomplicated UTI: UTI without anatomic/functional abnormalities that would increase risk of developing UTI
Complicated UTI: UTI in setting of anatomic/functional abnormalities, immunocompromised, or MDRO
"Index" patient: otherwise healthy adult woman w/ uncomplicated UTI, excluding pregnancy, immunocompromixed, anatomic/functional abnormalities, catheters, bacteremia, neurologic disease, post-GU procedures
History
UTI symptoms: dysuria, frequency, urgency, nocturia, incontinence, hematuria, pneumaturia, fecaluria
Baseline voiding symptoms: # voids, urgency, straining, incomplete emptying, pelvic pressure, vaginal bulge, dysuria, dyspareunia, GU/pelvic pain
Bowel symptoms: diarrhea, constipation, fecal incontinence
Other symptoms: back/flank pain, vaginal discharge/irritation
UTI hx: frequency, positive cultures, type of bacteria
Antibiotics: prior usage, complications, allergies
GU hx: catheter usage, prior GU/pelvic surgery
GYN hx: menopause status, contraceptive usage, spermicides, E/P products
Sexual hx: # partners, new partners within past year, post-coital UTIs
Other hx: travel history, family history of UTI (in 1st degree relative)
Risk factors for complex UTI: pregnancy, immunocompromised, anatomic/functional abnormalities, neurologic disease
Exam
Pelvic organ prolapse
Urethra/bladder: tenderness, diverticulum, cysts, incontinence
Vaginal mucosa: atrophy, irritation
Pelvic floor: tone, tenderness, trigger points
Neuro exam
Adjuncts
Post-void residual: no threshold for (ab)normal value, confirms patient able to adequately empty
Confirm diagnosis with positive urine culture
Persistent negative UCx: pursue workup for OAB, cancer, stones, pelvic floor dysfunction, interstitial cystitis
Cystoscopy and upper tract imaging: not required in an index (uncomplicated) patient, only find abnormalities in 2-6% of patients (and usually suspected based on history/physical)
Indications for cystoscopy and imaging
Consider if patient does not respond to adequate UTI treatment or high suspicion, helps to assess anatomic/functional abnormalities that increase risk for UTI
Imaging choice: renal/bladder US should be first choice, only consider CT if high concern or abnormal findings on US
VCUG: obtain if VUR is suspected
MRI: obtain if concern for urethral diverticulum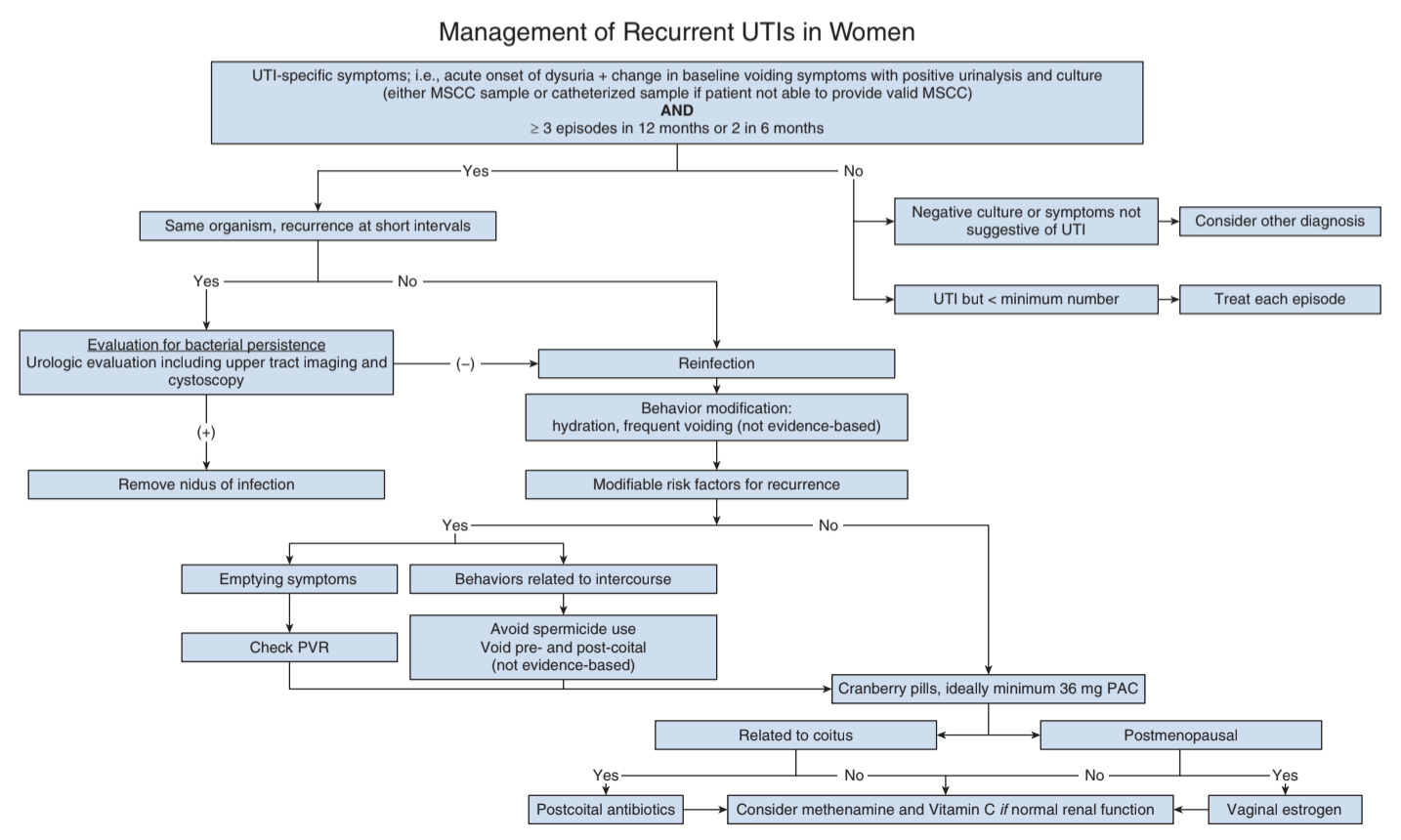 UTI management algorithm, from Campbell's
Management
Antibiotic therapy options
Self-start therapy: indicated for a reliable patient who will provide UCx and immediately starts taking abx
Post-coital abx: prescribe if clear pattern related to coitus
Prophylactic abx: recommended for 6-12mo duration, but risk of abx resistance
Vaginal estrogen
Benefits: peri/post-menopausal women without obvious contraindications, can help if UTI during breastfeeding, minimal systemic absorption, minimal risk of cancer or thromboembolic events
17b-estradiol cream: 2g daily x2 weeks, then 1g 2-3x per week
Equine estrogen cream: 0.5g daily x2 weeks, then 0.5g 2x per week
Vaginal tablet (estradiol hemihydrate): 10mcg daily x2 weeks, then 10mcg 2-3x per week
Vaginal ring (17b): 2mg ring releases 7.5mcg daily for 3mo
Non-abx proven therapies
Cranberry: proanthocyanidins prevent bacterial adhesion to urothelium, lower rUTI (RR=0.67), tablets are better than juice (sugar), take BID, take 36mg-72mg PAC equivalents
Increased water intake: benefit if baseline UOP < 1.5L
Timed voiding: warranted if hx holding urine for long periods
Non-abx less proven therapies
Methenamine: converted to formaldehyde in urine, take 1g BID, take with 1-4g ascorbic acid (acidified urine increases effects), do not take if CrCl < 50, no benefit if catheter present (needs time to dwell in bladder)
D-mannose: reportedly reduces rUTI, proper dosing not known
Doesn't work: post-coital urination, douching, pubic shaving, avoiding thong underwear, oral estrogen, lactobacillus
Antibiotic options
Culture-proven UTI treatment
TMP/SMX DS BID x3 days
Nitrofurantoin 100mg BID x5 days
Fosfomycin 3g single dose
Second line options: beta-lactams, fluoroquinolones
Daily prophylaxis
TMP 100mg QD
TMP/SMX SS QD or SS 3x/week
Nitrofurantoin 50mg or 100mg QD
Cephalexin125mg or 250mg QD
Fosfomycin 3g q10d
Post-coital dose
TMP/SMX SS or DS
Nitrofurantoin 50mg or 100mg
Cephalexin 250mg
References
AUA Core Curriculum
Anger, Jennifer, et al. "Recurrent Uncomplicated Urinary Tract Infections in Women: AUA/CUA/SUFU Guideline." The Journal of urology (2022).
Cooper, K. L., G. M. Badalato, and M. P. Rutman. "Infections of the urinary tract." Campbell-Walsh-Wein Urology. 12th ed. Elsevier (2020): 1129-1201.
Wieder JA: Pocket Guide to Urology. Sixth Edition. J.Wieder Medical: Oakland, CA, 2021.