Renal Failure, Vascular Disease, and Renal Transplants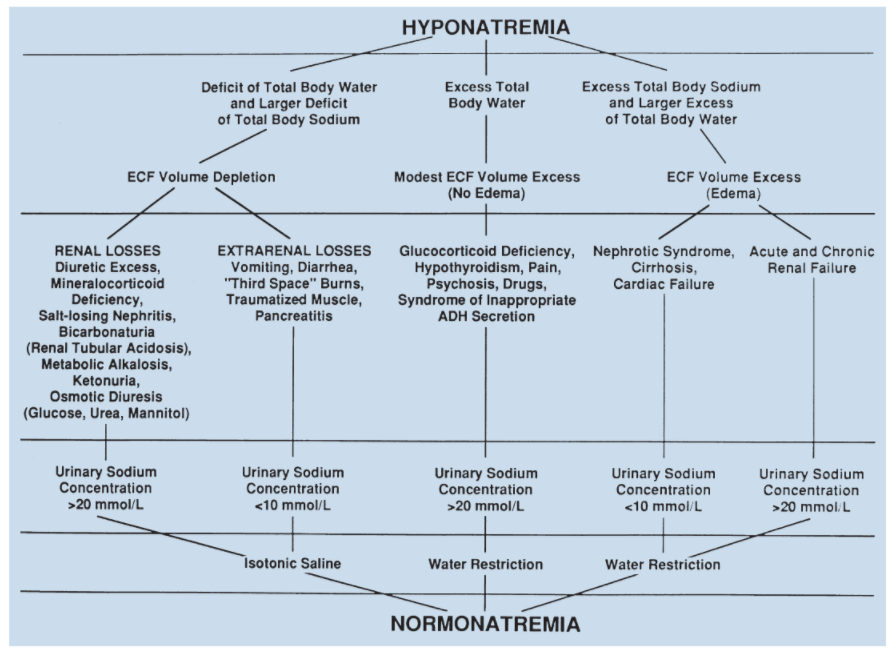 Hyponatremia evaluation, from Campbell's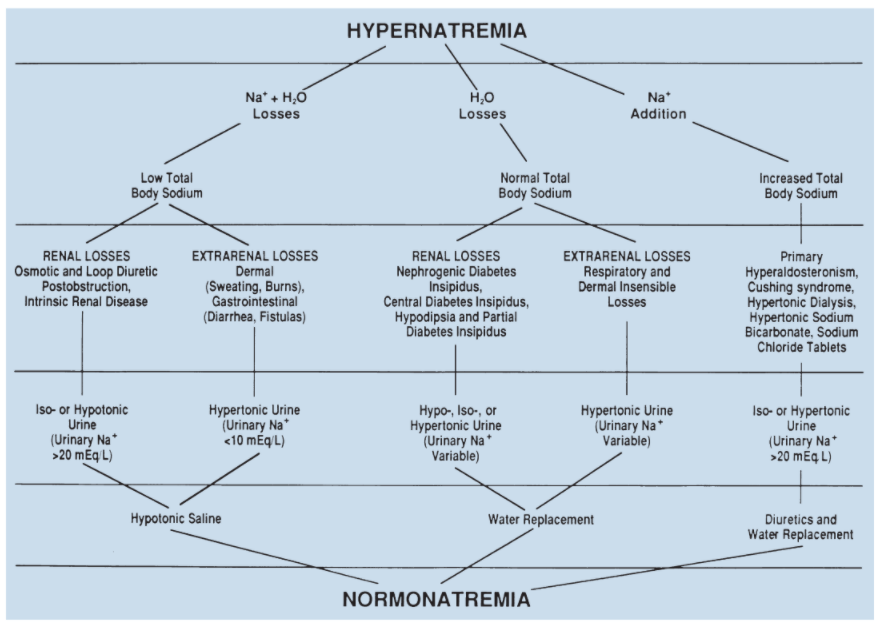 Hypernatremia evaluation, from Campbell's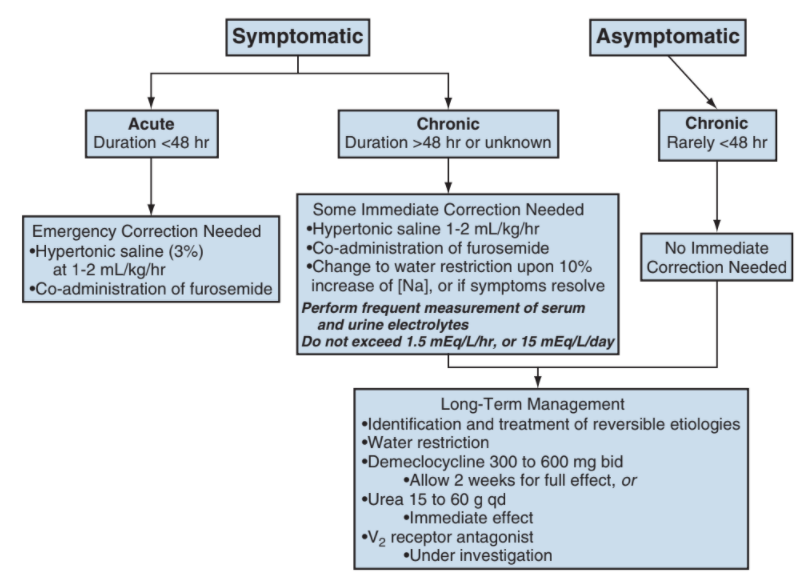 Hyponatremia treatment, from Campbell's
Renal Function and Failure
Nephron basics
Proximal convoluted tubule: reabsorbs 65% Na, K, Ca, 80% Phos, H2O, bicarb, and 100% glucose and amino acids, also generates ammonia from glutamine (urinary acidification)
Loop of Henle: absorbs 25-30% Na and concentrates the interstitium, descending limb water permeable, ascending limb water impermeable
Distal convoluted tubule: absorbs Na, Ca
Collecting tubule: absorb Na via principal cells, H via intercalated cells, K by both
Sodium balance
Regulated by ADH (free water)
Assess fluid status: skin turgor, blood pressure
Sodium repletion: 3% saline at 1mL/kg/hr, do not exceed 8-12mmol/L/d (can cause cerebral demyelination)
Potassium balance
Hypokalemia: seen with GI loss, renal loss, systemic alkalosis, medications, postobstructive diuresis, and hyperaldosteronism
Hyperkalemia: seen with impaired renal excretion, systemic acidosis
Bicarbonate, insulin + glucose, and albuterol used to drive K intracellularly, does not cause K losses
K excretion: induce with kayexalate or lokelma (K-binding exchange resin), diuretics, and hemodialysis
Calcium gluconate: prevents cardiac complications (stabilizes myocytes) when EKG changes seen
Acid/Base balance
Concentration alkalosis: volume depletion causes Na retention, bicarb absorption, and net loss of H
Respiratory acidosis: elevated CO2 leads to increased renal H secretion
Renal failure: decreased bicarb filtration leads to increased H loss
Hyperaldosteronism: increased Na absorption causes increased H losses
Renal Tubule Acidoses
Type I: unable to secrete H in distal nephron, causes hyperchloremic metabolic acidosis, urine pH > 5.5, low serum bicarb, low urine citrate, CaPhos stones
Type II: unable to absorb bicarb in proximal tubule
Type IV: decreased H and K secretion in collecting duct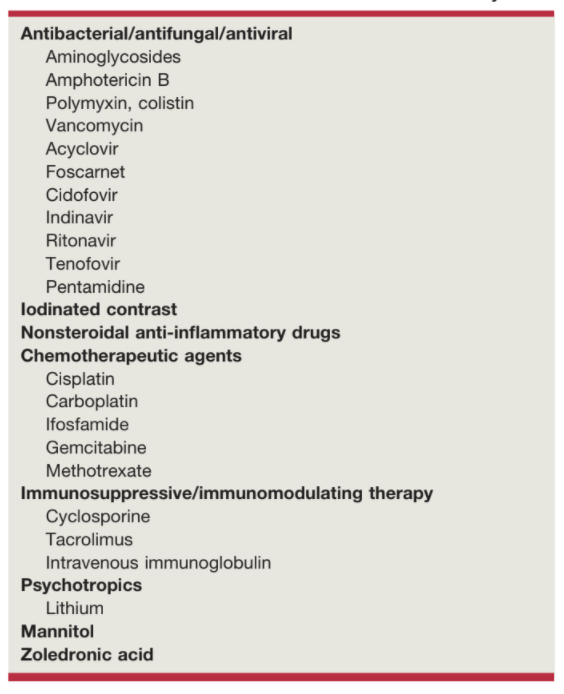 Potential pharmacologic causes of acute tubular necrosis, from Campbell's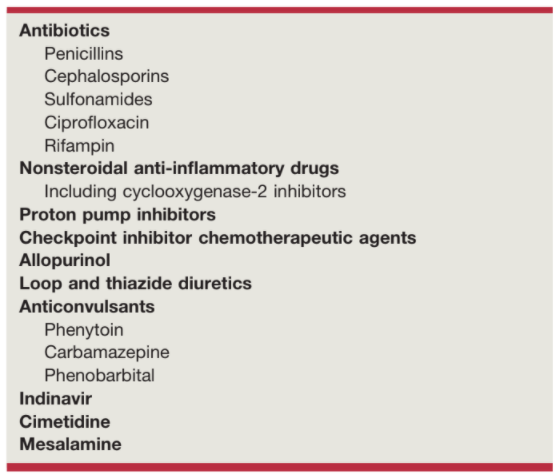 Potential pharmacologic causes of acute interstitial nephritis, from Campbell's
Kidney Injury
Acute kidney injury causes
Prerenal AKI: caused by renal hypoperfusion, decreased FENa, reversible after removing underlying cause and improving renal perfusion
Intrarenal AKI: caused by glomerular/tubular injury, requires diagnosis and treatment of specific cause
Postrenal AKI: caused by urinary tract obstruction, can result in postobstructive diuresis after resolution with resultant water/salt wasting
Acute interstitial nephritis (AIN): rash 15%, fever 27%, eosinophilia 23%, diagnose with high suspicion, WBC casts, and renal biopsy
Renal vein thrombosis: seen with nephrotic syndrome and malignancy, presents with flank pain + hematuria + elevated LDH + swollen kidney on imaging
Assessing AKI: volume status, cardiac history, liver/renal failure, DM, recent surgery, medications, contrast, bleeding, serum/urine electrolytes
Fractional Excretion of Na (FENa): (UNa * SCr) / (SNa * UCr), cutoff 1%
Fractional Excretion of Urea (FEUrea): (Urea * SCr) / (SBUN * UCr), cutoff 35%
Management of intrarenal AKI
Contrast nephropathy: unclear if a true diagnosis, prevent with IV hydration
Rhabdomyolysis: IV hydration + bicarbonate (monitor in ICU)
Tumo caused by uric acid crystal precipitation and hyperphosphatemia, can consider prophylactic rasburicase (converts uric acid to allantoin)
Can give loop diuretics, good response indicates favorable prognosis, diuretic use does not worsen or improve AKI recovery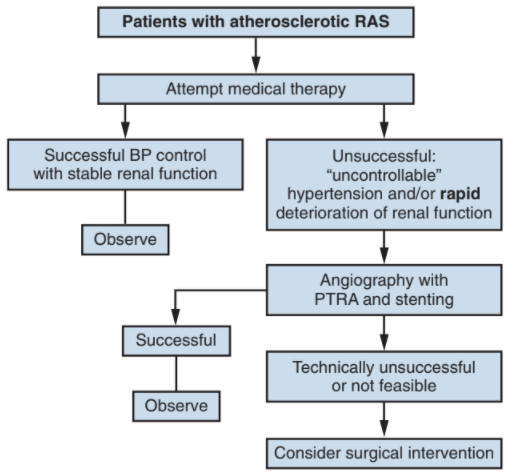 Management of atherosclerotic RAS, from Campbell's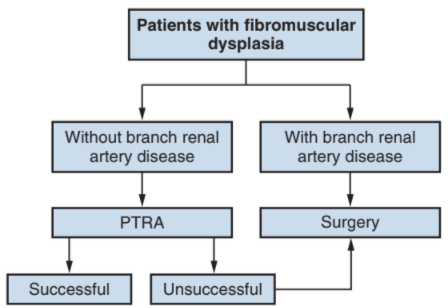 Management of fibromuscular dyspasia, from Campbell's
Renovascular Hypertension
Renal artery stenosis
Narrowing of renal artery > 50% normal luminal diameter
Most common cause of renovascular HTN
60-80% are atherosclerotic, the remainder are fibromuscular dysplasia
Causes 5-15% total renal failure in ages > 50
Duplex ultrasonography is best screening test, although arteriography is gold standard, can use CT/MR
Criteria for workup of renovascular HTN
Severe/refractory HTN with Grade III-IV hypertensive retinopathy
Sudden onset moderate/severe HTN in previously normotensive or well-controlled hypertensive
HTN before 20yo or after 50yo
Unexplained worsening renal function with(out) HTN or after starting ACEi/ARB or with improved BP with other antiHTN medications
Worsening HTN with diuretics
Unexplained recurrent heart failure episodes
Abdominal bruit that radiates bilaterally
Diffuse vascular disease and/or cholesterol emboli
RAS Management
Unilateral stenosis: induces HTN due to normal kidney excreting water/salt and vasoconstriction from angiotensin, resolves with treatment of stenosis, ACEi/ARB
Bilateral stenosis: induces HTN due to inability to excrete water/salt and subsequent volume expansion, resolves with treatment of stenosis
AntiHTN meds can cause renal ischemia distal to obstruction, monitor renal function
Percutaneous transluminal renal artery angioplasty (PTRA): dilation with balloon, optimal lesions are < 1cm, partially occluded, and not involving ostium, restenosis rates 15-25%
Stenting: unclear benefit, still require medical therapy
Surgery: indicated for aneurysmal/occlusive aortic disease, macroaneurysms, or rapidly worsening HTN/renal function
Monitoring: screen with doppler US and labs to assess for changes in renal function
Fibromuscular dysplasia types
Type
% total
Cause
Demographic
Location
Angiographic appearance
Progression?
Renal Failure?
Medial fibroplasia
75-85%
Medial layer fibrosis
Women 25-50yo
Distal renal artery
extending into branches
String of beads
Minimal
No
Perimedial fibroplasia
10-25%
Collagen deposits in outer medial layer
Women 5-15yo
Midrenal artery
extending into branches
String of beads
Yes (occlusion)
Yes
Intimal fibroplasia
10%
Collagen deposits in intimal layer
Children and young adults
Proximal renal artery
Stenosis with distal aneurysm/dissection
Yes (occlusion)
Yes
Medial hyperplasia
2-3%
Smooth muscle hyperplasia without fibrosis
FMD management
Continue medical management if long-standing HTN
Perform PTRA for young/healthy patients prior to HTN onset, or for patients with poorly controlled HTN
All patients with FMD should take ASA 81
Surveill with labs, BP checks, and doppler US to assess for worsening or recurrence
Renal artery aneurysms
Usually asymptomatic (incidentally diagnosed on CT/XR), may present with flank pain, hematuria, or HTN
Asymptomatic repair criteria: ≥ 2cm, uncontrolled/resistant HTN, potential future pregnancy
Symptomatic repair criteria: perinephric/retroperitoneal bleeding, renal ischemia/infarction, gross hematuria
Management: open repair, robotic repair, endovascular stenting/occlusion
Renal Transplant
Who gets a transplant?
Indications: ESRD, CKD 5, and CKD 4 with GFR ≤ 20
Absolute contraindications: severe/advanced vascular or pulmonary disease, active/untreated infections, intermediate/high stage malignancy in past 3 years, major psychiatric illness
Relative contraindications: life expectancy < 5yrs independent of renal disease, medical nonadherence, substance use, BMI > 40, poor functional status
Workup to ensure good transplant candidacy
History: cause of ESRD, hx ESRD management, comorbidities
Exam: assess for vascular disease, abdominopelvic surgical scars
Lab: CBC, CMP, coags, UA, urine P/C ratio, HCG, infectious workup (CMV, EBV, VZV, HBV, HCV, HIV, syphilis, TB)
Tissue matching: assess ABO, HLA
Imaging: abdominopelvic CT/US to assess for disease, anastomotic sites, and surgical complicating factors
Cardiac workup: EKG, CXR, consider stress test if multiple cardiovascular risk factors
Malignancy eval: screen per guidelines, wait 1yr after treatment of localized or low stage disease, 5yrs for intermediate/high stage disease
Donor eval: history, physical, lab/infectious workup, renal assessment (left kidney preferred for donation due to vessel length)
Urologic "clearance" for transplant
LUTS: does not need to be worked up or treated prior to transplant unless underlying cause of ESRD (BPH/VUR/NGB), recurrent UTIs, or prior interventions
Interventions may result in scar tissue (stricture/BNC) in patients with minimal urine output
Delay BPH interventions 1-2mo after transplant to decrease infectious complications
Stones: do not need to treat if asymptomatic, treat if causing infections
Decreased bladder capacity: usually improves post-transplant, does not require workup or augmentation
Complications
Acute hematuria: usually resolves within days and rarely requires irrigation, usually from anastomosis
Post-biopsy hematuria: can be development of fistula, 70% spontaneously resolve, otherwise can embolize
Other hematuria: follow normal hematuria workup, consider cytology and urine BK titers
Retained stent: 0-6%, encrustation does not cause symptoms due to lack of innervation
Urine leak: 1-9%, usually due to distal ureteral ischemia, follow drain and urine output, drain will have elevated creatinine, place foley + PCN, may improve with diversion alone (36-87%) but stenosis may develop and require individualized repair
Ureteral stricture: 1-9%, usually due to distal ureteral ischemia, consider when renal failure and hydronephrosis occur, hydronephrosis may be less than expected due to perirenal fibrosis, provide drainage and assess for obstruction, repair endoscopically or with open/lap technique
Vesicoureteral reflux: 50-86%, symptomatic in < 1%, may increase HTN/sepsis risk, confirm with VCUG, improve voiding pressures, can consider deflux vs reimplant
Lymphocele: 0.6-33%, symptomatic in 0.03-26%, usually diagnosed within 6mo, confirm with imaging and drainage, most resolve spontaneously (< 15% will require treatment), can aspirate +/- sclerotherapy, drainage, decortication/marsupialization
Infections: treat for 7-10 days if transplanted within 6mo, otherwise 5-7 days, 14-21 days for pyelonephritis/sepsis, treatment of asymptomatic bacteruria not recommended
Kidney stones: 1%, can observe nonobstructing stones < 4mm, otherwise treat per stone algorithms
LUTS: may be undiagnosed due to oliguria/anuria, normal voiding should improve with bladder filling, preoperative management of small bladder not required, delay TURP until 3 weeks post-transplant (high risk for sepsis/death)
Kidney cancer: manage both native and transplant kidneys per guidelines (do not partial nephrectomize native kidneys), no benefit in screening unless preexisting risk factors
Bladder cancer: 3x increased risk, can use BCG even if immunocompromised, otherwise manage per guidelines
Prostate cancer: no need to screen as part of pretransplant workup, active surveillance underutilized
References
AUA Core Curriculum
Augustine, J. A. Wee, V. Krishnamurthi, and D. Goldfarb. "Renal Insufficiency and Ischemic Nephropathy" Campbell-Walsh Urology 12 (2020).
Chi, T. and M. Park. "Renal Physiology and Pathophysiology Including Renovascular Hypertension" Campbell-Walsh Urology 12 (2020).
Shahait, M., S. Jackman, and T. Averch. "Urologic Complications of Renal Transplantation" Campbell-Walsh Urology 12 (2020).