Perioperative Care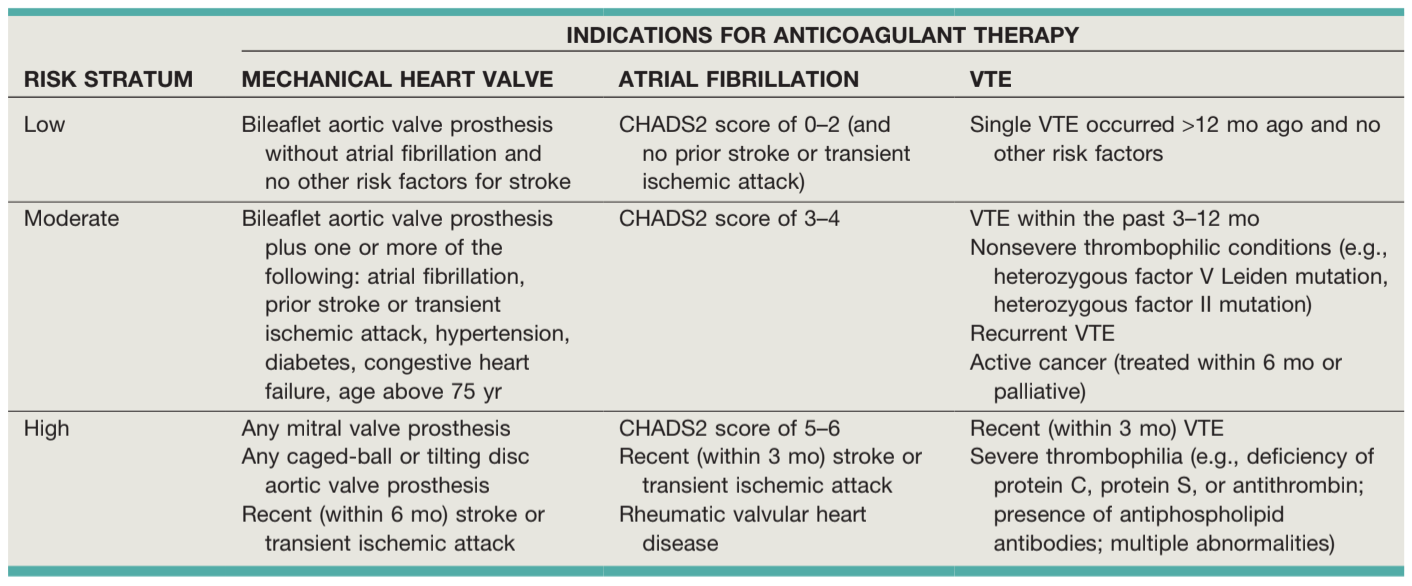 Risk stratification for anticoagulation to determine need for bridging, from Campbell's
Preoperative Evaluation
Labs and Adjunct Testing
UA/UCx: recommended if expected entry into GU tract
Coags: consider if on active anticoagulation, history coagulopathy, or history operative bleeding
Pregnancy test: any premenopausal woman who could potentially be pregnant
Type & screen: any patient undergoing abdominopelvic surgery or percutaneous renal access (increased transfusion risk)
ECG: questionable benefit, consider for patients > 40yo or with history cardiac disease
CXR: beneficial if history cardiopulmonary disease
HbA1c: assess if diabetic, recommend delaying elective surgery if > 6.9
Organ-specific evaluation
Specific patient populations
Age: independently increases morbidity/mortality, increased risk for hospital delirium
Obesity: increased comorbidities and surgical complications
Pregnancy: attempt to delay until baby delivered, otherwise attempt to perform surgery during 2nd trimester
Malnutrition: consider TPN or enteral feeding to decrease surgical wound complications
Smoking: stop 8+ weeks prior to surgery to achieve risk reduction, otherwise may actually increase complication risks
Diabetes: discontinue long-acting hypoglycemics (meglitinides, sulfonylureas, SGLT-2i, acarbose) to prevent intraoperative hypoglycemia
Hyperthyroid: increased risk for thyroid storm (treat with B-blockers, iodine, steroids), difficult airway (from goiter)
Steroids: HPA suppression seen with 20+mg prednisone taken for 3+weeks, give 50-100mg IV hydrocortisone prior to induction, 25-50mg hydrocortisone q8hr for 24-48hr until baseline steroid use is resumed
Anticoagulation
Antiplatelet agents: require 7-10 days to reverse (14% normal platelet function restored per day)
Do not need to discontinue low dose aspirin (ASA 81mg) prior to prostate biopsy, increased risk for minor bleeding
Can perform ureteroscopy and laser prostate surgeries without stopping anticoagulation
If on dual-antiplatelet therapy, try to continue aspirin if possible
Moderate + high risk groups should undergo bridging (not safe to stop)
Cardiac stents: wait 6-12 weeks for bare metal, 12mo for drug-eluting
THE KEY: decision often made on individual patient situation, hematology/cardiology consults are recommended if continuing/stopping medications is unclear
For high risk surgeries (cystectomy, RPLND), recommend preop dose SQH 5KU, discharge home with prophylaxis x4 weeks (recommended by NCCN but not AUA)
Intraoperative management
Avoiding nerve injuries
Arm position: avoid brachial plexus injury by abducting arms < 90 degrees, avoid shoulder stretch
Axillary roll: use when in flank position, place caudal to axilla to avoid compression of brachial plexus
Lithotomy: position legs simultaneously, flex hips 80-100 degrees with 30-45 degree abduction
Prone position: ensure careful padding
Trendelenberg: avoid shoulder braces (cause brachial neuropathy)
Antibiotic prophylaxis
Procedure
First Choice Antibiotic
Alternate Antibiotics
Indicated
Catheter removal
Fluoroquinolone
TMP/SMX
Aminoglycoside +/- Ampicillin
1st/2nd gen Cephalosporin
Amoxicillin/Clavulanate
If risk factors
Cystoscopy
Urodynamics
Cystography
Cystoscopy + manipulation
Always
Transperineal prostate procedure
(Brachytherapy/Cryotherapy)
1st gen Cephalosporin
Clindamycin
Transrectal prostate biopsy
Fluoroquinolon
2nd/3rd gen Cephalosporin
Aminoglycoside + Metronidazole or Clindamycin
Shock Wave Lithotripsy
Fluoroquinolone
TMP/SMX
Aminoglycoside +/- Ampicillin
1st/2nd gen Cephalosporin
Augmentin
Ureteroscopy
Percutaneous renal surgery
1st/2nd gen Cephalosporin
Aminoglycoside + Metranidazole or Clindamycin
Ampicillin/Sulbactam
Fluoroquinolone
Vaginal surgery
Entry into GU tract
Intestinal surgery
2nd/3rd gen Cephalosporin
Aminoglycoside + Metranidazole or Clindamycin
Ampicillin/Sulbactam
Ticarcillin/Clavulanate
Piperacillin/Tazobactam
Fluoroquinolone
Prosthesis implant
Aminoglycoside + 1st/2nd gen Cephalosporin or Vancomycin
Ampicillin/Sulbactam
Ticarcillin/Clavulanate
Piperacillin/Tazobactam
Abdominopelvic surgery without GU entry
1st gen Cephalosporin
Clindamycin
If risk factors
Other antibiotic recommendations
Joint replacement: fluoroquinolone or amp + gent perioperatively
Endocarditis prevention: no specific recommendations
Catheter removal: can give peri-catheter pull antibiotics but no strong guidelines
Skin
Hair removal: should be performed immediately prior (not at home) to surgery with clippers (not shaving), only shave surgical site
Skin prep: no difference between chlorhexidine and betadyne
Transfusion
pRBC indications: hematocrit < 21, hematocrit < 24 + cardiac history, never for > 30
FFP indications: immediate reversal of warfarin, replacement of clotting factor deficiencies, bleeding + INR > 1.5, after 1U RBC during massive transfusion protocol
Risk of HIV/HCV 1/2mil, HBC 1/200K
Lasers in urology
Laser
Wavelength
Absorbed by:
Penetration
Uses
KTP
532nm
Hgb
0.8mm
Prostate vaporization
Ho:YAG
2140nm
Water/target
0.4mm
Stones
Prostate enucleation
Strictures
Tumor fulguration
Thulium
2013nm
Water
0.2mm
CO2
10K+nm
Water
0.1mm
Genital warts
Electrocautery complications
Direct coupling: unintended contact with another instrument, can happen outside field of view
Residual heat injury: device not cooled when contacting new tissue
Insulation failure: current escapes via laparoscopic instrument shaft
Capacitative Coupling: charge cannot dissipate via abdominal wall and instead travels through nearby tissues
Overuse: accidental tissue charring, inadequate pathology specimen
Poor grounding contact: can increase charge through pad if inadequately attached, leading to skin burns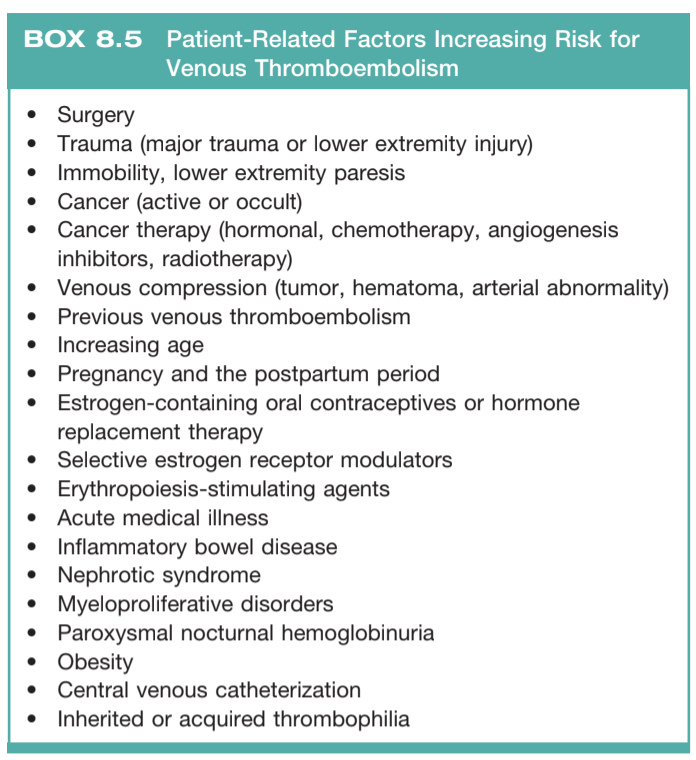 Risk factors to assess need for postoperative VTE prophylaxis, from Campbell's
Postoperative management
VTE prophylaxis
Risk
Criteria
Recommendation
Low
Minor surgery +
Age < 40yo +
No other risk factors
Early ambulation
Moderate
Minor surgery + other risk factors
40-60yo without other risk factors
Heparin 5000U TID
Enoxaparin 40mg daily (30mg if CrCL < 30)
High
Age > 60yo
40-60yo with other risk factors
Highest
Multiple risk factors
Enoxaparin 40mg daily (30mg if CrCL < 30) + SCD
Heparin 5000U TID + SCD
Non-pharmacologic DVT prophylaxis options
Compression stockings: decrease DVT risk in low risk patients, need to be proper fit, contraindicated if PVD, pulmonary edema, peripheral neuropathy, leg deformity
Pneumatic compression: prevent venous stasis and stimulate fibrinolytic activity, reduces risk of DVT by 50%, use at all times unless ambulating, contraindicated if DVT, PVD, pulmonary edema, or leg deformity
Wound care
Closed incision: keep dressing for 48hr (can change if leakage), consider antimicrobial or negative pressure dressings if wound high risk for breakdown
Open incision: debride dead tissue, clean with dressing changes, pack wound, consider negative presure dressing
Ostomy care: empty prior to being full, change pouch first thing in AM (reduces leakage), measure size appropriately (avoid excoriation/breakdown), consider drainage bag for nighttime
Passive drainage: can use Penrose to assess for bleeding/infection, avoid rapid abscess closure
References
AUA Core Curriculum
Chrouser, Kristin, et al. "Optimizing Outcomes in Urologic Surgery: Intraoperative Environmental, Behavioral, and Performance Considerations." Urology Practice 7.5 (2020): 405-412.
Culkin, Daniel J., et al. "Anticoagulation and antiplatelet therapy in urological practice: ICUD/AUA review paper." The Journal of urology 192.4 (2014): 1026-1034.
Naik, Rishi, et al. "The role of extended venous thromboembolism prophylaxis for major urological cancer operations." BJU international 124.6 (2019): 935-944.
Salami, S. "Principles of Urologic Surgery: Perioperative Care." Campbell-Walsh Urology 12 (2020).
Smith, Angela, et al. "Optimizing outcomes in urologic surgery: postoperative." Am Urol Assoc. 2018.
Stoffel, J. T., et al. "Optimizing outcomes in urologic surgery: preoperative care for the patient undergoing urologic surgery or procedure." (2019).
Violette, Philippe D., et al. "Guideline of guidelines: thromboprophylaxis for urological surgery." BJU international 118.3 (2016): 351-358.
Wieder JA: Pocket Guide to Urology. Sixth Edition. J.Wieder Medical: Oakland, CA, 2021.