Hematuria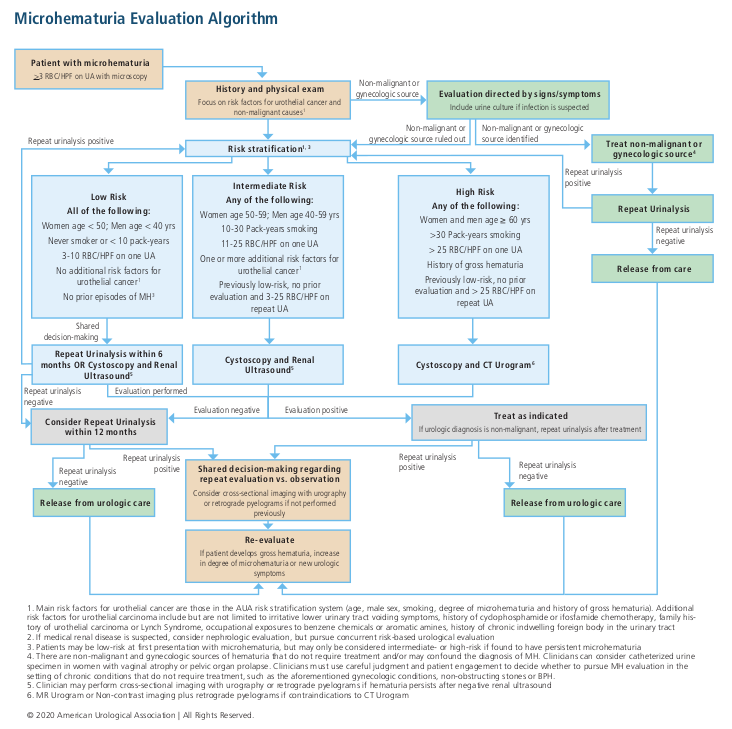 Microscopic hematuria algorithm, from AUA Guidelines
Assessing hematuria risks
Epidemiology
3+ RBCs on microscopic UA warrant assessment and potential hematuria workup
1 urinalysis with RBCs is all that is required for a hematuria workup
6.5% healthy patients have microscopic hematuria on screening tests
2.5% (0.7-4.3%) patients with asymptomatic microscopic hematuria have underlying malignant cause
33-67% patient do not have diagnosible cause of hematuria (positional, physical activity, sex)
Risk factors
Smoking: increases risk of bladder cancer
Radiation: XRT cystitis, secondary malignancy, fistula
Chemotherapy: hemorrhagic cystitis
UTI: hematuria may be a presenting symptom
Chronic catheter: irritation or development of SCC bladder cancer
Chemical exposure (benzenes, aromatic amines): increases risk of bladder cancer
Hx stones, BPH, trauma: benign causes of hematuria
Dysuria: in absence of UTI, may be presenting symptom of carcinoma in situ
Hx cancer: either GU-specific or syndromic (Lynch, VHL)
Hematuria workup
Risk Groups
Risk
Needs all criteria?
Age
Smoking
(packyears)
# RBC
(UA x1)
Urothelial cancer
risk factors*
Prior hematuria
Probability malignant cause
Recommendations
Low
Yes
Women < 50
Men < 40
< 10
3-10
None
No
0.2-0.5%
Repeat UA in 6mo, OR...
Cysto + renal US
Intermediate
No
Women 50-59
Men 40-59
10-30
11-25
1+
Persistent 3-10 RBC
1.3-1.6%
Cysto + renal US
High
No
60+
> 30
> 25
-
Gross
10.8-11.1%
Cysto + CTU
*Risk factors include increased age, male, prior smoking, irritative voiding symptoms, prior pelvic radiation, prior cyclophosphamide, history urothelial cancer or Lynch syndrome, prior occupational exposures, and chronic indwelling foreign body
Considerations
Hematuria in setting of UTI does not warrant workup, perform workup if hematuria persists after treatment (wait 3wks-3mo)
Patients on anticoagulation should undergo same workup
If benign cause identified and treatment, discuss with patient whether further workup is warranted
Perform full workup even if nephrologic cause suspected (increased risk for GU cancers in setting of decreased renal function)
Patients should undergo thorough upper tract imaging if family history RCC or genetic syndrome
Workup components
Upper tract imaging: CTU, MRU, renal US + retrograde pyelograms
Renal US less sensitive for upper tract urothelial cancer but very sensitive for renal neoplasms, but due to rarity the costs outweigh the benefits
Cystoscopy without enhancement (blue light) recommended as screening test
If persistent/worsening hematuria after renal US, obtain further imaging
Obtain cytology only if persistent microhematuria, irritative voiding symptoms, or risk for CiS
Follow-up
If negative initial workup, repeat UA in 12mo
If repeat UA negative, no further workup
If persistent microhematuria, discuss need for further workup immediately or in 3-5yrs
If worsening hematuria, obtain further workup
Management
Initial Evaluation of Gross Hematuria
Safe to discharge: able to empty bladder (check bladder scan), no blood clots (check urine appearance), not actively bleeding (stable Hgb, non-hypotensive)
If retention with mild bleeding (likely prostatic), attempt regular catheter placement (often results in clear yellow urine, catheter bypasses prostatic bleeding)
If retention likely secondary to clot burden (prior XRT, surgery), place large 3-way Rusch catheter, manually irrigate, start continuous bladder irrigation (CBI)
If persistent bleeding, consider traction, OR clot evacuation, other cause-specific treatments
BPH
Increased vascularity in hyperplastic tissue secondary to VEGF
Finasteride inhibits androgen-stimulated angiogenesis and decreases VEGF expression
90% symptom improvement with finasteride, decreased need for surgical intervention
Can take 2 weeks to 9 months to take effect
Refractory hematuria managed with surgical outlet procedures
Prostate Cancer
Locally advanced cancer with bladder invasion
Consider ADT, palliative XRT, channel TURP, cystoprostatectomy w/ diversion
Urethrorrhagia
Trauma is most common non-gender specific cause, maintain catheter for 3-7 days
Urethritis can be infectious or chemical induced
Consider urethral tumors if history urothelial cancer
Upper tract causes
Presents with clot colic, anemia, and wormlike clots in urine
Nephropathies: look for dysmorphic RBCs and casts on UA, systemic symptoms
Papillary necrosis: sickle cell, NSAID use
Random causes of hematuria to rule out
TB/Schistosomiasis: travel to endemic areas
ADPKD: family history
Endometriosis: cyclical hematuria during menstrual cycle
Ureteroiliac fistula: hx vascular surgery, chronic ureteral stents, pelvic XRT
Arteriovenous malformation: may occur if recent renal procedure, treat w/ embolization
Nutcracker syndrome: compression of renal vein between aorta and SMA
Hemorrhagic Cystitis
Common Causes
XRT: seen in up to 5% after pelvic XRT
Chemotherapy: seen in 2-40% after cyclophosphamide, ifosfamide, resolves in 60-90% with mesna
Viral (BK polyoma): more common in children or immunocompromised
Medical Management
Drug
Mechanism
Dosing
Considerations
Needs OR/Anesthesia?
Alum
Aluminum ammonium sulfate
Aluminum potassium sulfate
Protein precipitation
Vasoconstriction
1% solution (10g/L)
run at 200-300mL/hr
Success: 45-100%
Aluminum toxicity
No
Silver Nitrate
Chemical coagulation
0.5-1% instilled for 10-20 minutes
Check cystogram
(can cause obstruction if VUR)
No
Amicar
Aminocaproic acid
Inhibits fibrinolysis
200g/L
Give for 24hr after hematuria resolves
Success: up to 92%
Do not give if bladder clots present (causes clots to harden)
No
Formalin
Cellular protein precipitation
1-4%
300mL or up to bladder capacity
10-15 minutes
Success: 80-90%
Bladder fibrosis
Ureteral strictures if VUR
Yes
Non-Medical Management
Treatment
Tips
Hyperbaric Oxygen
100% O2 at 2-3 atm, 90 minutes, 30-40 sessions
Success: 80-90% response rate, but 5yr success only 27%
Side effects: claustrophobia (20%), otalgia (17%), seizures (rare)
Nephrostomy tubes
Avoids bladder exposure to urokinase, allowing clots to form
Can be performed with ureteral coiling
Internal iliac artery embolization
Can be performed unilaterally/bilaterally
Posterior occlusion results in significant gluteal pain
Success: up to 90%
Cystectomy + Urinary Diversion
Complications in up to 80% if bladder not removed
High risk of complications
Things that look like hematuria but aren't hematuria
Myoglobinuria: seen during rhabdo, can cause positive blood on a dipstick but will be negative for RBCs on the microscopic UA
Pyridium: turns urine bright orange, will cause positive nitrites without leukocyte esterase
Menstruation: confirm clean catch (check squamous cells)
Non-hematuria findings
Phosphaturia (phosphate crystals in alkaline urine) can cause non-infected turbid urine appearance, urine will immediately clear with acidification of sample
Excess urine on dipstick or holding vertical can alter results
UTI + pH > 7.5 suggests presence of urea-splitting organism
RBC casts on microscopic evaluation indicate glomerular source, usually associated with proteinuria
Proteinuria always from renal source, may have false negative if albumin is not the primary protein (Tamm-Horsfall, Bence-Jones protein)
Glucosuria seen when glucose levels exceed renal reabsorption threshold
Ketonuria seen with DKA, pregnancy, starvation, weight loss
Microscopic examination: assess for cells, casts, crystals, bacteria, yeast, and parasites
References
AUA Core Curriculum
Barocas, Daniel A., et al. "Microhematuria: AUA/SUFU Guideline." The Journal of urology 204.4 (2020): 778-786.
Boorjian, et al. "Evaluation and management of hematuria." Campbell-Walsh Urology. 12th ed. Philadelphia, PA: Elsevier (2020): 247-259.
Castle, E., C. Wolter, and M. Woods. "Evaluation of the Urologic Patient: Testing and Imaging." Campbell-Walsh Urology 12 (2020).
Lee, Joo Yong, et al. "Hematuria grading scale: a new tool for gross hematuria." Urology 82.2 (2013): 284-289.