Classic Rock Live Albums I Recommend
I am a huge fan of live albums. First, you have the feel of being at a concert with thousands of other fans, while remaining in the comfort of your own home. Second, it's nice to have a change of pace from the same songs you hear on the radio, plus extended solos or jams are always a super bonus. Last, sometimes it's just fun to hear some of the goofy banter that happens in the background or between songs. Whatever the reasons, I love live albums, and I've searched out some by my favorite artists. Some you may have heard of, some you may have not. These aren't reviews, just personal recommendations. I hope you find something you enjoy!
Talking Heads: Stop Making Sense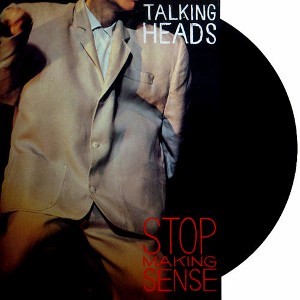 How can you stop making sense if you never started? This is what you may ask yourself when you listen to The Talking Heads' live album, Stop Making Sense. One of the most famous New Wave rock groups to come out of the 1980's, this album gives you a taste of their craziness and awesomeness.
The original album only included 9 tracks from the video recording, but a later expanded album includes all 15. The album opens up with "Psycho Killer" with its noticable bass line laying down the rhythm. Stop Making Sense drives home with tracks like "Girlfriend is Better," "What a Day That Was," and "Crosseyed and Painless," which tries to fool you with a slow, lazy intro before diving in all the way. Another great song is "Heaven," a calming track, which has been covered by other groups numerous times.
One of the best tracks is "Burning Down the House," which is especially interesting because David Byrne wrote the music first, then wrote the lyrics by saying random words that fit into the rhythms, explaining why the song doesn't make much sense. Another great song is "Once in a Lifetime," which includes a great bridge about water moving around and "flowing underground," although the best part (in my opinion) is the guitar riff near the end. The last track, "Crosseyed and Painless," starts with a slow, lazy rhythm, but then abruptly jumps into double time for an intense finish to the album. The video is even better, which you can find here.
All in all, the Talking Heads are an eclectic mix of rock, new wave, and a little bit of folk (but not much). If you're looking for some songs to sing along with, but without the meaningful lyrics, then look no further. Sing to "Burning Down the House" to your heart's content!
The Police: The Police LIVE!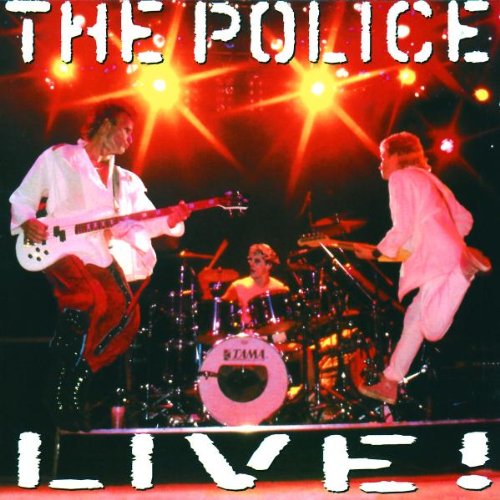 It's always a plus when a live album is a greatest hits album in disguise, and this is no exception. This two disc album is a compilation of The Police throughout the years, beginning with the early years and moving chronologically.
The album features a variety of songs from all five albums. Some of the tracks are hard and fast, such as "Next to You," and "Truth Hits Everybody," demonstrating The Police's driving power. The Police also have a softer side, as evidenced by "Tea in the Sahara" and "The Bed's Too Big Without You." There is even a glimse into their humorous side in the song "Be My Girl/Sally," in which Sting discusses purchasing a blow-up doll to make his wife. Unfortunately, the even more humorous "On Any Other Day" is not on here.
One of my favorite parts about this album is that some songs are featured twice, once on each disc. This gives you a taste of both early and later Police. The early tracks of "So Lonely," "Roxanne," "Can't Stand Losing You," and "Message in a Bottle" are raw, featuring only the trio themselves. The second version is much more refined, with the band having more years of practice and experience under their belt, along with the addition of backup singers and other instrumentalists. Each version has its own perks, and I personally enjoy listening to both. Part of the fun is getting to hear a different twist on the solo sections, especially in "So Lonely."
All around, I really enjoy this album because it covers the majority of The Police's hits, and gives a different twist from the studio recording for each one. Whether you're looking for loud or quiet, quick or slow, The Police have it all.
Styx and REO Speedwagon: Arch Allies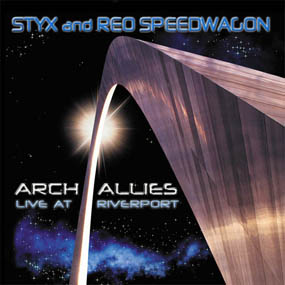 Who needs a band's live album when you can get two bands' live albums together! Two of the greatest purveyors of classic arena rock, Styx and REO Speedwagon, get together for one great double CD. The album gets its name from the Gateway Arch in St. Louis, near where the concert took place.
The first disc is Styx playing some of their best known songs, including "Fooling Yourself," "Renegade," and "Lady." It also includes two of their newer songs, "Brave New World" and "Heavy Water," which are (in my opinion) quite nice too. My personal favorite is "Too Much Time on My Hands," with an epic double time rock-out at the end of the song. The first album ends with REO Speedwagon joining Styx on stage for a double jam session on "Blue Collar Man" and REO's "Roll With the Changes."
The second album features REO with a number of their hits. I personally like "Time For Me To Fly," "Back on the Road Again," and especially the more intense-sounding "Ridin' the Storm Out." Of course, they also include their best known "Take it on the Run," along with a few others. REO plays "Roll With the Changes" on their own near the end, a fun song to jam on, with or without their Styx buddies.
I like this album because both bands work well together. They have a similar sound, being both light and rockin' at the same time. The best part is, they genuinely sound like they're having a good time together, and who doesn't want that? Check it out if you're looking for a throwback to some nice 70's and 80's jam rock!
Rush: Different Stages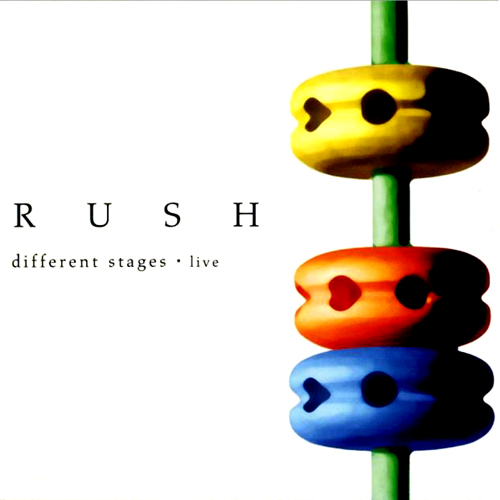 I will admit, I only recently discovered the amazingness that is Rush. But no joke, it is AMAZING. This triple album with their material up to the mid-nineties will blow yoour mind, in the best way possible. I'll try to do a bit more than just pointing out the awesome songs, because that would just be listing the whole album.
The album has a great mix of older and newer songs. If you like old Rush, there's plenty of hits like "Fly By Night" and "Working Man." All parts of "2112" are included on this album, making for a great listen. The newer Rush is just as good, and songs like "Animate" and "Stick it Out" make unbelievably great songs to rock out to. In addition, there are many of Rush's sci-fi songs, with epic names like "Xanadu" and "By-Tor and the Snow Dog" (how can it not be more awesome than that).
Of course, this wouldn't be an epic Rush album without the hits "Tom Sawyer" and "Spirit of Radio." The studio versions of these songs are already awesome, but listening to the raw sound of the live tracks makes you feel like you're actually at a Rush concert. The only track more epic is the infamous instrumental "YYZ." Fun fact: this song originates from the three-letter code for the Toronto International Airport, YYZ. Rush was traveling through and heard the morse code, which they use as the rhythm played at the beginning of the song.
This album has almost every song you could ever want or need by Rush. It is hours upon hours of listening greatness. You'll rock, jam, and groove to all the songs on here, enjoying each one.
Emerson, Lake, and Palmer: A Time and A Place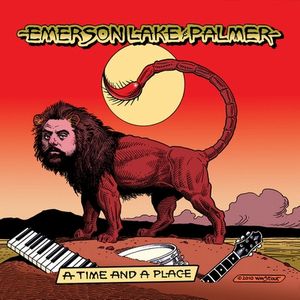 What couple be better than a Rush triple album? How about an ELP quadruple album! That's right, this album includes four CDs, with pretty much every ELP song you can imagine, live!
ELP is great because they are a power trio of drums, keyboards, and bass, with no guitar player whatsoever. This really allows the bass and keyboards to take center stage, played by Greg Lake and Keith Emerson, respectively. Each performer gets their chance to shine in the lengthy track "Karn Evil 9," clocking in at over thirty minutes long! If you're looking for some shorter tracks, take a look at "Hoedown," "Knife Edge," or "Peter Gunn Theme." There are a couple of Christmasy tracks for those holiday occasions, "Nutrocker" and "I Believe in Father Christmas." I personally also enjoy "Paper Blood," a newer track with a more mainstream pop feel.
I love ELP mainly for the greatest drummer of all time, Mr. Carl Palmer himself. Mr. Palmer is prominently featured on tracks like "Tank," "Toccata," and "Tarkus." He is one of the most prolific drummers alive, and can play countless polyrhythms at any speed possible. His drum solo, a separate track after "Tank" is an unbelievable feat in itself. Unfortunately there are no visuals, but Mr. Palmer used to remove his shirt during his solos (while playing his double bass), then play gongs while ringing a bell with his teeth, all while his stage is rotating beneath him. Also, listen to "Fanfare for the Common Man" to hear him play some epic timpani parts.
No matter which song you choose, you will be constantly impressed with the proficiency of all three members of ELP. The studio tracks are great, but getting to hear an extended jam session or a crazy drum solo makes this live album so much better.
Asia: Fantasia - Live in Tokyo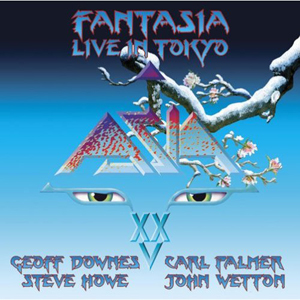 You've probably heard of "Heat of the Moment," but did you know that Asia is more than a just a one-hit wonder? They are a four-man group featuring already-experienced members of other bands, including my favorite, Mr. Carl Palmer! This album contains their best songs, along with a few other fun tracks.
This album is great because it has all of the tracks from the self-named original album, by far the best out of all they have produced. Although this is recorded almost thirty years after the album was, the band still does a great job of performing each song. I personally enjoy the uplifting "Here Comes the Feeling," along with "Soul Survivor." "Heat of the Moment" is featured as the encore piece, with some audience call-and-response near the end. A couple other well-known songs from other albums are in this album, including "The Heat Goes On," with Carl Palmer rocking another drum solo.
One of the cool things about this album is that it features a song from each of the member's previous bands. For guitarist Steve Howe, it is Yes's "Roundabout," which is performed slightly slower, but still enjoyable. For keyboardist Geoffrey Downes, it is the Buggle's "Video Killed the Radio Star," an interesting take considering none of the members can sing the high parts of the song, but amusing nevertheless.For bassist John Wetton, it is King Crimson's "In the Court of the Crimson King," quite the soothing, melodious piece to relax to. Finally, drummer Carl Palmer is featured in the always-enjoyable "Fanfare for the Common Man," with a nice lengthy jam battle between guitar and keyboards.
Even if you know only one or two of Asia's hits, you may be surprised by their performances on this CD. Asia has many live albums, but I much prefer this one for the specific track listing and inclusion of other non-Asia hits. Once you take a listen, you'll become and Asia convert for sure!
Van Halen: Right Here, Right Now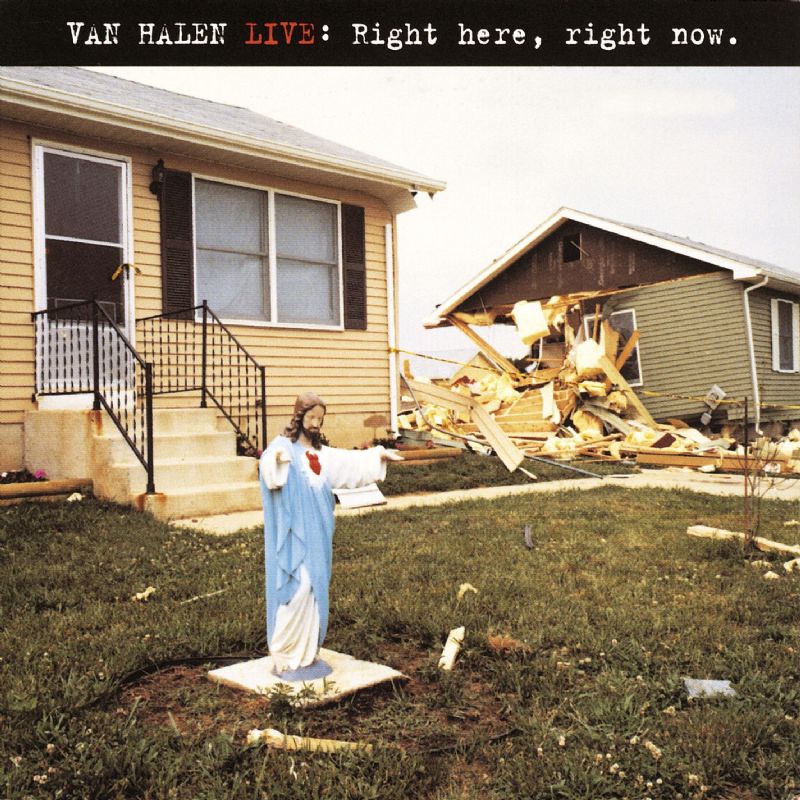 "What is understood doesn't need to be discussed." This is the message Mr. Sammy Hagar reminds us throughout this double album, but I shall discuss it nevertheless. One of the most famous rock bands from the 1980's, this is not an album to pass up...unless you're a David Lee Roth fanatic.
In case you are a Roth fanatic, I'll start with his songs. There are only four on here, but they pack quite the punch. The ever-present "Jump" does not disappoint with its epic synth solo, even if it may have been prerecorded (it's quite difficult for Eddie Van Halen to simultaneously play guitar and keyboards, even if he is a god). "Panama" is also great, although you may be put off by Hagar's long rant about living in the "right here, right now." "Ain't Talkin' 'Bout Love" is even better than the studio version, and "You Really Got Me" is great too, getting even better by segueing into "Cabo Wabo," although Sammy feigns confusion, saying "nobody okayed this with me!"
The majority of the album focuses on Van Hagar's three albums 5150, For Unlawful Carnal Knowledge (F.U.C.K.), and most of all OU812 (say it outloud...). Van Halen knows how to put on a show, even if you don't have the visuals. Most of the songs are straight, hard rock, such as "In n' Out," Poundcake," and "Runaround." Sammy Hagar lets the audience relax a little bit, with slower ballads "When It's Love," "Finish What Ya Started," and "Dreams." All the members of Van Halen get their time to shine, with each one performing an extended solo piece: 316 (Eddie Van Halen), Ultra Bass (Michael Anthony) and Pleasure Dome (Alex Van Halen). There is one bonus tribute, "Won't Get Fooled Again," originally by The Who.
Van Halen says there's only "One Way to Rock," and they would know better than anyone else. No matter what, you can't go wrong with this album.
Guns N' Roses: Live Era '87-'93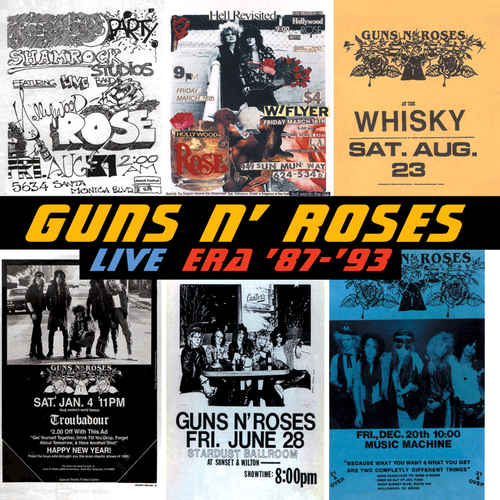 Maybe the previous albums were a little weak for your tastes. Then look no farther, because here lies a double CD by The World's Most Dangerous Band, Guns N' Roses.
As you listen to this album, it's easy to lose track of which song hits you the hardest. GNR does not leave glancing blows. Some of the best grooves are found on "It's So Easy," "You're Crazy," "You Could Be Mine," and "Out ta Get Me." GNR does have its subdued side, displaying some amazing piano parts in the ballads "November Rain," "It's Alright," and the ridiculously never-ending epic "Estranged," also featuring Slash with an unbelievable guitar solo. A personal favorite is "Pretty Tied Up," which is made infinitely more enjoyable because the studio version is not good at all. Another is "Move to the City," which features a super awesome solo section featuring "the band."
Of course, this album would not be complete without the fan favorites. "Welcome to the Jungle," "Sweet Child O' Mine," and "Paradise City" are all extremely enjoyable, and remind you why GNR is the baddest of the bad. "Knockin' On Heaven's Door" is on here, including a short reggae section which is an interesting and fun change of pace. Two other really good songs are "My Michelle" and "Rocket Queen," which have a driving bass line. As Axl Rose quips at the beginning of "Rocket Queen," "you can dance to this s**t." Right he is.
GNR has always been my go-to pump-up music. There is an unparalleled intensity that only comes from the combination of Axl Rose, Slash, and the rest of the crew. If you want to rock out like no other, this is for you.
UFO: Strangers in the Night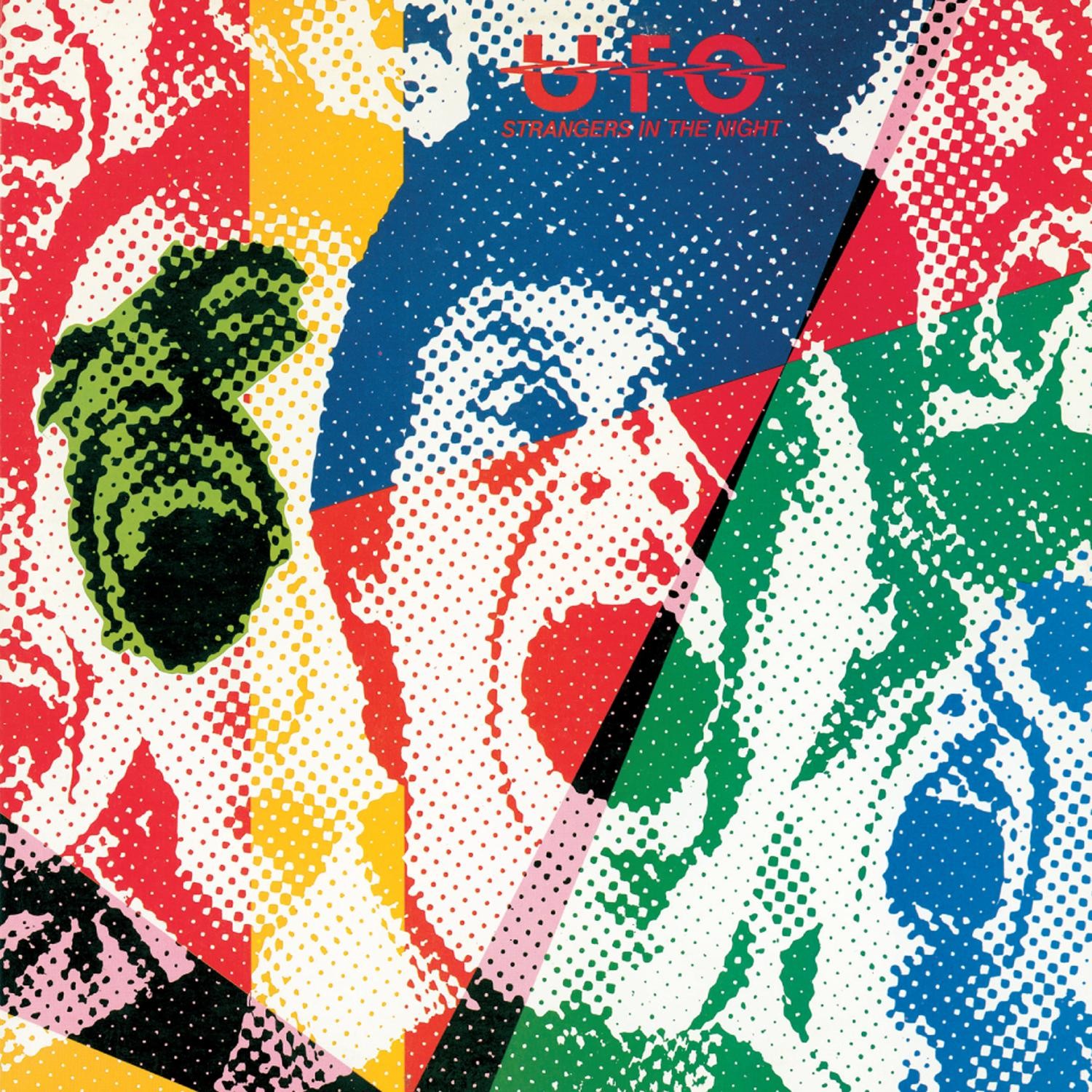 You probably haven't heard of UFO, they've never made it as big as Led Zeppelin or Black Sabbath. Nevertheless, they are a force to be reckoned with, as evidenced in this amazing CD. This is by far one of my favorite live albums.
UFO made it big in the mid-1970's due to the presence of Michael Schenker (you may know him as the guitarist of the Scorpions (Rock Me Like a Hurricane, anyone?)). This album is a selection of their best songs from that era. UFO's music is powerful, in your face, and as good as it gets. The album is full of hard, fast rock, starting off strong with "Hot 'n Ready," and moving on to "Mother Mary" and probaby their most famous song, "Lights Out." UFO does have a few softer numbers, including one of my favorites "I'm a Loser" (not a personal reflection), plus "Cherry" and "Out in the Street." One of the best parts of a live album is the well-tuned transition from one number to another, which is evident from "Natural Thing" into "Out in the Streets."
By far the most intense song on the CD is "Rock Bottom." This was one of my least favorite UFO songs, but that was before I heard the live version. Running for over 10 minutes, this song has everything you could want from a hard rock jam. There's the bass and drums driving the beat, Phil Mogg laying down some wonderful lyrics, and of course the ever-present Michael Schenker regalling us with his minutes-long solo. If they don't blow your mind after this number, then you're hopeless. Second to this track is "This Kid's," which has a really nice 6/8 jam at the end.
I cannot underscore how I love this album. It's all rock, all the time. A nice bonus throughout is Mogg's remarks to the audience, offering them free speakers after the show, or asking for a bit of time while he tries to figure out what song the band wants to play next. If you enjoy rockin' beats, crazy guitar, and all around awesome, then this is for you.