Overactive Bladder (OAB)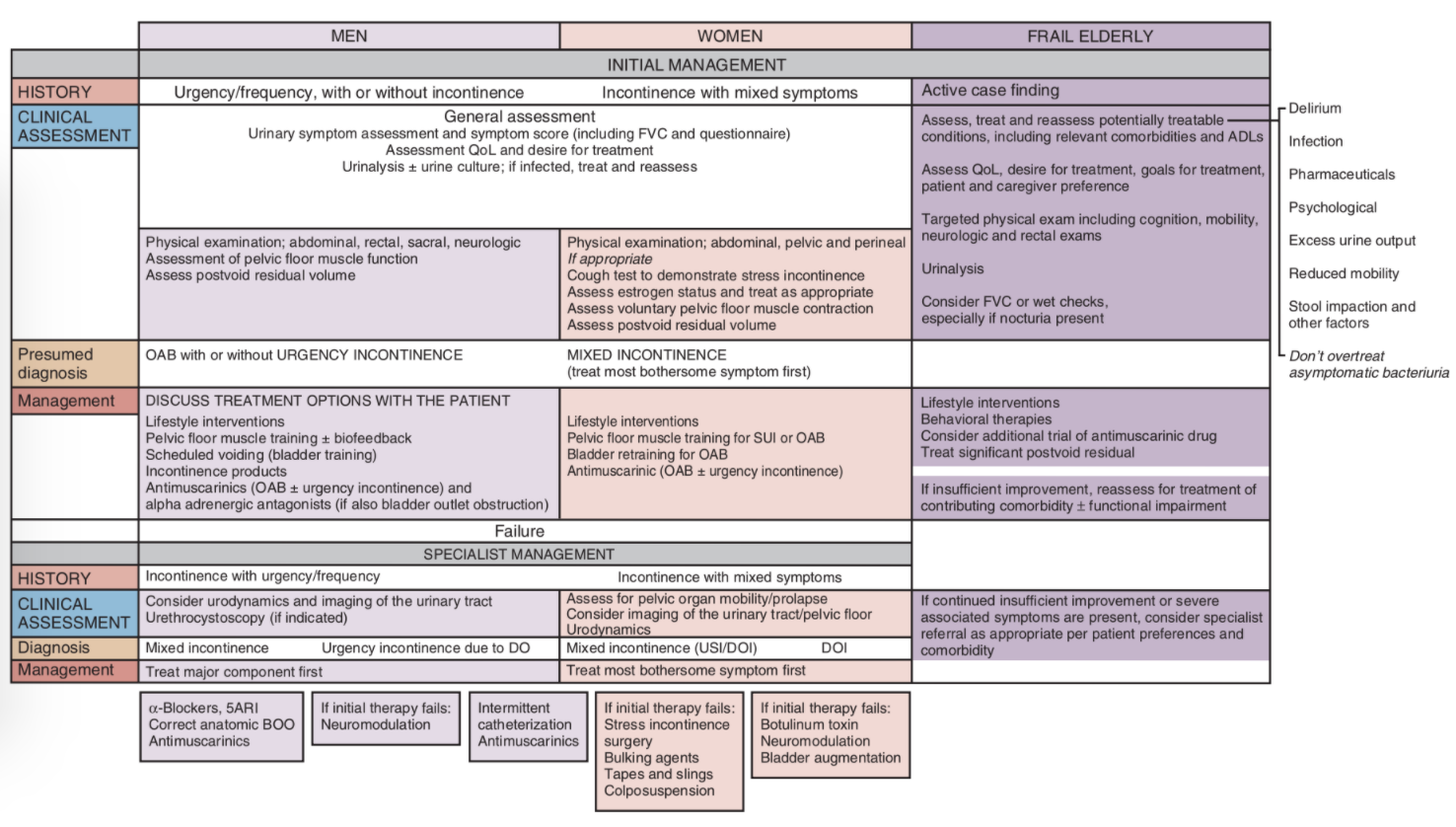 ICI OAB management pathway, from Campbell's
Workup
Definitions
OAB: urgency +/- frequency, nocturia, and urge incontinence
Urgency: sudden compelling desire to pass urine that is difficult to defer
Frequency: > 7 voids during the day
Nocturia: 1+ nocturnal voids
Nocturnal polyuria: large production of urine during sleep, > 20% if younger, > 33% if older
Polydipsia: normal/large volume voids (OAB causes small volume voids)
Urge incontinence: involuntary urine leakage associated with sudden desire to void
Interstial Cystitis + Bladder Pain: may have frequency/urgency, pain is prime symptom (no pain in OAB)
History
Storage symptoms: frequency, urgency, urge incontinence, nocturia
Voiding symptoms: hesitancy, straining, retention, stream strength, intermittency
Fluid intake habits: types, volume, void diary
Degree of bother
PMHx: neuro diseases, mobility issues, DM, BM habits, pelvic pain, rUTIs, hematuria, pelvic cancers, pelvic XRT, prolapse
PSHx: pelvic surgery, pregnancies
Bowel habits: constipation, diarrhea, fecal incontinence (seen in up to 50% with OAB)
Meds: diuretics
Physical
Abdominal exam: scars, masses, hernias, SP distension
Lower extremities: edema - fluid overload
Pelvic exam: atrophic vaginitis, prolapse, stress incontinence, pelvic floor dysfunction, BPH
Cognitive function and frailty
Adjuncts
Symptom questionnaires; UDI, UDI-6, II-Q, OAB-q
Obtain UA, consider separate workup if evidence of hematuria or UTI
PVR and urine culture not required for uncomplicated patients
CT/US, urodynamics, and cystoscopy are not required for uncomplicated patients
First Line Therapies: Non-Med/Surg
Behavioral
Bladder training, delayed voids, scheduled voids, double voids
Consider pelvic floor muscle training and biofeedback
Decreasing fluid intake should be balanced with risk for dehydration
Caffeine reduction may reduce OAB symptoms but may not affect incontinence episodes
Weight loss: 8% weight loss in obese women decreased incontinence by 47% (vs 28%)
Avoid constipation, maintain fiber intake
No Treatment?
Consider other management strategies in elderly or demented patients
Consider managing functional incontinence
Second Line Therapies: Medications
Anticholinergics
Mechanism: inhibit bladder contractions (stimulated by parasympathetic signals)
Options: oxybutynin (Ditropan), solifenacin (Vesicare), darifenacin
Extended release and transdermal have lower side effect profiles
Different medications have different side effect risks
Side effects: dry mouth (20-60%), constipation (7-17%), dry eyes, blurred vision, dyspepsia, UTI, retention, impaired cognition, arrhythmias (rare)
Manage side effects first with OTC therapies prior to stopping anticholinergic
May cause synergistic effect with other anticholinergics - TCAs, Parkinson meds, Alzheimer meds
Contraindications: narrow angle glaucoma, impaired gastric emptying, urinary retention
Increased risk of side effects (including cognitive deficits) in elderly/frail patients
Mirabegron (Beta-3 Agonists)
Mechanism: increases sympathetic signals causing bladder relaxation
Does not prolong QT interval
Similar efficacy to anticholinergics
Side effects: same rates of dry mouth (lower than anticholinergics), retention, HTN, and arrhythmias as placebo
Synergy trial (Herschorn 2017): can combine B3 agonist and anticholinergics for improved effect
Third Line Therapies: Interventions
Botox (intravesical botulinum toxin)
Inject 100U for non-NGB, 200U if NGB
Injections are temporary and need to be repeated q6-12mo
Reduced frequency by 29%, urgency by 38%, incontinence episodes by 59%, with 25% reporting complete resolution of symptoms
Patients need to be willing to provide PVRs and perform CIC if having urinary retention
Side effects: UTI (4-55%), retention (0-43%)
Sacral Neuromodulation
Signal generator implanted with lead in S3 foramen, modulates signals causing improved symptoms
Placement: S3 stimulates anal bellows and toe flexion
Test phase: implant lead, assess bladder diary after testing to determine whether device can be permanently implanted, considered success if > 50% improvement in 1+ parameters
Older models are not MRI compatible, newer models are
FDA approved for OAB with(out) incontinence, underactive bladder without obstruction, not approved for bladder pain or neurogenic bladder
Patients may report improvement in sexual dysfunction and fecal incontinence
5yr success rate 70-80%
Side effects: pain at simulator site (3-20%), pain at lead site (4.5-19%), lead migration (1-8.6%, infection/irritaton (2-14%), electric shock (5.5-10%), need for surgical revision (6-39.5%)
Percutaneous Tibial Nerve Stimulation
Posterior tibial nerve stimulation alters efferent signals from sacral spinal cord to bladder
Apply 34g needle 3-4cm superior to medial malleolus between tibia and soleus muscle, grounding pad on same leg
Correct stimulation should lead to great toe flexion (fanning) and tickling sensation of sole
30 minute treatments in clinic x12 weeks, then as individually needed
Success: 71% improvement (>50% symptom reduction) vs 0% in placebo
Patients report minimal side effect, main issue is frequent clinic visits
Sources
AUA Core Curriculum
Gormley, E. Ann, et al. "Diagnosis and treatment of overactive bladder (non-neurogenic) in adults: AUA/SUFU guideline." The Journal of urology 188.6S (2012): 2455-2463.
Heesakkers, J. and B. Blok. "Electrical Stimulation and Neuromodulation in Storage and Emptying Failure." Campbell-Walsh Urology 12 (2020).
Herschorn, Sender, et al. "Efficacy and safety of combinations of mirabegron and solifenacin compared with monotherapy and placebo in patients with overactive bladder (SYNERGY study)." BJU international 120.4 (2017): 562-575.
Reynolds, W. and J. Cohn. "Overactive Bladder." Campbell-Walsh Urology 12 (2020).