Neuromuscular Lower Urinary Tract Dysfunction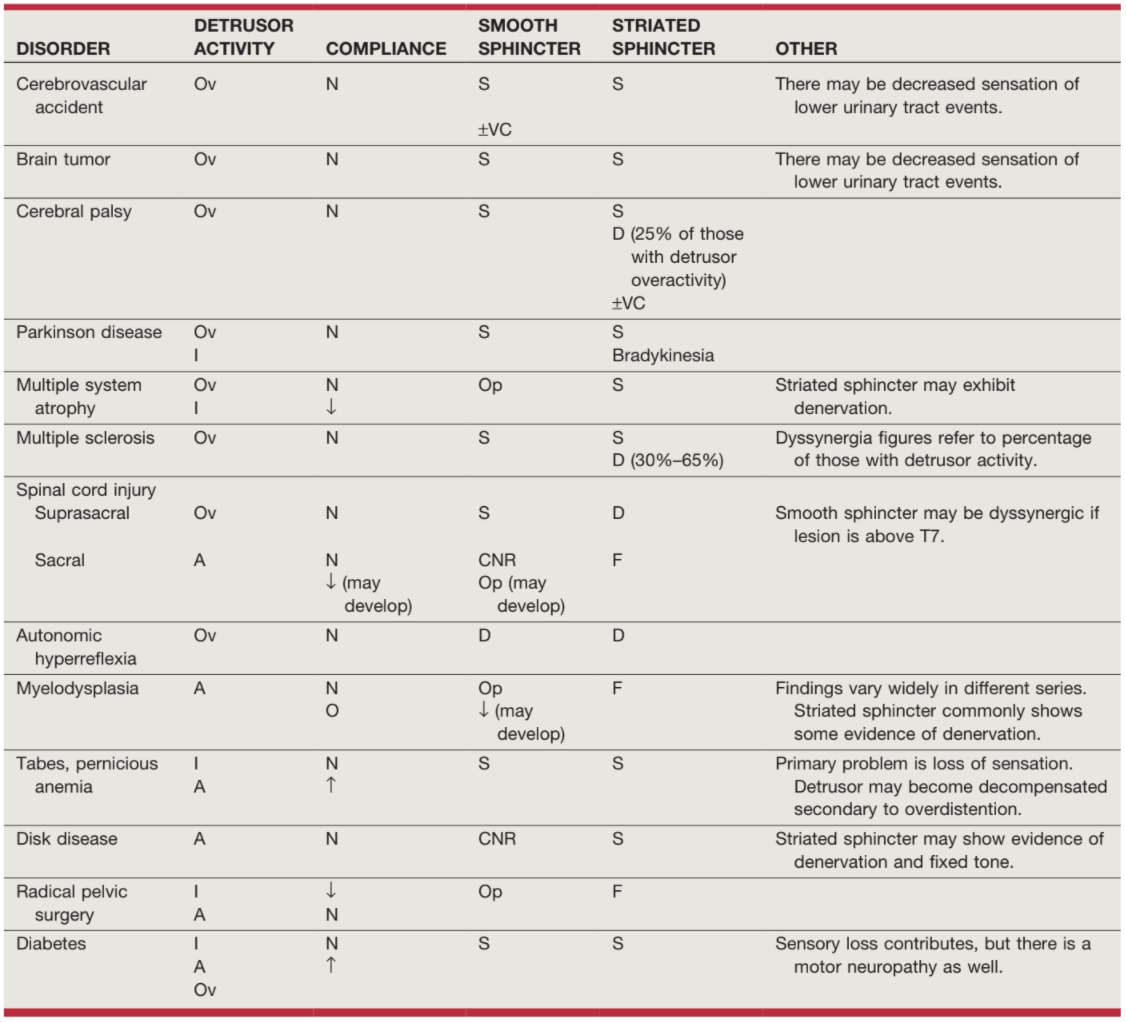 Common patterns of voiding dysfunction, from Campbell's
Goals for managing LUT dysfunction, from Campbell's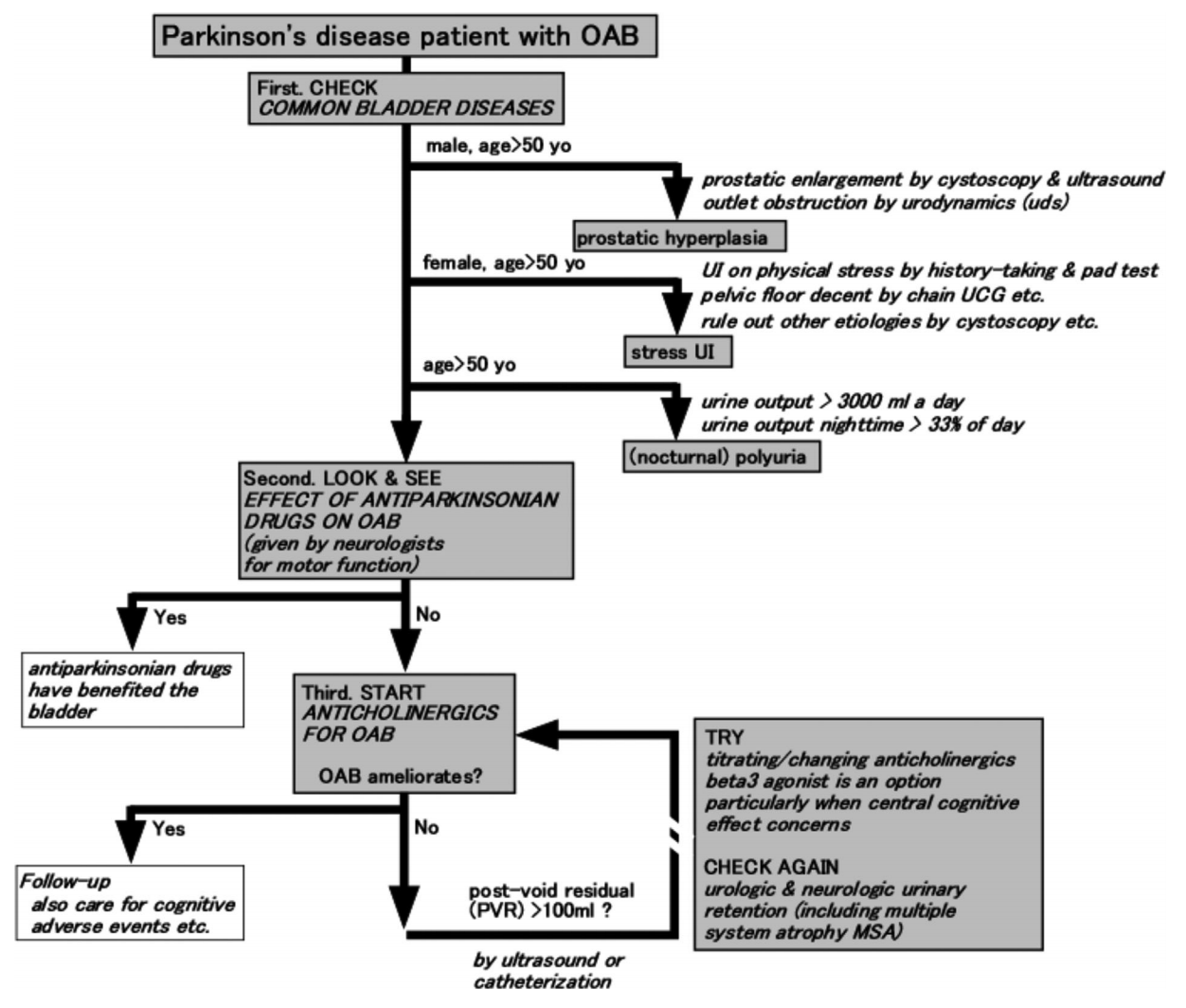 Workup of PD patient with LUTS, from Sakakibara 2016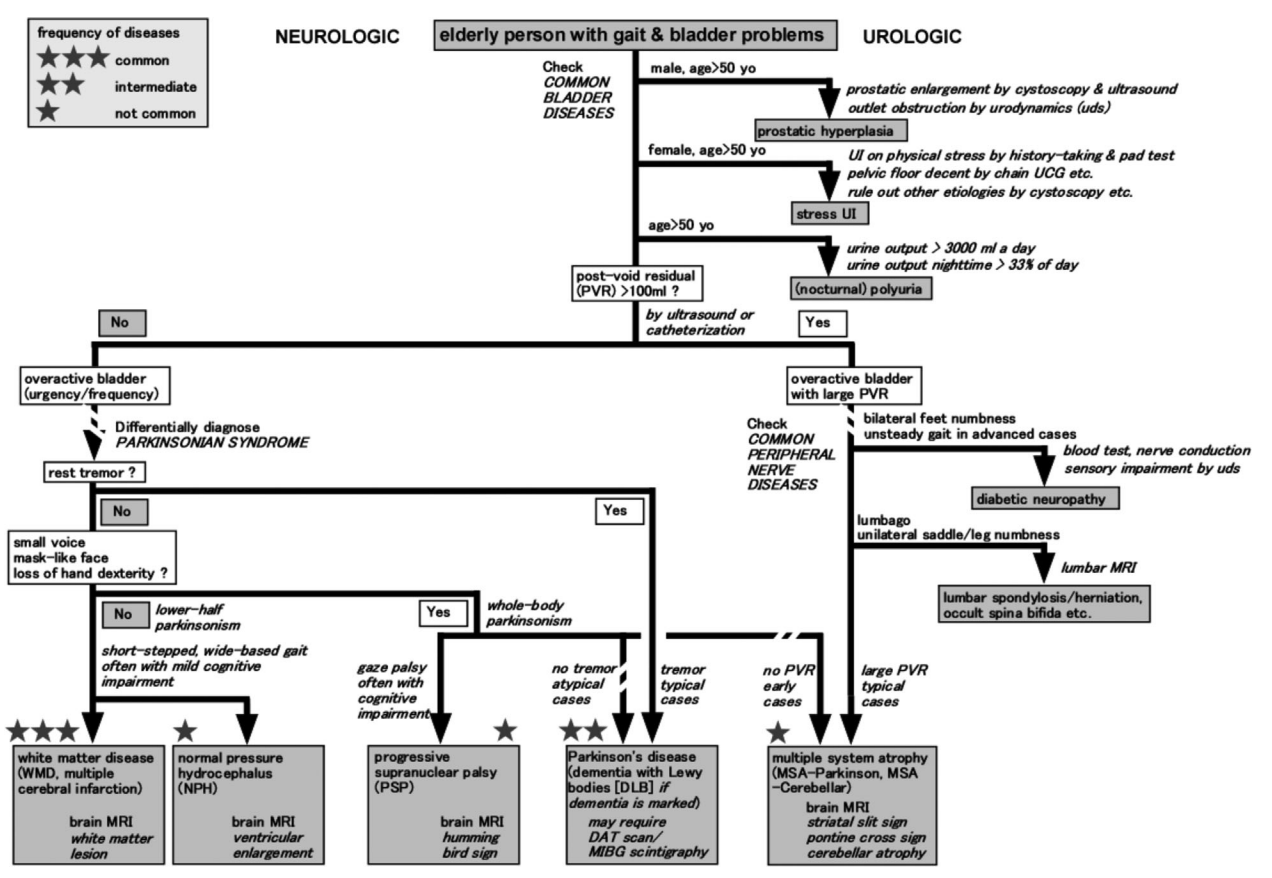 Diagnosing patients with LUTS and parkinsonism, from Sakakibara 2016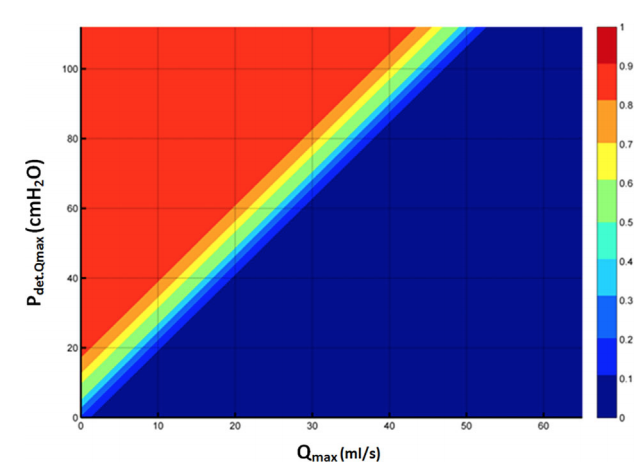 Solomon-Greenwell nomogram for predicting female BOO, from Solomon 2017
Evaluation of NMLUTD
Evaluation
Timing: do not perform urodynamics in acute setting of spinal shock or brain injury, as symptoms and neural pathways may change as injury heals over 6-24mo
Catheter exam: assess for bladder neck incompetence in women, traumatic hypospadias in men, SPT site bleeding (treat with silver nitrate)
Prolapse: vaginal (up to 33%) and rectal (up to 32%) seen over 5-6yrs follow up for both genders
Stones: kidney stones seen in 34-64% SCI patients, bladder stones in up to 23% SCI patients and 8-41% chronic catheter patients
Urinalysis: not required for regular screening, pyuria and hematuria normal/expected with catheterization
Cystoscopy: warranted for rUTI, hematuria, or anatomic abnormalities, but screening surveillance not warranted even if chronic catheter (no benefit to bladder cancer cystoscopy screening), consider screening bladder augments
Renal function: trend creatinine, may be abnormally low compared to non-NMLUTDS, alternatives include Cystatin C and renal scan
Probability of regaining volitional voiding at 1yr (per ASIA): A (1.7%, no motor/sensory or sacral sparing), B (5.1%, sensory only, no motor below lesion), C (25.9%, 50% muscles less than Grade 3 below lesion), D (76.2%, 50% muscles more than Grade 3 below lesion), E (100% intact motor/sensory)
AUA 2021 Guidelines Risk Recommendations
Low risk definition: suprapontine lesion, peripheral lesions, spontaneous voiding, low PVR, no hydronephrosis, no bladder stones, no UTI, normal renal function, no DSD (if assessed), stable voiding symptoms
Unknown risk (determine moderate/high): suprasacral lesion, hydronephrosis, bladder stones, elevated PVR, recurrent UTI, worsening LUTS
Moderate risk definition: UDS w/ BOO/retention/DO, elevated PVR, normal upper tracts, normal renal function
High risk definition: UDS w/ poor compliance/elevated pressures w/ DO/DSD/VUR, hydronephrosis, new renal scarring, parenchymal loss, staghorn or increased stone burden, worsening renal function
Low risk surveillance: not indicated, reassess risk if new symptoms develop
Moderate risk surveillance: annual H&P + renal function, upper tract imaging q1-2yrs, UDS as needed
High risk surveillance: annual H&P + renal function + upper tract imaging, UDS as needed
Surveillance after incorporating bowel: annual H&P, BMP, B12 (if ileum used), and renal US, consider cystoscopy if hematuria develops
Treatment
Treatment goals
Protect upper tracts: avoid high-pressure bladder that refluxes to upper tracts
Minimize UTIs: ensure adequate emptying/drainage, avoid unnecessary antibiotics
Avoid leakage: provide acceptable and realistic urinary drainage, ensure patient/caregiver can perform
NGB adjuncts: optimize bowel and sexual function
Low-risk patients
Pelvic floor PT: beneficial in properly selected patients, low risk
Passive voiding: only viable if low-pressure bladder and minimal outlet resistance, can void into diaper, use valsalva or crede
Neuromodulation: sacral or posterior tibial, consider for low risk patients with storage symptoms who spontaneously void, not recommended for SCI or spina bifida (response too variable)
Retention
Catheter: optimizes bladder drainage, can be urethral, suprapubic, or CIC via urethra or catheterizable channel
Alpha blockers: decreases outlet resistance
Botox: reduces bladder contractility, can use 200-300U, no specific injection location/pattern, transient effects
Sphincterotomy: can perform for male patients managing with condom catheter, but high risk of failure and need for repeat procedures
Incontinence
Anticholinergics and B-3 agonists: reduces detrusor overactivity, decreases leakage between CIC
Outlet obstruction: manage SUI, can consider bulking agents (low overall efficacy), slings (avoid synthetic if needing CIC), or artificial sphincter
Bladder neck closure: consider for refractory SUI, may be beneficial with simultaneous augment if poorly compliant or low capacity bladder, fistulization risk up to 25%
End-stage bladder (poor compliance, resistant to more conservative treatments)
Augment: improves volume to reduce CIC frequency, best option for poorly compliant bladder, complications 15-17%, low risk for bladder cancer (0.6-4.5%)
Catheterizable channel: recommended for bladder neck closure, urethral strictures, or female patients desiring CIC, stenosis occurs in 4-32%
Diversion: last-resort for high pressure low volume contracted bladder
Ileovesicostomy: alternative to augment and diversion if unable to CIC, no need for ureteral anastomosis, potentially reversible
Simple cystectomy: avoids risk of pyocystis
Spence procedure: iatrogenic vesicovaginal fistula to prevent pyocystis
Specific management issues
Urinary tract infections
Difficult to accurately diagnose UTI in patients with catheter use, no clearly sensitive or specific signs
Screening: not warranted, risks > benefits
Ideal treatment criteria: bacteruria, suspicious signs/symptoms, and no other infectious source
Collection: place new catheter, plug to have urine build up, do not collect form tubing or bag
Imaging indications: persistent fevers despite antibiotics, no recent upper tract imaging in moderate/high risk patients
"Recurrent" UTI: frequency not defined, perform non-contrast upper tract imaging and cystoscopy to assess for a source, consider UDS if workup otherwise negative
Prophylaxis: not recommended for indwelling catheters to prevent UTI, not recommended for CIC in absence of rUTI, can consider for CIC with rUTI but risk for increased antibiotic resistance
Irrigation: can consider saline or antibiotic irrigation or instillation, although unclear benefits
Catheters
CIC provides lower UTI risk compared to urethral catheter or SPT
Indwelling catheter (urethra or suprapubic) have same infectious risks
Suprapubic catheter overall preferred for long-term management, overall low risks for placement and exchange
Hydrophilic catheters may provide some benefit for UTI and urethral trauma (specific benefits unclear)
No increased risk for clean catheterization vs sterile catheterization
Potential benefit to volume-dependent catheterization compared to time-dependent catheterization
Pre-lubricated tend to be easier and more comfortable
Autonomic Dysreflexia
Cause: sympathetic response to stimulus if SCI above T6, presents with headache + HTN + bradycardia + flushing/sweating
Stimuli: bladder/rectal distension, urethral stimulation (catheter, UDS probes)
Treatments: remove stimulus, apply 1-2 inches of 2% nitroglycerin paste above level of lesion, IV nitroprusside or B-blockers if IV access available, terazosin/prazosin, nifedipine 10mg sublingual (risk of hypotension)
Prevention: lidocaine gel for clinic procedures, use monitors
Cerebral diseases
Stroke (cerebrovascular accident)
Urinary incontinence: 32-79% on admission, 25-28% on discharge, 12-19% months later
Urinary incontinence is ppredictive of poor survival and functional independence (more than depressed consciousness)
Lenticulocapsular strokes more likely to cause incontinence (52% have incontinence)
Relationship with fecal incontinence: both present (33%), urinary only (12%), fecal only (8%)
Insensate incontinence more common (12-58% vs 9-42% sensate)
Phasic detrusor overactivity is most common post-CVA LUTD - 60-65% have DO, whereas 30-40% have DUA
Consider UDS prior to BOO surgery to confirm cause of urinary symptoms
Parkinson Disease (PD)
Caused by dopamine deficiency in nigrostriatal pathway, presents with tremor + rigidity + bradykinesia
LUTD present in 35-70% - nocturia (86%), frequency (71%), urgency (68%)
UDS findings: DO most common, true DSD is uncommon, pseudoDSD common due to bradykinesia, DUA uncommon
Symptoms may be exacerbated by bromocriptine but not other medications
TURP is okay if PD (not MSA), as striated sphincter acontractility is rare - but get UDS to confirm
Parkinson+ syndromes
Diagnoses: multiple system atrophy (MSA), progressive supranuclear palsy (PSP), corticobasilar ganglionic degeneration, vascular parkinsonism, Lewy body dementia
PD vs parkinson+: combination of asymmetric symptoms, resting tremor, and response to L-dopa indicates likely PD
Concerning findings: dementia, falls, symmetric symptoms, wide gait, normal eye movements, autonomic dysfunction
Usually present with storage symptoms - nocturia, frequency, urgency
May require botox, sacral neuromodulation
Multiple system atrophy (MSA)
Urologic findings concerning for MSA over PD: LUTS prior to parkinsonism, incontinence, elevated PVR, erectile dysfunction, and abnormal sphincteric function on EMG
Symptoms may be parkinsonian dominant (MSA-P) or cerebellar dominant (MSA-C)
Urinary symptoms usually preclude parkinson symptoms, the opposite for PD
Difficult to treat, may require CIC, do not perform outlet procedure (sphincteric incompetence)
Traumatic Brain Injury
DSD may be present if pontine micturition complex (PMC) is damaged
DUA common in acute setting, transitions to DO with synergic sphincter activity
Incontinence more common with poor functional status and bilateral lesions
Retention more common if diabetes or fecal impaction
Other diseases
Brain tumor: variety of presentations, more associated with area affected than tumor type
Cerebellar ataxia: poor movement coordination, presents with retention and DO but usually sphincteric synergy
Normal pressure hydrocephalus (NPH): dementia + ataxia + incontinence, caused by DO + sphincteric synergy, treatment (VP shunt) shold improve incontinence
Cerebral palsy: nonprogressive brain injury causing neuromuscular disability, most patients have normal storage/emptying, but voiding symptoms warrants UDS to rule out high pressure bladder, conservative management can be used for most
Dementia: ncontinence is common but unclear if abnormal mechanism or just poor awareness, anticholinergic use may exacerbate symptoms (brain loss of cholinergic neurons)
Spinal cord diseases
Multiple sclerosis (MS)
Symptoms: 50-90% have LUTS, 37-72% have incontinence
UDS findings: DO (34-99%), DSD (30-65%), DUA (12-38%)
Factors predicting urologic complications: DSD in men, high filling pressures, and indwelling catheters
Renal injury rare, < 10% require surgical intervention for medication failure
Treatment options: meds + CIC (57%), meds (13%), CIC (15%), behavioral therapy
50% have DSD improvement with a-blockers
Avoid irreversible treatments, as MS symptoms may change with flares and disease progression
Spinal cord injury (SCI)
43% have incontinence, 7% have kidney stones within 10yrs injury (greatest risk within 1st 3mo)
Spinal shock: bladder becomes areflexic immediately after injury, striated sphincter does not close during filling (absent guarding reflex), no voluntary control, incontinence only occurs with overflow, manage with catheterization, lasts usually 6-12 weeks but up to 1-2yrs
Suprasacral SCI: DO, DSD, smooth sphincter synergia
Sacral SCI: DUA with varying compliance, nonrelaxing smooth sphincter and fixed striated sphincter
DSD causes functional obstruction, poor emptying, high detrusor pressures
Treat based on symptoms and urodynamic findings, which may (not) correlate
Asymptomatic bacteruria: common, only treat if signs/symptoms of UTI, prophylaxis warranted for rUTI without underlying cause, not warranted for ongoing catheter usage
Bladder cancer: similar risk to general population but more likely to be muscle-invasive at diagnosis, unclear evidence for screening cystoscopy (or timing) but no other options currently available
Follow-up: annually for at least 5-10 years after injury, check renal/bladder US, PVR (if applicable), and BMP
Spina bifida
May have vertebral defects or meningeal sac herniation with(out) cord or nerve root evagination
Usual findings include DUA, open bladder neck, overflow incontinence, stress incontinence, DSD only seen in 10-15%
Treatments include CIC/catheter, augment, diversion, slings, botox, anticholinergics
Tethered cord: presents with lower extremity weakness, sensory loss, bowel/bladder incontinence, treat based on urodynamic findings, post-treatment improvement seen in 95% within 6 months
Other diseases
Cervical myelopathy: caused by cord compression, majority have some form of voiding symptoms
Acute transverse myelitis: acute onset with variable recovery, variety of residual urinary deficits
Tabes dorsalis (syphilitic myelopathy) and pernicious anemia: insensate bladder with DUA
Polio: retention, DUA, intact sensation, seen in 4-42%
Lower motor neuron diseases
Lumbar disc disease
Cauda equina compression may occur in 1-15% due to central prolapse (as opposed to posterolateral)
Prelaminectomy UDS may be warranted to determine whether voiding improves after surgery
Cauda equina syndrome: perineal sensory loss with bowel/bladder incontinence, decompress within 48hr recommended, autonomic function usually slower to recover after surgery than somatic function
Spinal stenosis (narrowing of canal/foramina)
Presents with back/extremity pain with exercise and relieved with rest
Urologic symptoms variable, ~50% improve after laminectomy, preop UDS may be helpful to determine improvement
Pelvic surgery
Hypogastric plexus runs along rectum and vagina, can be injured during abdominoperineal resection (20-68%) and radical hysterectomy (16-80%)
LUTD may be permanent in 15-20%, due to denervation, nerve tethering, bladder/urethral injury or devascularization
Presents with decreased bladder contractility, decreased compliance, fixed striated sphincter (decreased voluntary relaxation), open/nonfunctional smooth sphincter
Treat with CIC, monitor for improvement (may take 6-12mo)
Diabetes
LUTD in 5-59%
Incontinence: more likely urge than stress, 20% increased risk compared to non-DM
UDS: impaired bladder sensation, increased capacity, decreased contractility, decreased flow
Encourage timed voiding to optimize emptying and prevent detrusor decompensation
Herpes
Sacral nerve root infection can cause retention (DUA) within days-weeks after initial primary viral manifestations
Can be secondary to genital or anal inefctions
Cystoscopy may show bladder mucosa vesicles
Elsberg syndrome: bilateral sacral nerve root involvement, sphincteric incontinence, CSF pleocytosis
Guillain Barre Syndrome
Presents with rapid limb weakness, loss of reflexes, and variable autonomic deficiencies
LUTD seen in 25-80%, retention present in 11-30%
Voiding syndromes
Detrusor sphincter dyssynergia
True DSD only exists in presence of neurologic injury/disease between brainstem (PMC) and sacral spinal cord
Untreated DSD leads to VUR, upper tract injury, stones, sepsis, and UVJ obstruction
Treatment requires decreasing abnormal sphincter activity (botox, sphincterotomy) or bypassing sphincter (CIC)
Dysfunctional voiding
Involuntary sphincteric obstruction in the absence of neurologic disease, difficult to prove on UDS
May be a response to discomfort with voiding or attempt to augment voiding
Non-neurogenic urinary retention: PVR > 300mL for > 6mo, manage high risk patients (hydro, CKD, rUTI) with catheterization
Bladder neck dysfunction
Incomplete opening during voiding
Usually seen in younger men with chronic LUTS in absence of BPH on cystoscopy
Diagnose via UDS which confirms outlet obstruction at level of bladder neck
Manage with a-blockers and TUIP (unilateral decreases risk of retrograde ejaculation)
Smooth sphincter dyssynergia: UDS finding in patient with autonomic hyperreflexia
Female bladder outlet obstruction
Non-neurogenic voiding dysfunction confirmed with videourodynamics showing obstruction between bladder neck and distal urethra
Surgical treatment risks sphincteric incontinence
New Solomon-Greenwell nomogram helps predict BOO
Bashful bladder (low-flow voiding)
May be due to detrusor hyperactivity with impaired contractility, leading to frequency + hesitancy + poor stream
Minimal additional diagnostic benefit to using ambulatory UDS
Manage with behavioral modification, usually no benefit to surgery
Fowler syndrome
Urinary retention in younger women in absence of neurologic disease
Presents with infrequent urination, abdominal discomfort, no urgency or sensation to void
Responds best to neuromodulation (up to 70% success)
Post-operative urinary retention
Contributing factors: foley trauma, overdistension, decreased sensation/contractility, increased outlet resistance, pain reflex, pre-existing obstruction
Postoperative catheter drainage improves postop retention risk compared to CIC
Unclear benefit to preop/postop a-blocker initiation
Irradiated bladder
Storage symptoms common within 4-6 weeks of XRT, return to normal within 6 months
Late effects are uncommon but can be progressive and irreversible, due to tissue fibrosis
Defunctionalized bladder
UDS shows decreased capacity, involuntary contractions, decreased compliance
Can treat with cycling with increasing volumes
Renal transplant is safe if capacity > 100mL and voiding pressure < 100cm
References
AUA Core Curriculum
Cameron, M. D., et al. "The AUA/SUFU Guideline on Adult Neurogenic Lower Urinary Tract Dysfunction." (2021).
Kowalik, C., A. Wein, and R. Dmochowski. "Neuromuscular Dysfunction of the Lower Urinary Tract." Campbell-Walsh Urology 12 (2020).
Sakakibara, Ryuji, et al. "A guideline for the management of bladder dysfunction in Parkinson's disease and other gait disorders." Neurourology and urodynamics 35.5 (2016): 551-563.
Solomon E, Yasmin H, Duffy M, Rashid T, Akinluyi E, Greenwell TJ. Developing and validating a new nomogram for diagnosing bladder outlet obstruction in women. Neurourology and Urodynamics. 2018;37:368–378.