Benign Prostatic Hyperplasia
Technically, BPH -> BPE -> BOO -> LUTS. BPH is a histologic diagnosis. Therefore, a patient presenting with LUTS may be secondary to BOO, caused by BPE from BPH.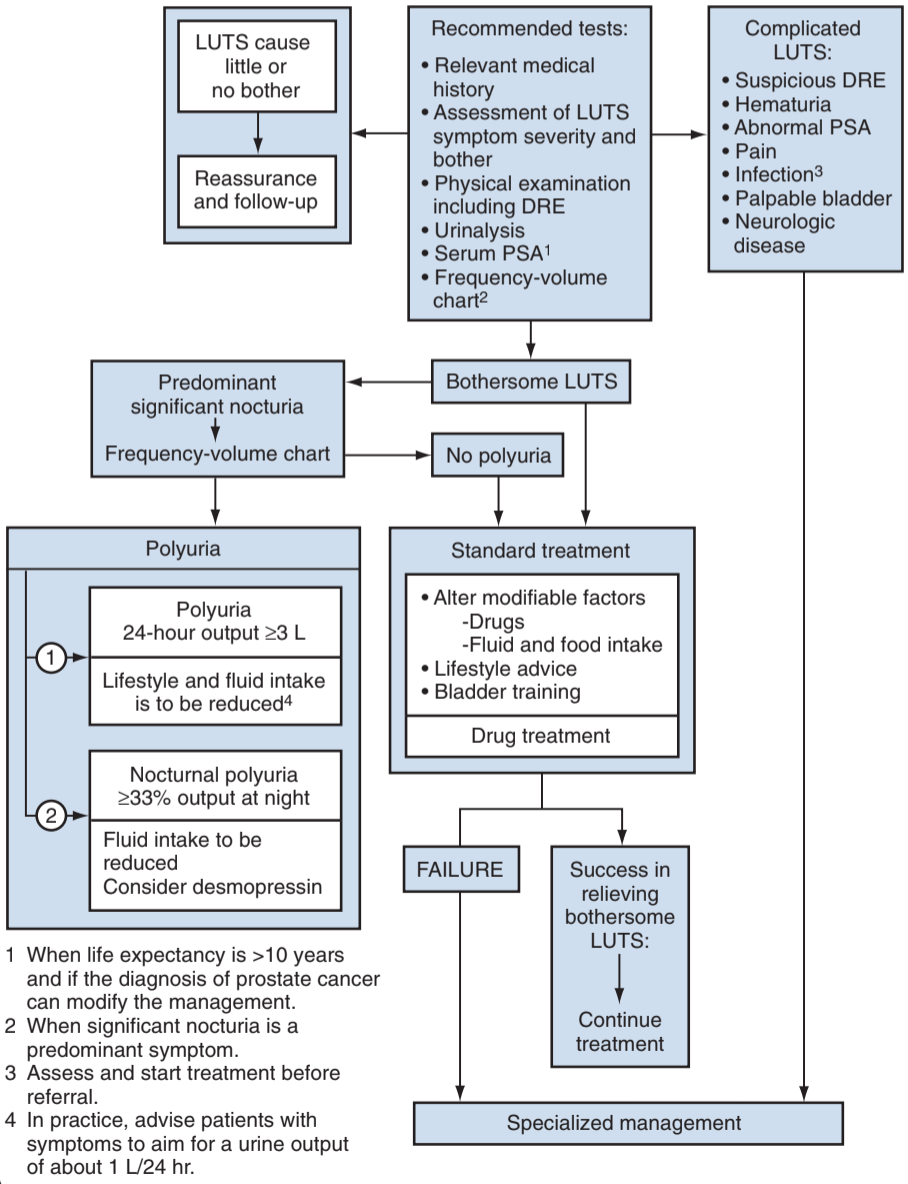 Evaluation of LUTS, from Campbell's
Evaluation/Workup
History
Assess baseline symptoms: (voiding + storage), use AUASS
Common conditions causing LUTS: DM, neurologic, CKD/CHF, OSA, cancer
Fluid intake: assess amount and timing
Bladder irritants: caffeine, alcohol, spicy food, acidic food
Medications: a-agonists, anticholinergics
Clinic tests
DRE: prostate cancer PPV 6-33%, poor estimate of prostate size
PVR: no standardized definition or unified cutoff, questionable association with developing acute retention
Uroflow: inaccurate if < 125-150mL, cannot distinguish BOO from DUA, consider 15mL/s a reasonable cutoff
Cystoscopy: consider for gross hematuria, history bladder cancer, history recurrent UTIs or urethral injury, history prior urethral surgery, and prior to surgical planning, cannot accurately predict prostate size
UDS: recommended if prior surgical therapy, unable to void > 150mL, PVR > 300mL, concern for neurologic disease, prior pelvic surgery, age > 80 or < 50 and predominantly voiding symptoms
BPH Labs
UA: may be helpful for identifying UTI or hematuria
Cytology: consider if severe storage symtpoms, dysuria, and smoking history
PSA: consider checking after discussing risks/benefits and need for further workup, only check if cancer diagnosis will change BPH management (life expectancy > 10yrs)
Renal fxn: check if considering surgical management (increased postop risks)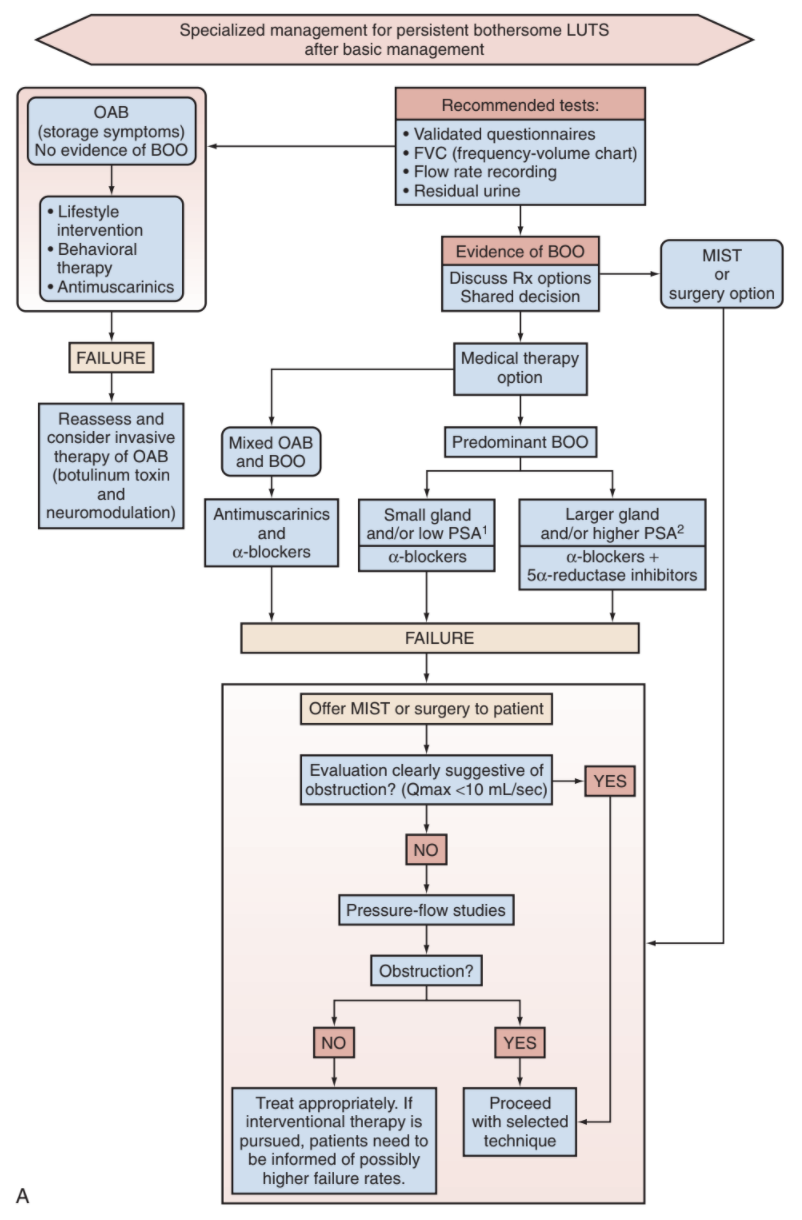 Treatment of LUTS, from Campbell's
Non-Surgical Managment
Common BPH drugs
Drug
Dosing
Selective?
Titration?
Side effects
Terazosin (Hytrin)
2-5mg QHS
No
Yes
dizziness (14-17%), asthenia (5-13%) headache (5-13%), hypotension (2%)
Doxazosin (Cardura)
2-8mg QHS
dizziness (5%), headache (5%)
Alfuzosin (Uroxatral)
10mg QHS
No
dizziness (12%), asthenia (5%), hypotension (3%), CV effects (10%)
Tamsulosin (Flomax)
0.4-0.8mg QHS
Yes (a1A)
dizziness (3-15%), asthenia (24%), headache (5-16%), retrograde ejaculation (1-18%), CV effects (9%)
Silodosin (Rapaflo)
8mg QHS
retrograde ejaculation (10-14%), dizziness (8%), headache (3%)
Finasteride (Proscar)
5mg daily
Type 2
decreased libido (4-5%), ejaculatory dysfunction (4%), erectile dysfunction (6%), gynecomastia/breast tenderness (0.5-1%), cardiac failure (1%)
Dutasteride (Avodart)
0.5mg daily
No (Type 1 + 2)
Tadalafil (Cialis)
5mg daily
Yes
No
headache (13%), dyspepsia (7%), flushing (7%)
Conservative Management
Watchful waiting: reasonable for mild symptoms, check symptoms annually
Fluids: maintain 1.5-2L intake (adjust as needed), decrease caffeine/alcohol
Nocturia prevention: restrict fluids 2-4hrs before bed, elevate legs if edema present, avoid evening diuretics
Behavioral: timed voiding, double voiding, "urethral milking" (for postvoid dribbling)
Constipation: avoid
Alpha-blockers
Mechanism: a-receptor blockade leads to smooth muscle relaxation at bladder neck, prostate, and proximal urethra
Receptor subtypes: a1A found in prostate/bladder neck smooth muscle, a1B found in blood vessels, a1D found in nasal passages, bladder, and spinal cord
Effects: improves symptom scores by 30-40% and uroflow parameters by 20-25%, no effect on prostate size or PSA
CV effects: alfuzosin increases CV effects, whereas tamsulosin/silodosin do not interact with cardiac medications
Sexual effects: no proven effect on erectile function or libido, but tamsulosin/silodosin cause retrograde ejaculation and orgasmic impairment in ~17%
Intraoperative floppy iris syndrome (IFIS): occurs during cataract surgery after a-blocker exposure, can occur even after drug discontinuation, tamsulosin (30-88%), alfuzosin (15-70%), doxazosin (2-45%)
5a reductase inhibitors
Mechanism: prevents conversion of T to DHT, inhibiting prostate growth
Effects: reduces prostate volume 20-25%, improves flow rate by 10%, improves symptom scores 20-30%, decreases urinary retention risk 50%, reduces need for prostate surgery 50%, decreases PSA 50%, decreases recurrent hematuria risk, takes 6 months for full effect
Indications: prostate > 30g and PSA > 1.5
Prostate cancer risk: potentially increases high-risk prostate cancer, although actual effect unclear
Anticholinergics
Mechanism: antagonism of bladder muscarinic receptors results in bladder relaxation, decreasing bladder spasms
Effects: reduces stoarge symptoms, increases PVR by an average of 25mL, < 3% retention risk
Indications: most beneficial in patients with high storage symptom scores, high flow rate (> 5mL/s), low PVR (< 200mL), no hx retention
Options: darifenacin 7.5-15mg QD, fesoterodine 4-8mg QD, oxybutynin IR 2.5-5mg 3-4x daily, oxybutynin ER 5-15mg QD, solifenacin 5-10mg QD, trospium 60mg QD or 20mg BID
Side effects: dry mouth (≥ 16%), constipation (≥ 4%), dizziness (≥ 5%), and cognitive dysfunction
B3-Agonist - Mirabegron
Mechanism: stimulates bladder relaxation
Dosing: 25mg QD, titrate up to 50mg
Effects: reduces storage symptoms, increases PVR by average 30mL
Side effects: nasopharyngitis (3-6%), headache (2-3%), hypertension (10-12%)
Phosphodiesterase Type 5 inhibitors
Mechanism: may increase oxygenation of tissue, relax bladder neck and prostate smooth muscle, decrease stromal proliferation and inflammation
Effects: symptom score improvement 20-30%, may also improve flow rate, usually improves within 1 week but can take up to 2mo
Tadalafil 5mg is currently the only option recomended for LUTS
Phytotherapy
Different extracts and preparations have widely variable amounts of "active" ingredients
Efficacy: all evidence is based on in vitro studies, no good long-term clinical evidence exists that phytotherapy is beneficial
Common types: saw palmeto, African plum tree, stinging nettle, pumpkin seed, African star grass, rye grass pollen
Surgical Management
Indications for Surgery
Hematuria: finasteride has proven benefit for decreasing further episodes, confirm BPH as cause with hematuria workup, can consider BPH surgical management at time of clot evacuation
Bladder stones: can consider medical management after removal of bladder stones
Recurrent UTIs: may be secondary to incomplete emptying
Urinary retention: idiopathic vs iatrogenic, up-front surgery not recommended, 60% pass first voiding trial, up to 80% have another retention episode within 6 months
Upper tract injury: not necessary to screen prior to interventions, if secondary to BOO then place catheter and reassess, bladder wall hypertrophy may cause persistent obstruction and require stenting
Bladder diverticulum: not a clear indication unless related UTIs or bladder decompensation
Medication failure: surgery recommended if bothersome symptoms persist despite maximal medical therapy
Choosing the right surgery
Prostate size: prostates > 80-150g benefit from HOLEP or simple prostatectomy
Anticoagulation: consider PVP/KTP, HoLEP to minimize bleeding
Ejaculatory function: urolift, Rezum, and aquablation are more likely to maintain antegrade ejaculatory function postoperatively
Median lobe: urolift less efficacious
Prior prostate cancer treatment: prior cryotherapy or XRT increases risk for postoperative incontinence
Laser type: KTP absorbed by Hgb, holmium/thulium absorbed by water
Other considerations: risks/benefits, prior surgeries, surgeon experience, patient preference
Workup: patient should undergo cystoscopy + sizing to assess best treatment option, can consider urodynamics prior to surgery if unclear cause of symptoms
Incidental cancer diagnosis: if PSA < 4, cancer diagnosed in 1/382 TURPs (uncommon)
See the separate page for technique info about TURP, UroLift, PVP, and TUIP
Clinical scenario: patient with > 100g prostate, with(out) urinary retention, and no prior prostate cancer workup
RALP may have increased risk for incontinence due to bladder neck reconstruction
RALP age cutoff 70 (with exceptions), whereas RASP has no age cutoffs
RASP + XRT may be better option for continence and prostate cancer than RALP
MRI prostate, PSA, and biopsy will not change need for RASP (or other outlet procedure)
Can perform biopsy at time of RASP
Can consider XRT or other adjuvant therapies based on post-RASP PSA
THEREFORE: in patient with 100+g prostate, can offer up-front RASP with truncated prostate cancer workup to avoid delaying treatment of urinary retention, but has risk of requiring XRT afterwards (difficult to perform RALP after RASP)
References
AUA Core Curriculum
Capogrosso, P., A. Salonia, and F. Montorsi. "Evaluation and Nonsurgical Management of Benign Prostatic Hyperplasia." Campbell-Walsh Urology 12 (2020).
Helo, S., C. Welliver, and K. McVary. "Minimally Invasive and Endoscope Management of Benign Prostatic Hyperplasia." Campbell-Walsh Urology 12 (2020).
Parsons, J. Kellogg, et al. "Surgical management of lower urinary tract symptoms attributed to benign prostatic hyperplasia: AUA guideline amendment 2020." The Journal of urology 204.4 (2020): 799-804.
Wieder JA: Pocket Guide to Urology. Sixth Edition. J.Wieder Medical: Oakland, CA, 2021.